A New Mediterranean Restaurant Is Reshaping This Growing Las Vegas Neighborhood
Pine Bistro is a fascinating mix of cultures and flavors in Southern Highlands.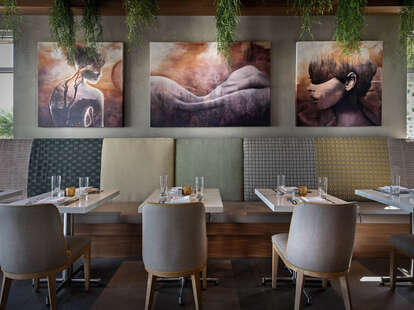 Photo by Stephen Morgan
Photo by Stephen Morgan
The idea behind Pine Bistro was simple. Save a drive to the Strip and give Southern Highlands an upscale Mediterranean restaurant to call its own. However, the final result is such an intriguing mix of cuisine and culture that it's bound to draw curious diners from throughout the Las Vegas Valley.
See what it's all about when Pine Bistro celebrates an official grand opening on Thursday, September 28. The dining room is inviting, bright, and open, with wood decor and industrial touches that pair well with a hand-painted mural, copper accents, Turkish window frames, and wicker light fixtures, including lanterns that glow softly above the bar. The surroundings are designed to impress, but it's the food that will keep you coming back.
Pine Bistro serves Mediterranean cuisine with a heavy Lebanese influence, rewrapping traditional recipes and flavor profiles into an elevated, contemporary package. "We want to take the same service, quality of product, and experience you get on the Strip and bring it into the communities where we live," Lowell Raven of Ayya Hospitality Group, the driving force behind Pine Bistro, said. "We take traditional Lebanese cuisine, traditional Mediterranean flavors, and put them into a cool, modern, high-energy environment."
Executive chef Dany Chebat, a Strip veteran, draws on his own Lebanese heritage in putting a wide array of dishes together. Deep, distinctive seasonings like sumac, za'atar, and kuzbara (coriander) are staples of the cuisine, balanced by the frequent use of mint, lemon, pomegranate, and other bright ingredients.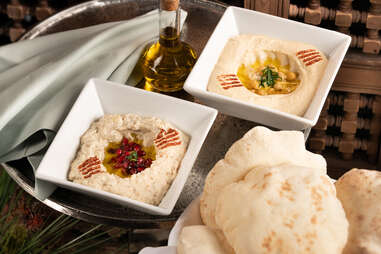 Almost always, a meal begins with a choice of dips and pita bread (the traditional kind that puffs up into a circle), baked fresh in a custom oven. Don't be shy about ripping it apart and dragging pieces through the hummus, which is beautifully plated with olive oil paprika and garbanzo beans, and baba ghanoush, where a pop of pomegranate seeds offsets the smokiness of the roasted eggplant.
The same pita dough is used with a heavier texture in the fatayer–small pies filled with spinach, pine nuts, and sumac. "There's a pine tree on the Lebanese flag," Raven points out. "Pine nuts are in much of the cuisine."
It's just one of the items listed on the menu as "mezza," the Middle East's answer to tapas. So load up on dishes to share. The sambousek is a plate of tear-shaped beef and lamb pies with allspice, pine nuts, and a side drizzle of pomegranate syrup. Rakaket Jebneh is a plate of Lebanese cheese rolls with a delicate pastry shell stuffed with mozzarella, feta, and halloumi (a cheese traditionally made with goat and sheep milk). A touch of mint is the secret weapon to bring the flavors to life with onions, olive oil, and sesame seeds. Even the fries come with za'atar seasoning and shatta, a Middle Eastern hot sauce, on the side.
Kebabs are grilled over an open flame. Choose between chicken taouk with a side of garlic whip, filet mignon, beef kafta (similar to a meatball or sausage), plump Mexican shrimp, a vegetable combo, or all of the above in a shareable platter that feeds up to four people. You can also split a whole Mediterranean snapper, grilled or fried. Shawarma meat is sliced fresh from one of two vertical broilers, yet if you just want to splurge on a juicy American steak, ask for a New York Strip or bone-in Ribeye slathered in olive oil, sumac, and other spices while sizzled over the grill.
Two versions of baklava are made in-house: a traditional recipe with pistachio and another with ashta cream, which is almost cheese-like. The former is topped with an aromatic house-made pistachio and rose water ice cream. Any dessert pairs well with Arabic coffee served short and strong in a format similar to espresso.
Lewis Caputa, the former lead bartender at Rosina, leads a mixology team with Strip experience, crafting drinks with house-made syrups, fresh-pressed juices, appropriate glassware, and four types of ice. The cocktail menu has traditional classics, such as a Negroni or Aperol Spritz, and new creations inspired by the flavors of the cuisine. A smoked Buffalo Trace Old Fashioned is sweetened with fig syrup, while the Sumac Smack is made with cachaça (a Brazilian spirit similar to rum) and sumac syrup. Arak, a Middle Eastern spirit with a licorice flavor, is used in a red sangria and Temple of Niha cocktail with citrus flavors. It's also available to sip on its own with water added, which is a traditional practice that tones down the intensity of the flavor. Ask about Lebanese wines and beers or a choice of Armenian brandies.
Pine Bistro will be open for dinner from 5 to 10 pm daily with hookah service available on the outdoor patio–a spacious layout with comfortable furniture, large umbrellas, a sleek water feature, and Strip views. An outdoor grill will cook whole lambs and other items for special events. Hookah service moves indoors at 10 pm with a menu of smaller bites, including wings, shawarma pita wraps, and the awesome house burger (a kafta patty topped with arugula, mild pickles, honey, and an aged yogurt spread) reimagined as sliders. A roaming cart provides the hookah, crafted with ice water and fresh fruit. It's an elevated version of the service that's more common in a place like Dubai than in Las Vegas.
The arrival of Pine Bistro reflects the growth of Southern Highlands, a master-planned community built around a golf course near the south end of Las Vegas. Ayya Hospitality Group also operates Thick & Thin (a juice bar and ice cream shop in one) and IVI Performance, a 5,000-square-foot fitness center for elite athletes (including professionals from the NFL and MMA) that focuses on one-on-one personal training. All three businesses are side-by-side near Keller Cactus Hill, a contemporary apartment complex alongside Interstate 15 that wasn't even around a few years ago.
But why stop there? Ayya Hospitality Group also oversees Crust & Roux for savory and sweet pies at Town Square and is opening J. Blanco, a Mexican steakhouse at UnCommons in the Southwest by early 2024. Big things are happening, and they aren't always on the Strip.
Rob Kachelriess
is a full-time freelance writer who covers travel, dining, entertainment, and other fun stuff for Thrillist. He's based in Las Vegas but enjoys exploring destinations throughout the world, especially in the Southwest United States. Otherwise, he's happy to hang out at home with his wife Mary and their family of doggies. Follow him on Twitter
@rkachelriess
.