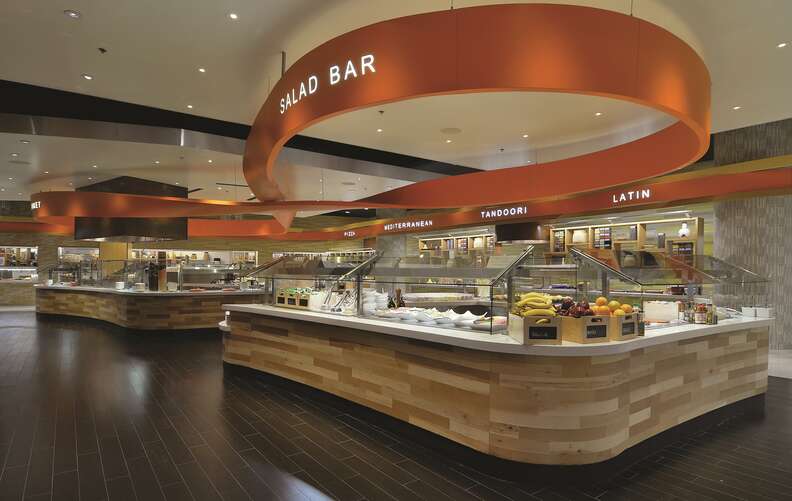 The coronavirus has only infected a few people in Southern Nevada, but in a major sign of the pandemic hitting home, MGM Resorts International announced it will temporarily close buffets at the Aria, Bellagio, MGM Grand, Mandalay Bay, Mirage, Luxor, and Excalibur on Sunday, March 15. If that wasn't worrisome enough, Mandalay Bay (an MGM Resorts property) is temporarily closing three restaurants -- Fleur, Aureole, and Mizuya -- on Monday, March 16. Once that happens, the possibility of them reopening will be evaluated on a weekly basis; but since the WHO has officially called COVID-19 a pandemic, that might happen later rather than sooner.
Until now, coronavirus hysteria has mostly affected a few business conferences -- most notably so far, the National Association of Broadcasters Show -- but closing buffets seems uniquely personal. Yes, trade shows juice the local economy, but going to a buffet is a common activity to cross off a tourist bucket list -- although not ours. (It's always a better idea to skip them altogether and book a table at one of our amazing restaurants instead).
On Tuesday night at 5pm, the lines at Bacchanal Buffet at Caesars Palace were nonexistent, although a standalone Purell dispenser was noticeably present at the front of the queue. Two women were paying the cashier at the entrance, one of whom was wearing a face mask. By the time 7:45pm rolled around, about a dozen people were in line and the Purell dispenser was nearly empty.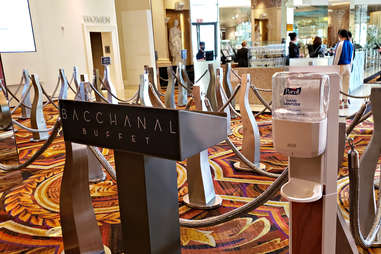 "Caesars buffets remain open," confirmed a Caesars Entertainment spokesperson who says the company is following CDC hygiene directives. "With regard to our buffets, some of these initiatives include changing out self-serve utensils on an hourly basis, cleaning service and prep areas on an hourly basis, and placing numerous additional hand sanitizer stations in both guest and team member areas."
The company also says it's encouraging employees and guests to wash their hands more frequently, supplying additional hand sanitizer across its properties, and increasing the frequency of cleaning high-touch surfaces, including elevators, fitness centers, and yes, restaurants and bars. International travel has been suspended for the company. Most interestingly, any employee who travels to another country for personal reasons will be required to stay home for three weeks upon return.
When asked if business has been slow lately, a cocktail server in the casino said "Absolutely," without hesitation. She's optimistic about March Madness, however, which is just days away and traditionally the busiest period for Vegas sportsbooks.
As of press time, MGM Resorts is the only Vegas resort company to suspend the operation of buffets. The Cosmopolitan and Venetian (which actually doesn't have a buffet -- something you don't realize until you stop to think about it) provided similar statements about monitoring the situation and following the guidance of local and national health officials.
Wynn Resorts was more specific. The Buffet at Wynn Las Vegas now has hand sanitizer provided by the entrance and employees staffed at each station to serve food directly, eliminating the need for guests to touch utensils altogether. "All of our restaurants continue to maintain the highest possible standards of cleanliness," said a company representative.

Coronavirus hysteria is being felt at restaurants off the Strip as well. Chinatown businesses were unfairly the first to see a drop in customers. (So make a point to visit and support the neighborhood's wonderfully diverse dining spots.)
"Despite not one case of coronavirus in any Chinatown, anywhere in the country, there is a stigma surrounding these neighborhoods," said Joe Muscaglione of Shanghai Taste, which recently opened in Chinatown. "We've been fortunate. Shanghai Taste remains busy and we're often on a wait. We're taking extra precautions and sanitizing door handles, computer screens, hard surfaces, and light switches on an hourly basis."
Shiraz, a restaurant three miles west of the Strip that specializes in Halal-Indian and Mediterranean cuisine, just launched its own in-house delivery service in response to the coronavirus crisis. "No matter what's going on in the world, we still have to eat, and should be able to continue to eat well," said Executive Chef Jainine Jaffer. "This is something new for us to live and work through as a community, so I felt it was my duty to find a solution to accommodate my customers… even during times of uncertainty such as this."
Another locals' favorite, Lotus of Siam, which serves Thai dishes east of the Strip is doing its best to take precautions, starting with its own team. The restaurant is providing healthcare and sick day coverage for its employees if needed. "We'll voluntarily quarantine anyone showing symptoms," says General Manager Penny Chutima. "We hope that things will not get worse, but in the meantime we are doing everything possible to make sure everyone is protected."
Meanwhile, Vegas continues to move forward with new events happening every week. While major large-scale gatherings like Coachella in Southern California and the Ultra Music Festival in Miami have been postponed, no announcements have been made on major spring events like the NFL Draft on the Strip or the Electric Daisy Carnival at the Las Vegas Motor Speedway. Cirque du Soleil, however, just finalized a decision to postpone its eighth annual One Night for One Drop charity show scheduled for March 27 at the Luxor.
Mayor Carolyn Goodman, who is on record opposing MGM Resorts' decision to close its buffets, is urging perspective and rationality in facing the crisis. "Don't let fear take over," she posted on Twitter. "Wash your hands. Take all the precautions (the Southern Nevada Health District) recommends. If you follow these precautions, the vast majority of us will be safe and can live our lives."
Sign up here for our daily Vegas email and be the first to get all the food/drink/fun in town.
Rob Kachelriess has been writing about Las Vegas in Thrillist for more than six years. His work has also appeared in
Travel + Leisure
, Modern Luxury, Leafly, and Luxury Estates International's seasonal publication. He was using hand sanitizer before it was cool. Follow him on Twitter @rkachelriess.