Las Vegas Food Secrets You Need to Know About
Las Vegas is full of secrets, from the unknown number of bodies buried in our desert to all the hot tips on how to win at the sportsbook. But what about the food scene? It's time to let the cat out of the proverbial bag, and share some special Vegas secrets you may not know about, from some phenomenal facts about our love of shrimp to ways you can access some of the best (and cheapest) wine tastings in the city.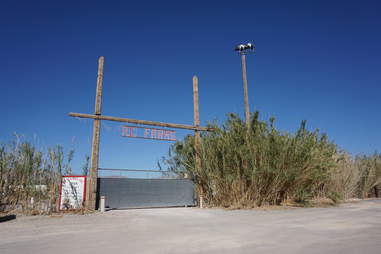 Rob Kachelriess/Thrillist
Leftover food from the Strip is eaten by pigs
RC Farms has been in Las Vegas for more than 40 years. The pigs who call it home eagerly chomp away at leftover food brought in from restaurants on the Strip; it's one of those deals where everyone wins. The pigs get to eat for cheap while top resorts and their restaurants get rid of scraps in an environmentally friendly fashion -- without clogging up landfills. RC Farms originally had an area of North Las Vegas all to itself until a bunch of homes were constructed around it. The farm recently announced plans to sell the land and relocate. The move could bring in tens of millions... while the neighbors say goodbye to the stench.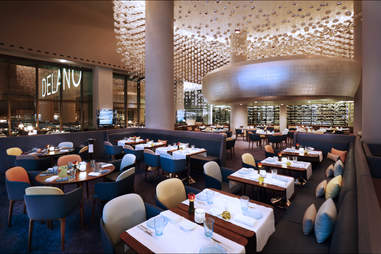 Rivea
Some of the best food isn't on the menu
We already told you about the cool lineup of secret off-menu dishes at the best restaurants in Las Vegas. Well, here's one more for you that's not on the list: Rivea has a mouthwatering grilled lobster that comes covered with parsley, garlic, and a rich house-made mustard butter. It's a great way to feel like an insider while checking out the view of Las Vegas from the 64th floor of the Delano hotel.
Heart attacks actually happen at the Heart Attack Grill
The movie Super Size Me documented what would happen if someone ate McDonald's every single day. Here's a spoiler: The results weren't good. Well, imagine what would happen if you ate at the Heart Attack Grill every day. The Downtown restaurant with a hospital theme is notorious for proudly serving unhealthy, calorie-heavy, grease-filled food. John Alleman "never missed a day" at the Heart Attack Grill, and was even considered its unofficial spokesman. He suffered a heart attack outside the restaurant back in 2013 and died at just 52 years old. Other health incidents have been reported at the fat-fueled dining spot over the years. One person was carried to an ambulance after having a heart attack while eating the Triple Bypass Burger -- and people took photos thinking it was a publicity stunt.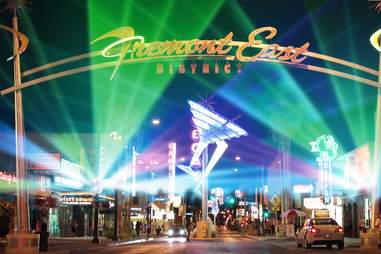 Las Vegas News Bureau
You can't drink everywhere in Las Vegas
One of the perks of partying in Vegas is that you can drink out in public. But you have to follow a few rules: The drinks must be in plastic containers, no glassware or bottles, and no booze in cars, even if you're a passenger. The exceptions are taxis (depending on the cab company's rules), limos, and charter buses. You also aren't allowed to drink in a parking lot or within 1,000ft of a liquor store. In the city of Las Vegas (which technically includes Downtown but excludes the Strip), you also can't drink within 1000ft of a church, synagogue, school, hospital, or homeless shelter.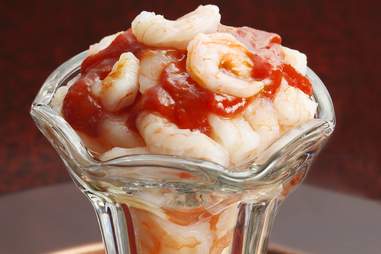 Golden Gate
Vegas is obsessed with shrimp
Las Vegas doesn't have an official food, but if you had to pick just one, it could easily be the shrimp cocktail. This staple of conventions, weddings, and event catering is eaten in Vegas more than anywhere else in the country; over 60,000lbs of shrimp is consumed in Sin City each day, which is more than the rest of the country combined. The shrimp cocktail first made its presence felt in Vegas inside the Golden Gate casino back in 1959 at the Bay City Diner -- which eventually became Du-par's. It was just 50 cents for years... but you can't resist inflation forever. It's now $3.99, and features 30 medium-sized shrimp served in a sundae glass, topped with spicy cocktail sauce, and garnished with a lemon wedge.
Estiatorios Milos
You can save big money at top restaurants
A restaurant doesn't have to be expensive to be great, but let's face it, a whole lot of them are, especially in Las Vegas -- a town known for excess, extravagance, and celebrity chefs. However, you can save some money on really amazing restaurants in Vegas, you just need to know where to look. One of the best deals on the entire Strip is the lunch menu at Estiatorio Milos -- a fine-dining Greek restaurant at the Cosmopolitan. You can get a three-course meal for just $25.16. That's the current price, anyway; it goes up by a penny each year. And yes, get the grilled octopus upgrade for an extra $10 -- totally worth it. Another killer deal can be found at the Four Seasons, where a "cut of the week" dinner is offered at Charlie Palmer Steak. It's a special three-course meal with bottomless wine pairings for $58. Depending on how much you drink, the price might be worth it for the vino alone.
Rob Kachelriess/Thrillist
Your new favorite Mexican restaurant is inside a gas station
Sometimes you need a good taco while filling up on gas. Chile Verde serves up some surprisingly tasty Mexican food -- and is found inside the Sinclair gas station on the corner of Rainbow and Windmill. It's been around for about five years now, and it's become especially popular with morning commuters who can't get enough of the breakfast burritos.
Fred Morledge
You can try out weekly wine tastings for (nearly) free
Rock 'n Roll Wine hosts tastings every Thursday night at cool locations around Las Vegas with unlimited pours between 6-8pm. Just sign up for the Founders Club, which currently runs $39.99 for a year (or $49.99 a year for two people). It's a pretty amazing deal that pays for itself quickly. The membership includes other perks, too -- like discounts on bottle sales and concert festivals.    
Chris DeVargas
A very Disney dessert can be found in Chinatown
Dole Whip isn't easy to find. It's a non-dairy frozen pineapple treat that was exclusively available at Disneyland for years, thanks to the Dole Foods' corporate sponsorship of the Enchanted Tiki Room. However, Dole Whip soft-serve machines have been slowly spreading elsewhere, including the Golden Tiki here in Las Vegas. The Chinatown bar is known for its kitschy atmosphere and rum-filled cocktails -- some of which come with Dole Whip as an ingredient. If you want skip the bar scene altogether, Pineapple Park in the southwest valley is fun spot that's also serving up the elusive frozen dessert.
Le Village Buffet
People like to pay more for buffets
Las Vegas is known for its buffets -- and was once famous for cheapo versions designed to keep people in the casinos. Sadly, those days are pretty much gone, and the prices have gone way up, even with inflation taken into consideration. However, so has the overall quality, with the buffets at Caesars Palace, Wynn, and the Cosmopolitan leading the way. But guess what? People actually like paying more for buffets. A research team studied two groups who ate the same exact food, but paid different amounts for it at all-you-can-eat buffets. As it turned out, those who paid more for the food gave it better reviews.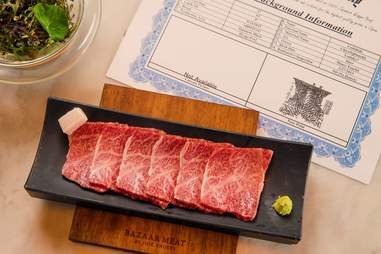 Bazaar Meat
Not all Kobe beef in Vegas is really Kobe beef
You hear the phrase "Kobe beef" tossed around a lot, but here's the truth -- most of it isn't Kobe at all. Either it's "Kobe style," or the restaurant is just flat out lying to you. True, authentic, certified Japanese Kobe beef wasn't even allowed for import until 2012, and at last check, only nine restaurants in the US carry it. Three of them are in Las Vegas -- Bazaar Meat at the SLS and both Mizumi and SW Steakhouse at the Wynn. Strict regulations state that true Kobe beef comes from a particular strain of wagyu cattle in Japan's Hyogo Prefecture. The meat is known for a distinct flavor and marbleized texture. Bazaar Meat will even bring out a certificate of authenticity during your meal that shows each cow's background information and nose print.
Sign up here for our daily Vegas email and be the first to get all the food/drink/fun in town.
Rob Kachelriess is a former television news producer who has been writing about Las Vegas in Thrillist for more than three years. He was Managing Editor for Vegas2LA Magazine and his work has recently appeared in Vegas Seven and Vegas Magazine. He lives a not-so-secret life. Follow him on Twitter @rkachelriess.