Meet Best Friend, Roy Choi's Newest Food Playground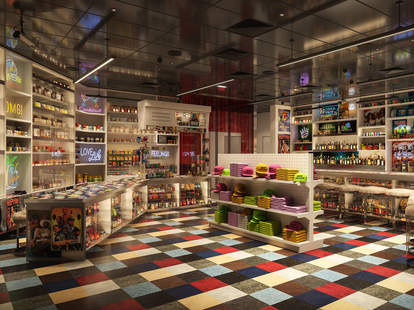 Licking your fingers for those last tangy morsels of short rib tacos. Talking over DJs spinning hip-hop with a mouth full of sticky rice and kimchi. Best Friend, Roy Choi's newest culinary adventure, has an "anything goes," Koreatown-backyard-barbecue vibe that the chef has honed for the past decade. Except this time, the godfather of the food truck movement isn't slinging his wildly popular Kogi BBQ tacos in the LA neighborhoods that made him famous.
Choi's been busy channeling his Korean immigrant upbringing for a new mission -- to bring LA's street food, music, and culture to the Las Vegas Strip. Since opening at the end of December, Best Friend has been delivering the laid-back culinary attitude of LA served with all the bells and whistles that come with a coveted Vegas location.
"You know that feeling right as you enter the gates of an amusement park? That exact feeling? That's Best Friend," Choi tells us of the 9,000-square-foot space inside the new Park MGM resort.
From a "reverse speakeasy" entrance, to late-night grub like cotton candy and vegetable tempura, to Choi's DJ friends dropping by to provide the soundtrack, Best Friend really is a culinary ride that only he could dream up.
WeAreVisuals
Now entering Los Vegas
Throughout Los Angeles, loading docks and even alleyway garage sales pose as unassuming gateways to the best secret clubs and bars in the city. So naturally, Choi tapped into this hidden aesthetic for his first Vegas venture.
Flagged by neon signage promising spirits and barbecue inside, the entrance to Best Friend is a functioning bar/bodega, inspired by the streets of Koreatown. But this isn't your average corner shop -- here, the LA-meets-Vegas vibe comes through via a sleek bar serving "adult" (read: boozy) slushies next to shelves displaying liquor bottles, soda, snacks, and Best Friend-branded apparel for sale. Consider it one part of Choi's creative mind that guests get to experience before they even get to the dining room.
"We want to go on and on into the night and the liquor store is our muse," Choi says about his vision behind the entrance. "It also acts as a reverse speakeasy where everyone is welcome and the bar is a fun zone, like an arcade for all."
Once you do make it inside (no password required), the environment harmoniously blends the two worlds as one. A little bit of SoCal bohemia via hanging ferns and an open kitchen concept (as if it's still Choi cooking in the back of a food truck) live among gleaming marble tabletops and leather booths that remind you yes, you're still in Vegas.
Travis Jensen
Remixed and remastered
Best Friend's menu is like Choi's "greatest hits" album -- except each platinum track has a new twist ending. From thinly-sliced pork belly and shoulder with a spicy kochujang sauce to crispy rock shrimp topped with chile mayo and walnuts, Choi says all the dishes are inspired by his previous restaurants (A-Frame, POT Pizza Joint, and of course, the original Kogi BBQ taco truck.) Fittingly, the kitchen is led by chef Diego Echavarría, part of Choi's O.G. LA culinary squad.
Since Vegas is synonymous with "late night," select dishes are served after hours -- think elevated college dorm room snacks such as bacon dogs, bologna sandwiches, and cotton candy, according to Choi. High-end ingredients -- such as the caviar tostadas and dry-aged steak with gochujang maître d'hôtel butter -- add a touch of Vegas opulence. Since this high-low approach is what made Choi such a celebrated chef in the first place, there are also playful nods to comfort food, like a classic stew jazzed up with black cod, glass noodles, onions, and ginger. (See the full menu here.)
"Everything… will be looked at and cooked with a new point of view," Choi says of the thinking behind the dishes. "It's all new, but inspired by the past."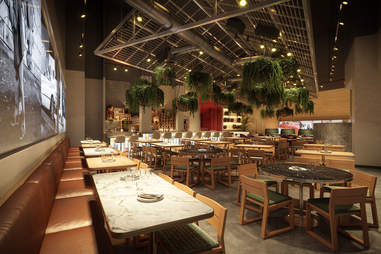 WeAreVisuals
Fuel for the after-party
Beyond the food and drinks, Best Friend also serves as a prime jumping off point to all that Vegas' nightlife has to offer -- no leaving the Park MGM required. For starters, it's no accident that Best Friend's grand opening was within days of Lady Gaga's first show of her Vegas residency, conveniently playing across from Best Friend throughout 2019 at the intimate, 5,200-seat Park Theater.
Don't overlook the record shop, also within steps of the restaurant, either (even if you don't need vinyl). Just like Best Friend, there's more than meets the eye to On The Record. Behind the fully-functioning record store entrance, there's a nightclub full of karaoke rooms with different themes.
And even if Gaga tickets are sold out or you're too stuffed from your Roy Choi feast to go anywhere (including just across the hall), you still won't be hurting for entertainment. Just like hip-hop is engrained in the culture of Los Angeles, Best Friend has a DJ booth and subwoofers in the dining room, which showcase local and LA-based DJs on Wednesdays, Fridays, and Saturdays. It's a music-and-food pairing the chef calls a no-brainer.
"I don't know any other way to eat," Choi says. He isn't wrong.