Sin City is packed with great places to meet girls (topless pools!) and see them at their scantily clad best, but the kind of romantic, guaranteed-to-get-you-laid places you take girls on a date aren't always as obvious. So with Valentine's Day just a month away (seriously!), we've assembled a list of the 10 most romantic things in Vegas, right now, from topless shows, to biplane tours, and more...
Recommended Video
The Definitive Eggnog Recipe You Need for the Holidays
Best Dessert for Two
The Sugar Factory, Off The Strip
The newly opened Town Square hot-spot's best choice for dessert is the Red Velvet Fondue: it includes brownie bites, homemade marshmallows, gummy bears, white chocolate bread, bananas, fresh strawberries and a lemony-type cake that's also a conservative estimate of what you'll put on eating this sucker: (a) pound.
Most Romantic View
Foundation Room at Mandalay Bay, The Strip
There're a lot of great views along The Vegas Strip, but the FR is one of the few places to offer a little bit of privacy to go with 'em. The lounge was once a private club and isn't designed for large party crowds or wild nightlife. Instead, you get plush sofas, dark hallways, and an epic view from the North end of The Strip.
Most Seductive Show on the Strip
Zumanity, The Strip
Cirque du Soleil's Zumanity is definitely the naughtiest show offered by the Canadian theater company: it combines raunchy humor with topless acrobats, innuendo, and even kinky dominatrix scenes, so if your date's a little shy, this show could definitely help loosen her up. Or convince her to never call you again.
Best Tour Above the City
Mandarin Oriental, The Strip
The hotel's "Ultimate Romance" package includes a night in the Dynasty Suite, dinner at Twist, a spa treatment for two, and a nighttime tour of Vegas. From the air. In a biplane, courtesy of Sky Combat Ace.
Best Night In
Sammy's Woodfired Pizza & Grill, Downtown
If your house is the most romantic spot in the Las Vegas Valley, you may want to stay in for the holiday. And since nothing warms the heart… and the kitchen… like a fresh pizza, you can make your own with an at-home pizza kit from Sammy's. It comes with pizza dough, sauce, cheese, and basil leaves.
Most Romantic Downtown Dinner
Hugo's Cellar, Downtown
Okay, The Four Queens Hotel & Casino may not be the first place you'd think of for romance. But take the stairs down to Hugo's Cellar, where, in addition to the cozy atmosphere, guests have an opportunity to sink their teeth into some of the best prime rib in Vegas and enjoy a fresh salad custom-made at your table. Oh, and if you forget flowers for your Valentine, you're covered: each lady receives a red rose as she walks through the front door.
Best Place to Get Hitched
The Wynn, The Strip
Vegas is known for its spontaneous weddings, but a little bit of planning couldn't hurt… and the "Eternally Yours" Valentine's Day package could offer the most bang for your buck. You get a 30m ceremony at the Wedding Salon's elegant chapel, a 30m photo session, a private dressing room, and other perks to go along with your Champagne toast. Upgrade the package and you get one hour of "private use" at Tryst Nightclub, which could be the best way to get the honeymoon started early.
Steamiest Dinner Package
The Luxor, The Strip
Everything, especially the TV channel, would be better if it came with an "exotic encore", which is exactly what the three-course dinner at Rice & Company gets you, thanks to a parade of topless women courtesy of the girls at the Luxor's FANTASY.
Best Couple's Workout
103 Hot Pilates & Yoga, Off The Strip
Get hot and sweaty with your girl while practicing your downward facing doggy style at a candlelight yoga session for couples, aka, girls and the guys they drag there by promising something similar to the aforementioned pose.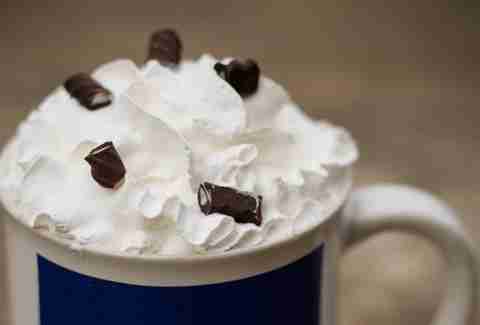 Hottest Beverage to Warm Up Your Date
Park on Fremont, Downtown
Park on Fremont's helping you get steamy by adding the "Dirty Girl Scout" to its drink menu: it's made with peppermint schnapps, dark crème de cacao, hot chocolate, and topped off with a chocolate stick, and if that's not enough to get you in the mood, you... um, probably don't like schnapps. Or you should probably try another one of their new drinks, like "the Pleasure Fist", about which you're free to come up with your own joke, thank you very much.