You may be surprised to learn that Sin City is full of awesome restaurants you won't find inside casinos or fancy hotels. Places that, um... like a good strip club, have built reputations based on what they're offering, rather than where they're located. Places that you probably haven't been tried, but should. Starting with these nine...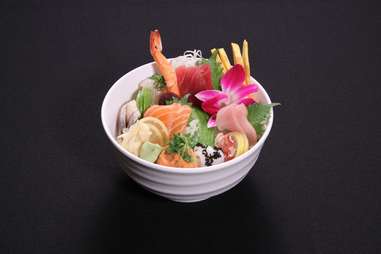 South Point
South Point is probably best known for its equestrian center and rodeo shows, so it could be a surprise to see this Asian spot nestled in the corner of the lobby floor. It gives a tip of the (cowboy) hat to its location with the 8 Second Bull Ride, a sushi roll that includes seared wagyu over crab and asparagus. But the Miso Butterfish and Shogun Wagyu Burger are among the highlights of a diverse menu that's about more than just sushi rolls.
Southwest Valley
It's easy for this bright, modern spot to stand out in the relatively quiet Southwest Valley. The cocktail menu and American bistro-style food are both worth checking out, but it's the atmosphere that catches your attention. Sit outside on the patio underneath a string of lights with a Moscow Mule in your hand… or enjoy the Spicy Seafood Pasta inside a brightly lit dining room that's perfect for large parties or date night with your latest significant other.
Westside
Buldogis serves gourmet hot dogs with an Asian twist. The dogs are made with premium beef without fillers and topped with fresh ingredients, like the pineapple salsa and green onions that come on The Hawaiian. The kimchi takes three days to make and is a crucial addition to the spicy sweet potato Angry Kimchi fries. Buldogis also has a food truck that pops up at big events around town.
Southwest Valley
Need a good place to check out a big game? Sporting Life is full of TV screens and has plenty of space plus an electronic scoreboard. Need the kind of food you don't usually find at a sports bar? The menu has you covered with cured confit chicken wings, pork belly, seared duck breast, and bacon-wrapped dates.
Royal Resort
Despite being located inside a hotel that nobody ever talks about, The Barrymore could be the single best reason to visit the dreaded north end of the Strip. You've got fire pits on the patio, plush seating, and empty film reels lining the ceiling. The menu is heavy on steak and wine, but the cocktail program is among the best in Vegas. Just ask the bartender for a suggestion and go with it.
West Valley
When it comes to Greek restaurants, most people want traditional favorites and few surprises. Yassou keeps gyros, chicken skewers, and baklava simple yet perfectly prepared and full of flavor. But the Greek Pizza is worth your attention as well. It's topped with spinach, feta, basil, and olives.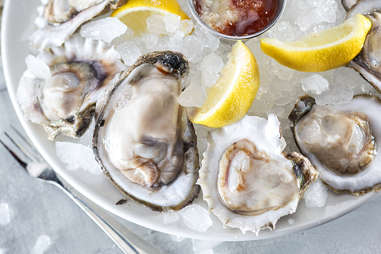 Palace Station
Palace Station is known more for being the place where O.J. Simpson got busted than for great restaurants. But the Oyster Bar has a loyal following among locals and is probably the most "overlooked" restaurant in Vegas with long lines. Keep things simple with a dozen oysters on the half shell or go heavy with five choices of gumbo or the Bourbon Street Jambalaya.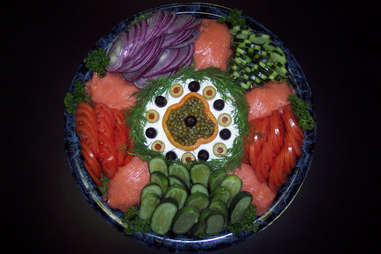 Henderson
The most authentic Jewish deli you'll find anywhere in Nevada. The lox platter and chicken matzah ball soup are worth the trip alone, but check out the sky-scraping sandwiches, stacked with the best cuts of deli meat. Hungry? Order the Ceily's Stack. It stuffs juicy brisket in between two perfectly cooked potato latkes, then gets topped with melted Muenster and provolone cheese, plus homemade gravy and sour cream on the side.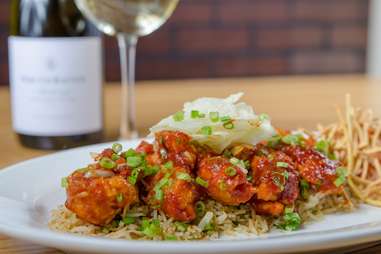 Off the Strip
This new spot is simple and casual, but it serves some of the most authentic Indian food you'll find in Vegas. There are a few smart choices on the wine list that won't break the bank and pair especially well with anything made with lamb or chicken. There is also a new "Turbanator" weekday buffet during lunch that will allow newcomers to Indian food to sample what it's all about.
Sign up here for our daily Vegas email and be the first to get all the food/drink/fun in town.