Downtown
Chef Kerry Simon has added to his empire by opening a new spot on a neglected stretch of Carson Ave -- it runs one block South of the much busier and flashier Fremont St -- where he's got a rooftop patio and possibly the best menu in Vegas, thanks to veal meatballs, short rib sliders, crispy chicken skins, and deviled eggs topped with caviar.
Tivoli Village
Opened by the team from nearby Honey Salt, this new pub and restaurant is an effort to go a little more casual while still offering food made with fresh farm-to-table ingredients, like the bacon and eggs -- made with thick-cut bacon, deviled eggs, red onion jam, and multigrain bread. It's a great alternative for breakfast whether you're hungover or not.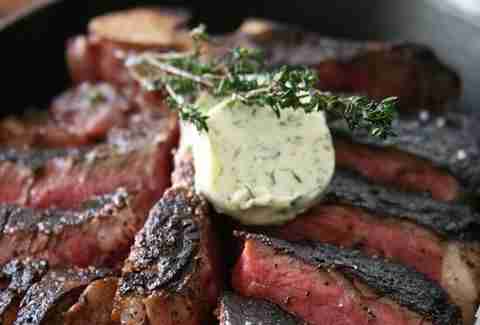 Bally's
You already know that BLT Steak has resurrected the Sterling Brunch and made it one of the best in Las Vegas, but you can check out the restaurant any time of the day and get a great meal. You can't go wrong with the dry-aged New York strip or porterhouse, but the tuna tartare and popovers -- made with Gruyère cheese -- are earning a reputation of their own at the steakhouse.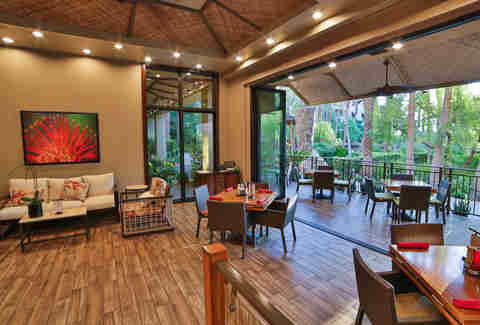 South of the Strip
This bar, restaurant, and lounge is tucked away near the lobby of Tahiti Village. It boasts an open-air view that overlooks the pool, as well as tropical twists on bar food staples (teriyaki burgers, island-style ribs, spicy chicken wings, etc.) that'll make you forget that you're really in the middle of the desert -- or just off the concrete and asphalt of Las Vegas Boulevard.
Red Rock
The front of the Red Rock is getting a makeover with a new outdoor promenade that will complement the new Downtown Summerlin district next door and comes with some new restaurants, including Mercadito, which spices up traditional Mexican fare with blackened swordfish and pork belly tacos with a mango guacamole.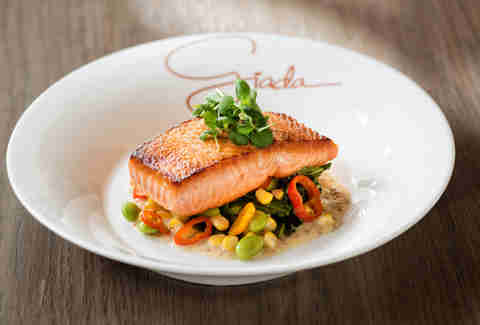 The Cromwell
If you can beat the crowd still trying to score reservations at Giada De Laurentiis' restaurant, you'll enjoy Italian- and Mediterranean-inspired dishes while soaking in a floor-to-ceiling view of the busiest intersection on the Strip.
The Palms
Whether you can pronounce the name of this restaurant or not, you've got to give Chef Tony Hu credit for doing his research and traveling to China frequently to scope out new ideas for the 200+ beef, chicken, pork, and seafood options on the menu. It's enough to give the best restaurants in Chinatown a run for their money.
Green Valley Ranch
LYFE Kitchen offers more bang for your buck on organic eats than the Whole Foods next door thanks to reasonably priced dishes like grass-fed steaks, salads, and flatbreads -- which are made with fresh ingredients and free of antibiotics, hormones, and other stuff you don't even want to know about.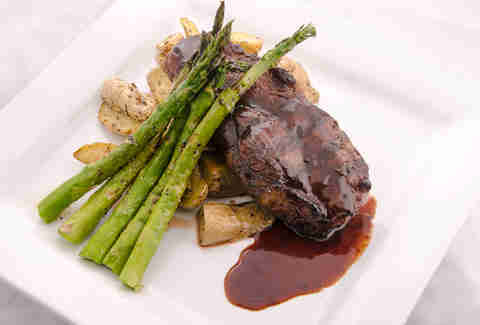 Southern Highlands
This new joint in the Southwest suburbs is not only in a spot that could use a good local hangout, but it also specializes in casual cuisine that's much better than your typical bar food. Grab a brew and order up the Mashed Potato Bites -- deep-fried and stuffed with cheese -- or a selection of steaks that wouldn't look out of place here.
East of the Strip
The name says it all… it's got affordable Mexican food that won't break the bank, extended late-night hours, and a popular happy hour. The pork al pastor taco -- sweetened with pineapple -- pairs perfectly with one of the 50+ selections of beer by the bottle or the 20+ on tap.
Sign up here for our daily Vegas email and be the first to get all the food/drink/fun in town.