The Las Vegas Winter Restaurant (and Bar!) Preview
It's going to be a long Winter here in the desert, where the forthcoming chill in the air might occasionally necessitate the use of, like, a jacket. Maybe. But fear not, we're helping you get through it all with nine new places to stuff your face during the dark times, from newly opened tastiness, to the spots whose unveilings you'll be looking forward to almost as much as the end of this... um, not-really-all-that-inclement weather.
MGM Resorts International
Name: Morimoto
Opening: Spring 2014
Why You Should Care: Sin City's got plenty of Japanese restaurants/celebrity chefs, but Masaharu Morimoto's new spot at The Mirage is still the most anticipated opening of the season: the man who helped put the original Iron Chef reality show on the map in Japan is taking over Japanais's current location, but is sure to offer... sorry'boutthis!... Mor(imoto) in the way of raw fish than they did.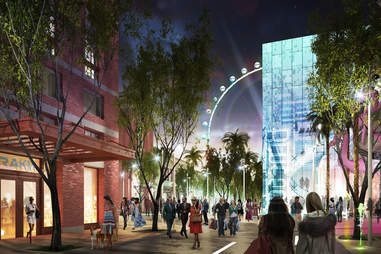 Caesars Entertainment
Name: Haute Doggery
Opening: Winter 2014
Why You Should Care: The LINQ is a brand new "outdoor shopping and entertainment district", and like any... um, mall, it's gonna need some food court-style eats. That's where the Haute Doggery comes in, except instead of the usual highly processed protein tubes, you can expect fresh cuts of meat and fresh seasonal ingredients. In other words, hot dogs for people who'd never go to a "mall".
The Cosmopolitan Las Vegas
Name: Rose. Rabbit. Lie.
Opening: December 2013
Why You Should Care: The Cosmopolitan is offering a new experience that's promising to both ignore and change the rules. It's expected to be a cross between a nightclub, show, and restaurant all in one. For now, aside from having a weird name, much of it remains a mystery. What we do know is it will offer seating in the round and allow guests in at select times each night while offering different pricing levels for admission.
The Downtown Grand
Name: The Commissary
Opening: Winter 2014
Why You Should Care: No, it's not the employee dining room, but rather one of the many new restaurants opening up inside the brand new Downtown Grand - located in what used to be the old and worn down Lady Luck Casino. The Commissary will be keeping things casual with 20 beers on tap served in red solo cups. At night, expect a DJ to show up and create more of a nightclub kind of vibe. If that's not enough, the new resort is also offering Picnic, which is a new restaurant on the rooftop pool, that's expected to open when the weather heats up in the Spring.
MGM Resorts International
Name: CRUSH
Open Now
Why You Should Care: This MGM-based eatery from the Morton Group is serving up pizzas cooked in a 700-degree wood-fired oven, and a slew of small plates (a Sea Scallop Benny, Tuna 2 Ways, etc.), in a space divided into two sections: a greenhouse garden with lighting that emulates the natural movement of the sun, and a dining cellar with a white brick ceiling, and lighting that... err, doesn't emulate the natural movement of the sun.
The Meatball Spot
Name: The Meatball Spot
Opening: Winter 2014
Why You Should Care: After closing up at Town Square, The Meatball Spot's found a new home at Miracle Mile Shops at Planet Hollywood, where its rumored investor Britney Spears is starting a new residency right before the New Year, and where you'll be able to get all their classic meat spheres, and sides of pasta so good you'll be like "Gimme More", "Everytime" you go there. Ugh... sorry, using lame puns like that is "Outrageous". "Oops!... I Did It Again". Dammit!
Name: Brooklyn Bowl
Opening: Winter 2014
Why You Should Care: The High Roller is gaining a lot of attention as the world's tallest observation wheel, but the real draw at The LINQ could be Brooklyn Bowl. Its first location outside of New York will have a 2000-seat performance area, 32 lanes of bowling, and lots of comfort food.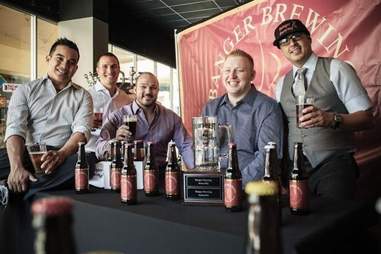 Banger Brewing
Name: Banger Brewing
Opening: Winter 2014
Why You Should Care: Vegas's increasing appreciation of craft beer means Banger Brewing should have a built-in demographic they can... um, tap into, so the real question is whether or not they can breathe some life into the Neonopolis, which has seen a movie theater, bowling alley, and the place meant to be the world's largest gay nightclub come and go in recent months.