A New Destination for Steak, Seafood, and Killer Views Just Opened on the Strip
There's room with a view on this 2,500-square-foot terrace.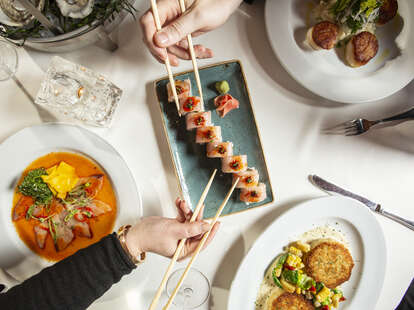 Photo by Gretchen Moore, courtesy of Ocean Prime
Photo by Gretchen Moore, courtesy of Ocean Prime
Location is everything in real estate, and Las Vegas restaurants are no exception. Ocean Prime is the latest example, opening as the first major tenant of 63, a four-story retail and entertainment plaza on the corner of Las Vegas Boulevard and Harmon Avenue.
The opportunity almost came around by accident. 63 was built in the footprint of Harmon Tower, a condo building that never opened due to construction defects and was slowly dismantled piece by piece, leaving an empty two-acre space in the northeast pocket of the high-profile CityCenter complex.
Construction on 63 began last year, and while there are 18 other Ocean Prime locations throughout the United States, the Las Vegas version is the largest and most expensive. At a price tag of $20 million, the restaurant spans more than 14,000 square feet with three bars and seating for at least 400 people. The main dining room has a timeless, mature art deco design with a raw bar display and circular layout that encourages social interaction. However, the real star of the show is the 2,500-square-foot terrace: a spacious outdoor space with shaded, temperature-controlled booths, trees between tables, and up-close views of the resorts, landmarks, and neon lights that make Sin City one of the most recognizable destinations in the world.
Executive chef Eugenio Reyes, formerly of Ocean Prime in Manhattan, was enlisted to lead the kitchen team in Vegas. He knows the menu inside and out, beginning with a focus on seafood, delivered from ocean to table within 24 hours with fish fileted in-house.
Reyes says the broiled and sauteed Chilean sea bass is one of the restaurant's top sellers. Thanks to the paprika, cayenne, and chili powder in the house seasoning blend, the fish has a subtle kick and comes with broccolini, mashed potatoes, and a truffle vinaigrette. The same spices are used on the blackened snapper, which is sauteed and presented on a fluffy bed of corn spoon bread with glazed Brussels sprouts. The branzino has a milder taste but is nearly as good, dredged in flour, pan-seared until crispy, and topped with sauteed artichokes. A butter-caper sauce is poured at the table.
The seafood tower is smoked (for presentation, not flavor) and customized to serve the size and preferences of your party. It typically includes poached lobster drenched in jalapeno vinaigrette, a crab cocktail with the meat already removed from the shell, thick pieces of shrimp, and fresh-shucked oysters. Be warned, though, that the individually priced components add up quickly on the check. The sushi rolls are an Ocean Prime staple, but the high-end nigiri options (topped with A5 Wagyu, top-shelf tuna, or salmon belly) are Sin City exclusives. The caviar service is an only-in-Vegas thing as well.
The steaks include six prime cuts (with a flavorful bone-in filet for those who prefer lean beef) and a Wagyu strip dry-aged for 56 days. "We char-broil our steaks to 1,200 degrees for a beautiful crust and the right amount of char," Reyes says. "We like to showcase the flavor of the meat and not over-season our steaks. So we use salt and crushed black pepper."
The Sonoma Goat Cheese Ravioli is the top appetizer pick. The filling is slow-whipped with garlic and basil, cooked inside a wonton wrapper, and finished with tomatoes and shiitake mushrooms. The 10-layer carrot cake is the restaurant's signature dessert, arriving at the table with pineapple sauce and whipped cream. If you really want to go big, ask for a chocolate shake, a semi-infamous off-menu item that represents Ocean Prime's corporate philosophy of doing everything possible to fulfill any request. "We make thousands of milkshakes a year," Reyes confirms.
The wine list is par for the course—at least by Vegas standards. The cocktails are more flashy, especially the Angel's Envy Old Fashioned and Berries & Bubbles, that's made with vodka, champagne, and berries soaked in Gran Marnier, and come with their own smoke-filled presentations.
Extravagance is a theme, but if you just want a taste of what Ocean Prime is about, the dark-and-moody lounge, which feels surprisingly worn-in for something brand new, has its own menu of small bites with A5 Wagyu sticks, prime beef sliders, and caviar-topped deviled eggs.
The first Ocean Prime opened in Columbus, Ohio, under the name Mitchell's Ocean Club in 1993. It was a product of its time–an old-school supper club with white server jackets, a piano bar, and a three-page menu that read like a book. As the brand evolved into Ocean Prime and more locations opened nationwide, founder and CEO Cameron Mitchell reevaluated the concept, shifting into a more contemporary image that was less "Billy Joel" and more "Bruno Mars," according to the company's own internal gameplan.
Does that make it a perfect fit for Vegas, which actually has an ongoing Bruno Mars residency down the street? The man in charge believes so but didn't want to pull the trigger early and open at the first-available space inside a casino, holding out close to 10 years to find the right location.
"Las Vegas is the land of incredible restaurants, and it has always been on our list to be here," Mitchell tells Thrillist. "We have been very patient as we searched for an iconic location, and we believe we have found it."
63 is just getting started. Despite being a dramatic new addition to the Strip, the property almost blends into the environment, effectively (and almost literally) as a bridge between the Cosmopolitan and CityCenter's The Shops at Crystals. The tenants already include a Fat Tuesday Daiquiri Bar for boozy slushies, and a surprisingly large (and loud) Welcome to Las Vegas gift shop for buying souvenirs while dance beats thump in the background. A Ross Dress For Less, which dominates the ground floor, is gearing up for a mid-July grand opening. In the months ahead, 63 will welcome the Museum of Illusions and the first US edition of South Korea's Arte Museum, proving the bubble has yet to burst for immersive, photo-friendly attractions in Las Vegas.
For now, Ocean Prime will remain the top reason to visit 63. Valet parking is $25 for the first four hours and $35 for anything beyond that. If you don't mind walking a few extra steps, the Shops at Crystals has complimentary valet until 11 pm, and the Cosmopolitan offers three hours of complimentary self-parking to locals with a Nevada ID.
Rob Kachelriess
is a full-time freelance writer who covers travel, dining, entertainment, and other fun stuff for Thrillist. He's based in Las Vegas but enjoys exploring destinations throughout the world, especially in the Southwest United States. Otherwise, he's happy to hang out at home with his wife Mary and their family of doggies. Follow him on Twitter
@rkachelriess
.