A Nostalgic New Restaurant Elevates Pot Roast and Pudding Cups in Vegas
Top Chef finalists play with their food and celebrate their come-up at Retro by Voltaggio at Mandalay Bay.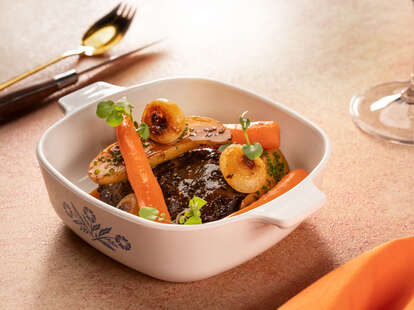 Pot Roast

| Photo by Anthony Mair, courtesy of Retro by Voltaggio
Pot Roast

| Photo by Anthony Mair, courtesy of Retro by Voltaggio
Believe it—pot roast is cool again. This week, brothers Michael and Bryan Voltaggio open one of the most ambitious new restaurants of the year in Las Vegas, even if it takes a moment to fully absorb what it's all about. Retro by Voltaggio reimagines classic American staples in a playful '80s- and '90s-themed environment that provides both inspiration and a nostalgia fix for sibling chefs who understand the finer points of fine dining.
"We're gonna bring you food and put it in the middle of the table in casserole dishes," says Michael, "but modernized in a beautiful presentation."
Retro was billed as a "one-year culinary residency" when officially announced a few months ago, yet it's hard to imagine the new place won't stick around longer. The restaurant takes over the space formerly home to Charlie Palmer's Aureole—one of the most iconic dining rooms on the Strip. Its famous two-story wine tower is now an exhibit of pop culture artifacts with bicycles, roller skates, toys, vinyl records, board games, and other glimpses of the past on display.
It's a full circle moment as both brothers worked for Palmer early in their careers. "I've cooked in this room," says Bryan of his time at Aureole. "Coming into this space and taking it over is not only an honor, but a reputation to live up to. We have to make sure we're bringing something incredibly exciting."
The Voltaggios hope to generate that excitement by combining a great gimmick with even greater food. The brothers, who competed against each other, then finished in the top two of Top Chef's sixth season (filmed primarily in Vegas), are using elevated, fine-dining kitchen techniques to put a new spin on familiar dishes people already love.
The Lobster Thermidor is a showstopper that, like most items on the menu, is designed to share. Beautifully buttered lobster meat tops a perfectly seasoned crab cake, baked with blue crab claw meat and traditional thermidor fillings. It arrives at the table with strings of kohlrabi, which is a vegetable similar to a turnip, and lobster roe pancakes. The brothers recommend rolling the components together in the pancakes to dip in the lobster jus, which is just as good as any you'll find in the best French restaurants. If you just want to stack the components and slice them with a knife and fork, that works too.
The Pot Roast is destined to be another conversation piece, served in vintage white CorningWare with blue flowers imprinted on the side. The team scoured the country to find enough for the restaurant, with some purchased from a Boulder City antique shop. However, the ingredients inside the container are far from your grandmother's favorite pot roast recipe.
"Slow cookers were a big thing," says Bryan, referring to an era of Crockpot convenience. "That's when pot roast became the center of the table for a lot of American homes. What we do is slow-cook beef checks for more than 48 hours, which takes a typically tough muscle and makes it succulent, tender, and juicy. It still has some of that red color, yet it's fully braised."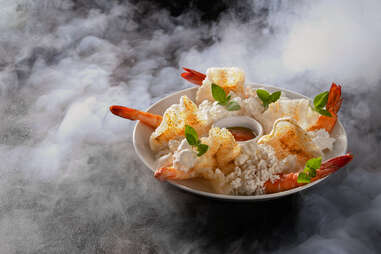 The cheeks are pan-roasted for a nice sear and served in the casserole pot with beef jus cooked separately, roasted onions, and glazed carrots. French-style mashed potatoes inspired by Joël Robuchon come on the side. Executive Chef Rob Ferris, who carried over from Aureole, along with most of the staff, suggested a sprig of parsley and a pat of butter on top to further lock down the nostalgia.
The menu highlights continue with wild-caught Shrimp Cocktail with coconut crushed ice and shrimp crackers, an Octopus Corn Dog, and "Voltaggi O's," a play on the canned spaghetti you enjoyed as a kid. This time around, house-made pasta is drenched in a spicy marinara sauce mixed with brown butter to create an eye-catching orange color. And yes, it's poured from a can onto the plate. Even the Caesar Salad gets upgraded with Belgian endive mixed with little gem lettuce and presented with a small bag of parmesan churros. The crumbled black olive croutons on the plate are like "dirt" to make the lettuce feel like it was pulled fresh, straight from the ground.
Save room for dessert, especially the Key Lime Pie made of lime curd and grapefruit juice in lime-shaped molds that sit on a beach of coconut sand with coconut sorbet. A dried egg-free yuzu has the texture of meringue but dissolves in your mouth almost instantly. Cookies and Cream, on the other hand, is a play on a Jello pudding cup with super dark, rich chocolate pudding and cookie butter made with ground Oreos.
At first glance, the cocktails wouldn't look out of place on a TGI Fridays's menu 40 years ago. However, mixologist Josh Cross, a longtime collaborator with the Voltaggios, gives the recipes a modern makeover to match today's standards and preferences. An Appletini is made with Midori and shochu (no sticky schnaps here) with an egg white and matcha froth. The Fuzzy Navel is more like a Spritz, and the Long Island Iced Tea utilizes an Italian craft cola with natural plant extracts. Bring a few friends and share an order of Jungle Juice inspired by Tiki-style Scorpion Bowls or Brass Monkey, a bottle of Olde English 800 malt liquor served in a brown paper bag and poured over passionfruit-orange sorbet.
The dining room is decorated with pieces by artist Keith Magruder (also known as Baker's Son), whose watercolors are folded to resemble vintage relics like an old Nintendo NES console, UNO game set, and a Speak & Spell. MGM Resorts pulled a few items out of storage, including serving plates, mats, and glassware previously used at other restaurants, adding an authentic touch to the retro kitsch. The theme continues with elongated serving sporks and porcelain plates that resemble the paper ones you might use at a backyard barbecue.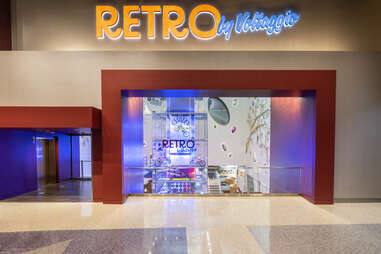 Retro is incredibly fun and a little bit weird. Still, it's also a deeply personal project for the Voltaggio brothers, who grew up in middle-class Maryland and became a consistent presence on television cooking shows with a series of acclaimed restaurants, among them the newly opened Vulcania in Mammoth Lakes, California. Retro takes a look into the past in order to celebrate the accomplishments of today and how far the Voltaggios have come. Even the napkins are an Easter egg of sorts, folded in the same manner as the ones at the Holiday Inn that gave both brothers their first kitchen jobs.
"Coming to Vegas is like getting called up to the majors," says Michael, comparing the aspirations of a chef to those of a professional athlete. "The goal of every chef is to have your name on the outside of a restaurant in Las Vegas… It's a place that can still support dreams."
Retro by Voltaggio is open from 5 to 10 pm Monday through Saturday, with reservations available online.
Rob Kachelriess has been writing about Las Vegas in Thrillist for more than nine years. His work has also appeared in
Travel + Leisure
,
Trivago Magazine
,
Sophisticated Living
,
Modern Luxury
,
Leafly
,
Las Vegas Magazine
, and other publications. His favorite idea for a Las Vegas date is drinks on the back patio with his wife. Follow him on Twitter
@rkachelriess
.