Steakation: What Makes For A Great Vegas Steakhouse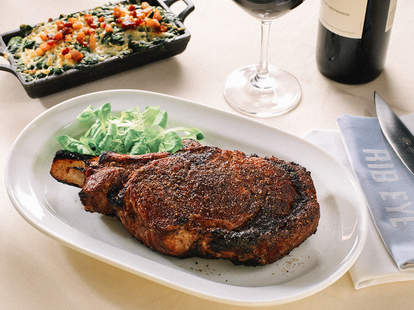 Courtesy of Caesars Palace
When you're in Vegas, if you're not going all out, you're doing it wrong. That means ordering steak every time you sit down for a meal. But in a city where indulgent options run the gamut, you gotta do more than just offer prime cuts of meat to stand out. To break it down, we partnered with Caesars Entertainment to highlight exactly what goes into making a great Vegas steakhouse. By the time you finish reading, your next Vegas itinerary will only consist of steakhouse visits. And we won't blame you.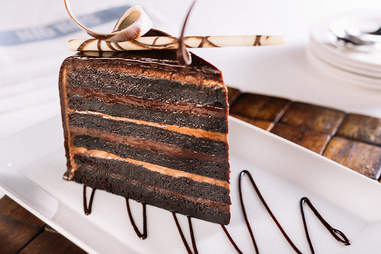 Courtesy of Caesars Palace
A BIT OF HISTORY
Old Homestead
Caesars Palace
This NYC-based steakhouse has been around since 1868, and while its Vegas location is a bit newer, brothers Marc and Greg Sherry went out of their way to maintain the restaurant's vibe at Caesars Palace. Now, it's like a small piece of old New York City, but relocated to the Vegas Strip. Big Apple accents include dark wood tables, burgundy leather booths, and a glass wine cellar with 15,000 bottles. When it comes to the dishes, old New York traditions abound. For example, all the cuts are provided by a specialty East Coast butcher, and are aged in the exact same fashion the original Old Homestead has been using for years. They also serve all the same menu items that Manhattanites will recognize -- even their signature towering seafood platter, complete with oysters, shrimp, king crab, and lobster.
Pro Tip: The dessert portions are huge, so save room -- and definitely plan on sharing. Especially if you get the "Candy Bar" dessert, which features a fudge brownie crunch, peanut butter nougat, and buttered popcorn ice cream to satisfy those salty/sweet cravings.
Courtesy of Flamingo Las Vegas
SOME CLASSIC VEGAS VIBES
Center Cut Steakhouse
Flamingo Las Vegas Hotel and Casino
If you're nostalgic for the Vegas days that birthed this legendary city (like when Elvis and Sinatra used to treat it like their second home), the Flamingo is the place to dine. That's because this is one of the oldest casinos on the Strip, and it has seen 70 years of Sin City action. Center Cut Steakhouse channels those vintage Vegas vibes in their dining room, but with a slightly modernized take. The floor, for example, has classic black and white tiles, but passes on a checkerboard pattern for a more futuristic design. There are flat screen TVs across all the walls, but don't expect to check out a football game here. Instead, they play a black and white photo montage of the Flamingo and Vegas from the city's iconic early days. Then, there's the traditional menu, with items like crab cakes and dry-aged steaks served Oscar style. After dinner, you'll also be right in the center of the action, as the restaurant is also located near the Flamingo's entrance to the LINQ Promenade, where you'll find everything from bowling to the world's tallest observation wheel, plus tons of shopping options.
Pro Tip: Besides the dinner options, Center Cut is known as one of the best Happy Hour spots on the Strip thanks to house wines and cocktails for five bucks.
Courtesy of Harrah's Las Vegas
INSTAGRAM-WORTHY VIEWS
Ruth's Chris Steak House
Harrah's Las Vegas Hotel and Casino
A killer view takes a restaurant to a whole new level, and that's especially true of a restaurant that overlooks one of the most Instagrammed spots in the country: the Vegas Strip. At Ruth's Chris Steak House at Harrah's Las Vegas -- they know their location is key to setting the mood. Located on Harrah's second story, at the center of the Strip, floor-to-ceiling windows encase the dining room. From there, you'll have panoramic views of this iconic spot, particularly Caesars Palace and The Forum Shops, in a classic, romantic setting. Add in steakhouse classics like New York Strip and Petite Filet with Shrimp, and you'll have an evening worth posting in your story for sure.
Pro Tip: Order your cut "Oscar style" to add a crab cake, asparagus, and béarnaise sauce -- it's one of their specialties.
Courtesy of Bally's Las Vegas
INDULGENT OPTIONS WORTH SPLURGING ON
BLT Steak
Bally's Las Vegas Hotel and Casino
Sure, dinner here is great -- but for a truly Vegas-style experience, you'll want to hit up BLT Steak on Sunday mornings. It's when they offer their Sterling Brunch, one of the most indulgent experiences on the Strip. Even before BLT Steak was founded at Bally's, the Sterling Brunch was a well-known Vegas institution -- and now it's going on its 30th year. That's thanks to endless pours of Perrier-Jouët Champagne, as well as buffet-style brunch of unlimited high-end options, like fresh shucked oysters, prime rib, omelets, and more. The best part? You still get BLT Steak's famous giant, Gruyere-stuffed popovers with breakfast, too -- plus a copy of their recipe to make the airy, warm puffs at home. The whole brunch will set you back about $105, so just make sure you set your alarm.
Pro Tip: On top of the brunch buffet, you can order specially crafted small plates, like their eggs benedict or classic chopped vegetable salad, from your waiter, too.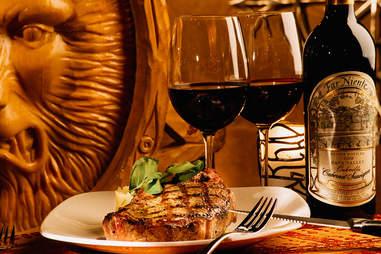 Courtesy of Rio All-Suite Hotel & Casino
A MEAL THAT DOESN'T KILL THE PARTY
VooDoo Steak
The Rio All-Suite Hotel and Casino
It's no secret that a restaurant's ambiance helps set the tone for the entire evening, and that's especially true of steakhouses. In Vegas, the tone you want to set is something like, "non-stop party" meets "epic, unforgettable weekend." With goals like that, sitting down to a long, fancy fine dining experience can feel… well, kind of stuffy. FOMO is the worst type of sin in Sin City, and at VooDoo Steakhouse at the Rio, they get that. So much, in fact, that their nightclub is right above the restaurant, and every diner gets free admission after you finish your meal. Plus, it's located on the 50th floor of the Rio -- meaning you'll have amazing views from the top of this restaurant. Add in a crazy extensive cocktail menu (including their oversized Witch Doctor drink, which, thanks to the dry ice, actually smokes) and you've just extended the party -- not interrupted it.
Pro Tip: The lobster bisque is lauded as one of the best in town, so kick off your meal with a bowl.
AND, OF COURSE, PERFECTLY AGED STEAKS
Gordon Ramsay Steak
Paris, Las Vegas Hotel and Casino
Most importantly, a great Vegas steakhouse needs to get one key thing right, and that's the beef. This restaurant encompasses everything about Gordon Ramsay -- from the chic dining room with a Union Jack flag splashed on the ceiling to his infamous penchant for perfection. That's especially true of the steaks. Every prime cut at Gordon Ramsay Steak is hand selected, then dry aged for a minimum of 28 days, as part of a program Ramsay designed himself. There are American Wagyu and Japanese A5 options, too, served along Blue Point oysters, caviar, and handcrafted cocktails.
Pro Tip: On top of extensive steak options, Ramsay's signature dishes are offered here, too, like Beef Wellington and Sticky Toffee Pudding. Now, where can we make a reservation?