Part of a massive renovation at The Palms, Heraea is inspired by the Heraean Games, a 6th-century-BC competition honoring women's strength and skill. Hooray... ah! So what does this mean for you you? Just that you can head to a sports bar/book that's specifically engineered to lure in women who also want to talk about Gronk.

Designed by the Seed Group, the space is like a miniature, upscale amphitheater with booths, banquettes, couches, and tables all directed at the the giant wall of LEDs. And how, you ask, do they keep the women here? By distracting them. Save for during
the biggest of games, the overhead sound system will play a DJ instead of Dan Dierdorf.

Assure the ladies WHIP doesn't mean what they think in one of two private skyboxes, a lounge with a pool table, a sports-betting station, or this secondary bar leading out to a patio with access to the pool.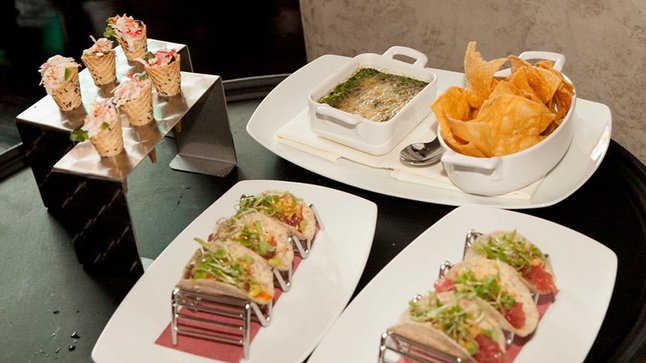 Just be sure to wait 45min before entering it after downing a menu conceived by former STRIPSTEAK chef Doug Bell, who's working up apps like the Trio of Cones (king crab, lobster, tuna tartare), and a lump crab & spinach dip.

He's also doing a 6oz petite filet for that girl who seems to know an awful lot about Stacey Augmon and just ordered two more 6oz petite filets, plus a double-stacked cheddar burger for you, served with a choice of house-cut salt & vinegar fries, loaded tater skins, or mac & cheese.

They get these particular girls to stay and hang out in a sports bar by paying them.