Red Rock Casino Resort Spa
You'll be far too busy planning your Black Friday assault on Best Buy (here we come, $13 off a Samsung Galaxy Tab 3 10.1 in gold brown!!) to actually cook on Thanksgiving, so why not let one of Sin City's sweetest restaurants do it for you? The eight best Turkey Day deals in Vegas are below...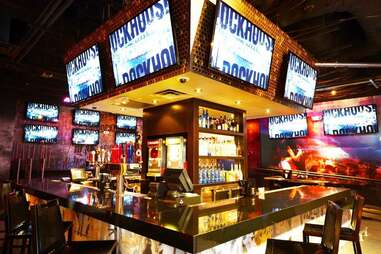 Rock House
On The Strip
The main event at this Venetian party spot is a delicious turkey leg dinner, served with potatoes and draft beer. It's available all day for $17. If that's not enough, come back the next day with a receipt from your Black Friday splurge at the Grand Canal Shoppes and receive 10% off your next bill.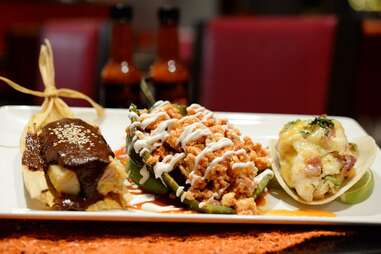 Tacos & Tequila
On The Strip
Head over to The Luxor for a Mexican-themed option that's more than bueno. Tacos & Tequila is offering a Turkey Combo for $19 that includes chile relleno, tacos, and a tamale made with chunks of white and dark turkey meat.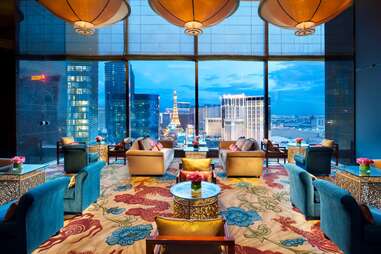 The Mandarin Oriental
On The Strip
David Werly, the Executive Chef at the Mandarin Oriental, is preparing restaurant-quality take-home meals boasting foie gras-stuffed turkey; a shton of sides, breads, butternut squash soup; and three dessert options, none of which are pumpkin pie. A serving for two is who cares didn't you see the part about foie gras stuffed turkey?! $89.
Hash House a go go
Multiple Locations
Known for its breakfast and enormous pancakes, Hash House a go go is nonetheless offering Thanksgiving options like Stuffed Turkey Meatloaf ($19.95); linguini w/ pumpkin cream & shrimp ($18.95); and homemade pumpkin bread pudding w/ ice cream ($8.95) for dessert at its three valley locations.
Scarlet Bar
Off The Strip
Some people believe Thanksgiving is about sharing turkey with family and friends. But anyone who actually shares turkey with family and friends knows the holiday is really about drinking. So, when you're done eating, make a detour to Scarlet, the intimate cocktail lounge inside The Palms, where a butternut squash Bourbon will help you digest/forget dinner.
Central Michel Richard
On The Strip
This spot at Caesars Palace could be your best bet for a traditional dinner with enough options to keep it interesting. A $45 three-course meal comes with a number of choices, including roasted turkey, prime rib, or Mediterranean sea bass. Start things off with the chestnut soup & duck confit, and end it w/ a caramel-sauce'd poached apple tatin.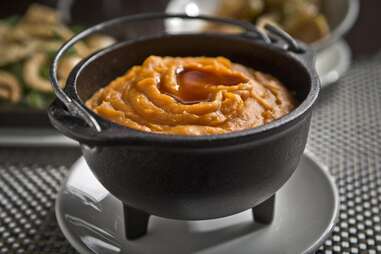 Tender Steak & Seafood
On The Strip
This steakhouse at The Luxor is staying open for the holiday, but you'll want to skip the red meat (just this once) for the Heirloom Organic Turkey served with things like butternut squash ravioli; a sweet potato puree with maple butter; and a trio of desserts like pumpkin-maple pie, an apple tart & crème brulee.
Lucille's Smokehouse Bar-B-Que
Off The Strip
The Red Rock Resort is offering-up a barbeque-style Thanksgiving for those in the Summerlin area: the uniquely flavored hickory-smoked turkey comes with garlic mashed potatoes smothered in gravy and apples sautéed in Jack Daniels. Individual meals are $21.99.