Steampunk is chugging into Vegas with the introduction of Rick Moonen's Rx Boiler Room, a restaurant and lounge in Mandalay Bay with 19th-century Victorian decor that seems like it's fused together with modern touches by some awesome mad scientist who drinks a lot -- think chalkboard paint walls, crest-inlaid concrete floors, ornate chandeliers, and gear boxes everywhere -- and features a menu that promises to combine "the alchemy of food & drink", which is less scary than it sounds, and basically means breakthroughs like an inside-out grilled cheese and bacon-wrapped bacon.
Don't worry, you didn't just walk into the Illuminati HQ.
Just like they have back in Kenya.
Luckily, they're better at chemistry than you were in the 10th grade.
Put your boots on the shelf in this private dining room. Not literally, don't you dare do that.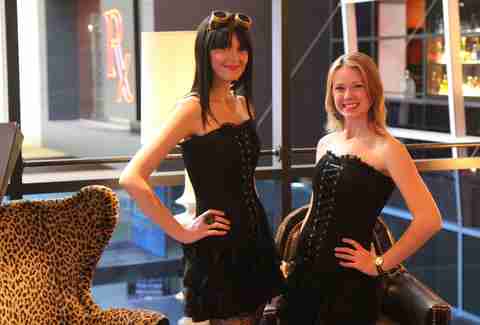 The original Google glass.
These ladies will be serving you equally interesting cocktails like the Some Like it Hot, which mixes gin, blood orange liqueur, and habañero shrub bitters with Sierra Nevada.
Ahhh, science: it's finally produced this Inside-Out French Onion Grilled Cheese.
And these braised oxtail croquettes.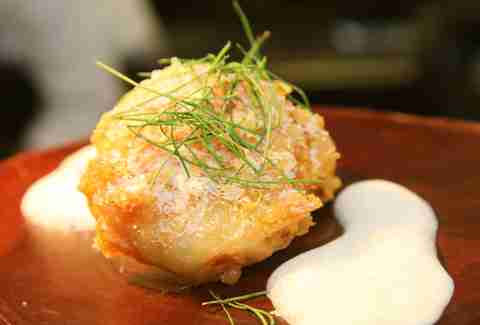 Turn-of-the-century Mickey D's has nothing on these chicken pot pie nuggets.
So yeah, this is a sandwich sporting bacon-wrapped bacon. Jules Verne just rolled over in his grave, so he could more easily eat this. Go steampunk!
Previous Venue
Next Venue
Venue Description
1. Rx Boiler Room
Mandalay Bay, Las Vegas, NV 89119 (Strip)
This steampunk-themed resto in Mandalay Bay is combining "the alchemy of food and drink" to deliver innovative 'tails and delectable bites like chicken pot pie bites and bacon-wrapped bacon.