Deciding it was time for a (sea) change, Michael Mina shuttered his family-style seafoodery Seablue to open up Pub 1842, an MGM-situated gastro that was inspired by the year pilsner beer was created, and will gladly fill you with plenty of those along with other, rarer beers, classic whiskey cocktails, and some seriously comforting comfort food.
It's like dining in your uncle's sportcoat from the '70s! Plaid upholstered booths line the space, which is filled with vintage elements like mosaic tile floors, wood beams and paneling, and stained glass windows.
The giant bar is the centerpiece of the space and home to top shelf whiskeys and tequilas, and some-other-shelf moonshine.
We're not sure giant spheres of ice were commonplace in barrel-aged Negronis in 1842, but they are here.
They've got 40+ beers, 24 of which they'll serve you in this 33oz beast. They've also got a 25oz Bosteels DeuS Belgian Ale that's $68, so that's probably pretty good.
This is just a wedge salad with the thickest cut of bacon ever seen by humans.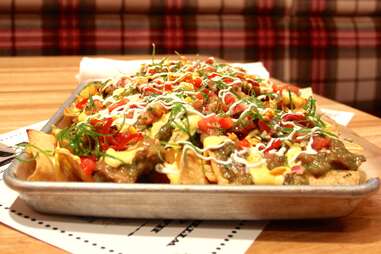 The 1842 Nachos come piled high with chili, cheddar, sweet corn relish & pickled Fresno peppers.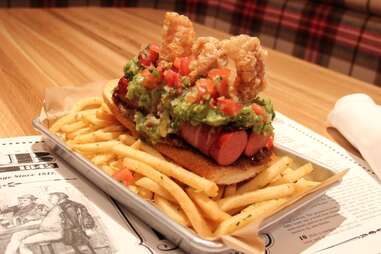 Behold this double barrel of bacon-wrapped Wagyu hot dogs topped with pico de gallo and pork rinds.
The Lobster Bake. It helps if you arrive in a similar state yourself.
The Peanut Butter Crunch burger comes topped with cheddar, bacon jam, potato chips, and chunky peanut butter. Elvis has not left the building, since he couldn't fit out the door.
You even get dessert with your dessert, like this coconut cake served with a pina colada milkshake. Nicest place.