From impressive sushi spots on the strip, to tequila madness downtown, to BBQ that would (almost) satisfy Fred Flintstone, these are the 10 Vegas openings of the Summer you should add to your "devour immediately before something weird happens with Carrot Top" list.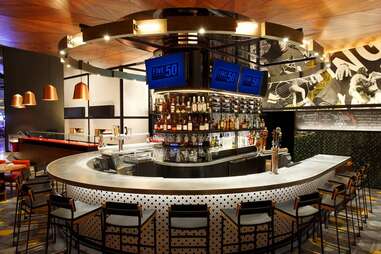 Five50
The Strip
If you're looking for East Coast pizza out in no-coast-in-sight land, look no further than James Beard-winner Shawn McCLain's pies (truffle salami/potato/Parmesan/Bechamel/truffle) and slices. That's why you come to Vegas! Pizza!
La Comida
Downtown
100 tequilas? Ok. How about a $235 El Millonario tequila flight featuring Gran Patron Bordeaux, Don Julio REAL, and Herradura Seleccion Suprema? Yep. Mexico City-style recipes including mesquite-smoked pork shoulder? Sold.
Heritage Steak
The Strip
Tom Colicchio's Heritage Steak is his seventh resto on the Strip, and features meat raised in a completely antibiotic-free environment (have you ever had amoxicillin beef? It's gross.) before being prepared over an open flame.
Rx Boiler Room
The Strip
It's time for waitresses dressed in steampunk corsets and dishes like the pictured Inside-Out French-Onion Grilled Cheese, plus chemmed-up cocktails like gin, blood orange liqueur, habañero shrub bitters, and Sierra Nevada.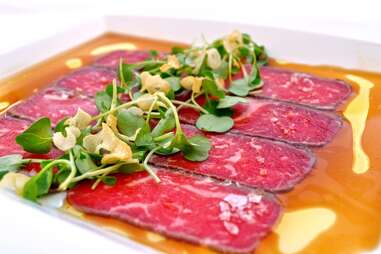 Kumi
The Strip
Mandalay Bay's new high-end sushi joint's tag line is "Fresh Dead Fish". Some of those dead fish are covered in similarly fresh dead Pop Rocks.
Carmine's
The Strip
With a space large enough to fit 750, even if they're fat, this NY Italian spot is doing family-style dishes including a six-pack of meatballs, a 9in-high eggplant parm, and a "Titanic Sundae" made with 10 softball-sized scoops of ice cream.
Pub 1842
The Strip
Giant platters of nachos? Check. 24+ beers to be had in a 33oz glass? Check. A giant cheeseburger topped with bacon jam, and peanut butter? They've got that too, all in a super slick, yet old-school-ish pub put together by Vegas veteran Michael Mina.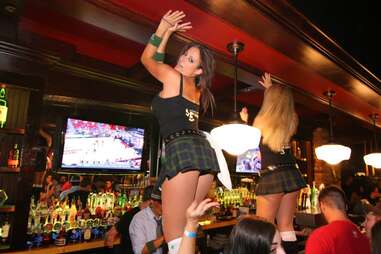 McFadden's
Off The Strip
What do you get when you combine Fireball Cinnamon Whisky on tap, cheeseburgers served between two grilled cheese sandwiches, and a bunch of hot girls wearing mini-kilts? The new McFadden's in Town Square. And then there's the 3lb burger at the top of the page.
Lucille's BBQ
Off The Strip
Expanding a local favorite, Lucille's second location's the spot for baby-back ribs, Texas-style brisket, beef tri-tip, smoked BBQ chicken, and Big Easy BBQ Shrimp.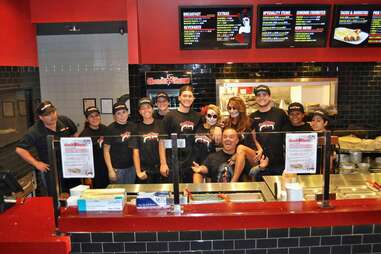 Chronic Tacos
The Strip
Huge burritos, "Fatty" tacos, meat and cheese-stuffed breakfast bowls, and cold cervezas: all a man who's terrible at gambling and doesn't have a ton of money to spend on steaks needs.