Great steakhouses? Incomparable Italian restaurants? Sure, Las Vegas has a ton of those places. But great BBQ? Sorry, for that you're gonna have to go to Austin, Texas or Memphis, Tenness... ha, just kidding! Sin City has some seriously sweet smoked meat spots -- if you know where to look. We do, and here's our list of the nine best BBQ joints in Las Vegas...
Off the Strip
Less than four years ago, a family from Arkansas started selling food on the side of the road, with the mission of bringing true Southern BBQ to Las Vegas. They quickly made enough money to open their own dining room near the north end of the Strip and earned a reputation that's spread nationwide. Make sure to order the smoked meatloaf, made with hamburger, smoked pulled pork, and smoked brisket. It's served on mashed potatoes and topped with fried onion rings.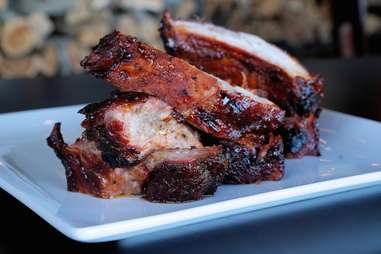 Town Square
The initials in the name stand for "Contemporary American Smokehouse," while "pot liquor" is a term used to describe the broth leftover after collard, turnip, or mustard greens are boiled with smoked meats, bones, or pork. It's a sign that you're sure to find traditional favorites like Carolina pulled pork and Kansas City-style burnt ends, but a few items are given a modern twist, like the pork belly with cheese grits and the bacon-wrapped meatballs, known as "Moinks" (moo plus oink), with jalapeño slaw.
North Valley
This business has been serving more than a few purposes since opening in 1954. The butcher shop is where hunters tend to bring wild game like deer, elk, antelope, and bear to be chopped up into little pieces. And there's also a BBQ kitchen that features spices made from scratch, recipes that remain unchanged since opening day, and mouthwatering St. Louis-style ribs that are marinated overnight, parboiled, and smoked for 45 minutes. While the food is technically "to go" from the counter, people tend to stick around and hang out at the picnic tables on the patio while they eat. So many of them, in fact, that a second Road Kill Grill location recently opened about six miles north, with a modified menu and hours.
Red Rock Casino Resort
Before spreading to Las Vegas, Lucille's got its start in California. It remains the best bet for BBQ in an area dominated by an onslaught of new and intriguing restaurants at Downtown Summerlin and the Red Rock Resort. The fried okra is a nod to the business' Carolina family roots, and there are a few family-style options, like the hickory-smoked ribs, chicken, beef, and sausage.
Green Valley and other locations
While the name sounds like it could be inspired by Saturday morning pro-wrestling from the '80s, it's actually a reflection of the regional and national competition victories that have brought founder Mike Mills a hard-earned reputation and a spot in the official Barbecue Hall of Fame. Memphis Championship Barbecue has both ends of the Las Vegas Valley covered, with one location by Nellis Air Force Base, and another near Henderson. The meat is cooked slowly with applewood, providing a sweet-and-smoky flavor.
Food truck
Fans of the Food Network are likely familiar with celebrity chef Mike Minor, who can be seen bringing his barbecue around town, thanks to one of the most talked-about food trucks in Vegas. It has a high-energy rockabilly image and can be spotted at outdoor festivals and by places like Atomic Liquors. The food comes with a sticky-sweet molasses BBQ sauce and is given a Mexican twist, served in tacos and burritos.
Off the Strip
Quietly flying under the radar as a local favorite for years, Ellis Island is known for brewing its own beer, deep discounts on food and gaming, goofy karaoke nights, and some incredible baby back ribs. The dining room is just off the casino floor and strictly for those 21 and over. So leave the kids at home and spend your slot machine money on a BBQ menu that is basic and barebones... but one of the most satisfying in Vegas.
Off the Strip
There are plenty of Asian BBQ restaurants in between the ramen, pho, and sushi spots in Chinatown. But Gangnam sets itself apart on the other side of the Strip with a unique Korean tapas menu and its quality of meat. It's the only restaurant of its kind that serves Certified Angus Prime beef as well as natural pork and chicken. The speciality of the house is the kalbi (marinated short rib). Just try not to hum that song in your head while eating here.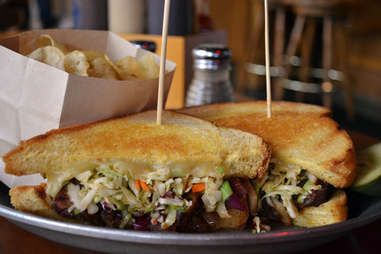 Treasure Island
Proof that good BBQ can be found at a casino on the Strip, this cowboy bar draws rowdy crowds for its mechanical bull, line dancing, and cute servers in skimpy clothing. It just happens to have some pretty good food as well. Get things started with the spicy pork green chili and move on to the bone-in BBQ short rib with a Dr Pepper glaze. Make sure the fries come with the house-made molasses ketchup.
Sign up here for our daily Vegas email and be the first to get all the food/drink/fun in town.
Rob Kachelriess likes his BBQ hot and spicy with a cold beer. Follow him on Twitter: @rkachelriess.