Vegas has more celebrity chefs per square inch than any other city in the world, and burgers that're so good they'll most likely give you a heart attack. But you're probably out of luck if you try to actually order a burger at one of the 702's celebrity chef-staurants, 'cause those spots are all about fancy things like duck confit, truffles, and foie gras, right? Yup, and they put 'em all ON BURGERS.
Gordon Ramsay, Gordon Ramsay BurGR
Planet Hollywood Resort & Casino
A flaming glass wall that wraps around the dining room literally makes this meatery a hotspot, but badass burger creations like the spiced-up Hell's Kitchen Burger -- w/ Asadero cheese, roasted jalapenos, avocado & roasted tomatoes -- don't hurt either.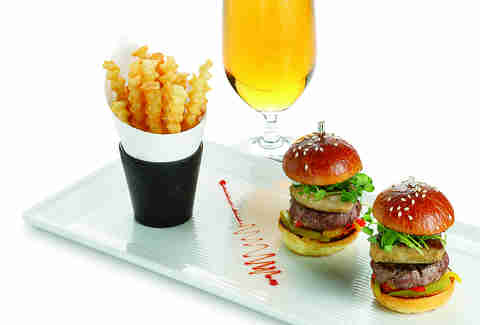 Joel Robuchon, L'atelier de Joel Robuchon
MGM Grand Hotel & Casino
The "Chef of the Century" has two restaurants next door to each other at the MGM Grand, including one where you can post up at the counter and order Le Burger (which apparently means "two sliders" in French), complete w/ foie gras, caramelized bell peppers & crinkle-cut pommes frites.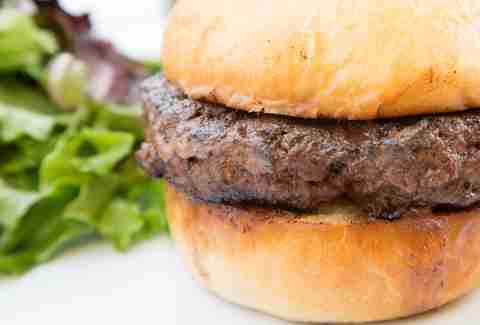 Bradley Ogden, Hops & Harvest
Tivoli Village
Named "Burger of the Year" by GQ back in 2009, this sucker boasts a combination of ribeye and chuck and comes with the lettuce and tomato on the side. But wait, there's more! It also comes with some "fancy sauce" that's... um, basically Thousand Island, but is apparently good enough to garner the aforementioned fancy award.
Michael Mina, Pub 1842
MGM Grand Hotel & Casino
This San Francisco chef's Peanut Butter Crunch burger is made with all-natural American beef, then topped w/ pimento cheese, potato chips, and something called "bacon jam", but that probably wouldn't... sorryboutthis!... Mina thing to you if it didn't also have crunchy peanut butter on it.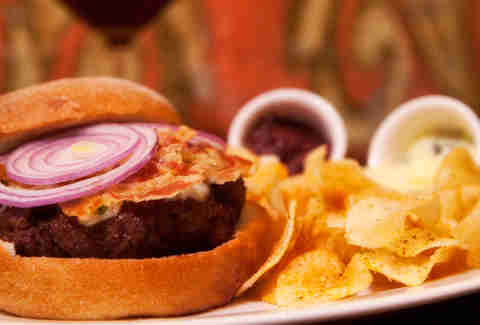 Mario Batali, CarneVino
The Palazzo
Gone are the days when the burgers here were made from ground fillet, but this creation, known simply as The Burger, is made w/ three different cuts of Prime Angus Beef, then topped w/ pancetta and your choice of cheese, and comes with two sauces: a red Chianti mustard and a black truffle aioli, both of which are Super, Mario.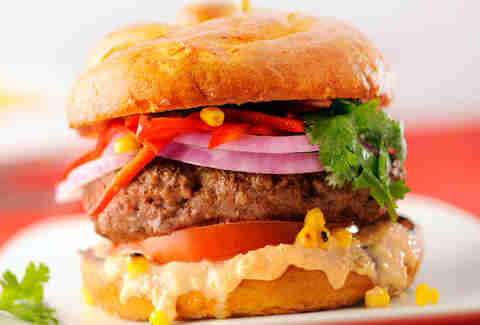 Kerry Simon, KGB: Kerry's Gourmet Burgers
Harrah's Las Vegas Hotel and Casino
Rolling Stone's "rock n' roll chef" is lacing you w/ things like a Captain Crunch milkshake and a "Burger of the Month" option, which in November, will be an eight-ounce patty topped w/ duck confit, baby greens, roasted cherry tomatoes & garlic aioli.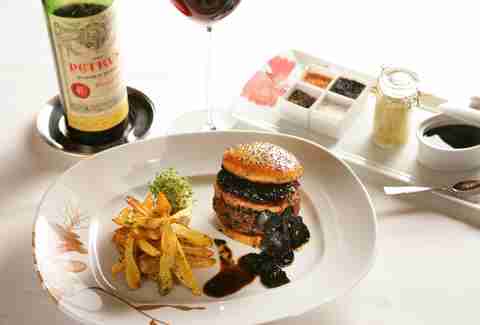 Hubert Keller, Fleur
Mandalay Bay Resort and Casino
The Fleur Burger is Wagyu beef, foie gras, and truffle on a brioche truffle bun. It's garnished with a "special sauce" that's super-secret and comes with an 18yr-old bottle of Chateau Petrus, which the restaurant will ship to you, along with your wine glasses. After the meal. Oh, and it only costs... OMGHowMuch?... $5,000.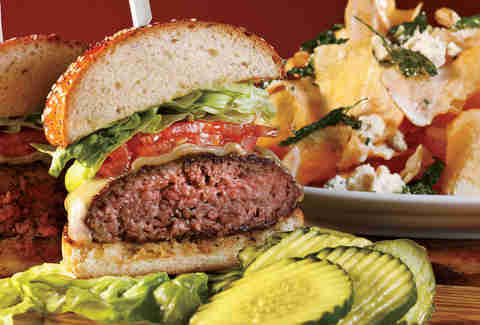 Wolfgang Puck, Wolfgang Puck Bar and Grill
MGM Grand Hotel & Casino
It may not be as unhealthy as the monstrosities they serve at the Heart Attack Grill, but if you think a few of these onion marmalade-/melted Vermont cheddar-topped Prime Burgers won't transform your waistline, you're an Optimus optimist. They're worth it though, especially w/ the Truffled Potato Chips w/ blue cheese sauce instead of fries.