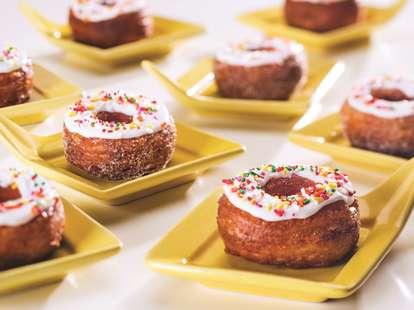 Caesars Entertainment
Caesars Entertainment
Vegas isn't just good at destroying hotels, it'll also gleefully destroy your waistline with things like giant steaks, chef-lebrity burgers, and this collection of Sin City's most epic desserts, including s'mores you make at your table and a sundae that'll cost you a grand. Feast your eyes...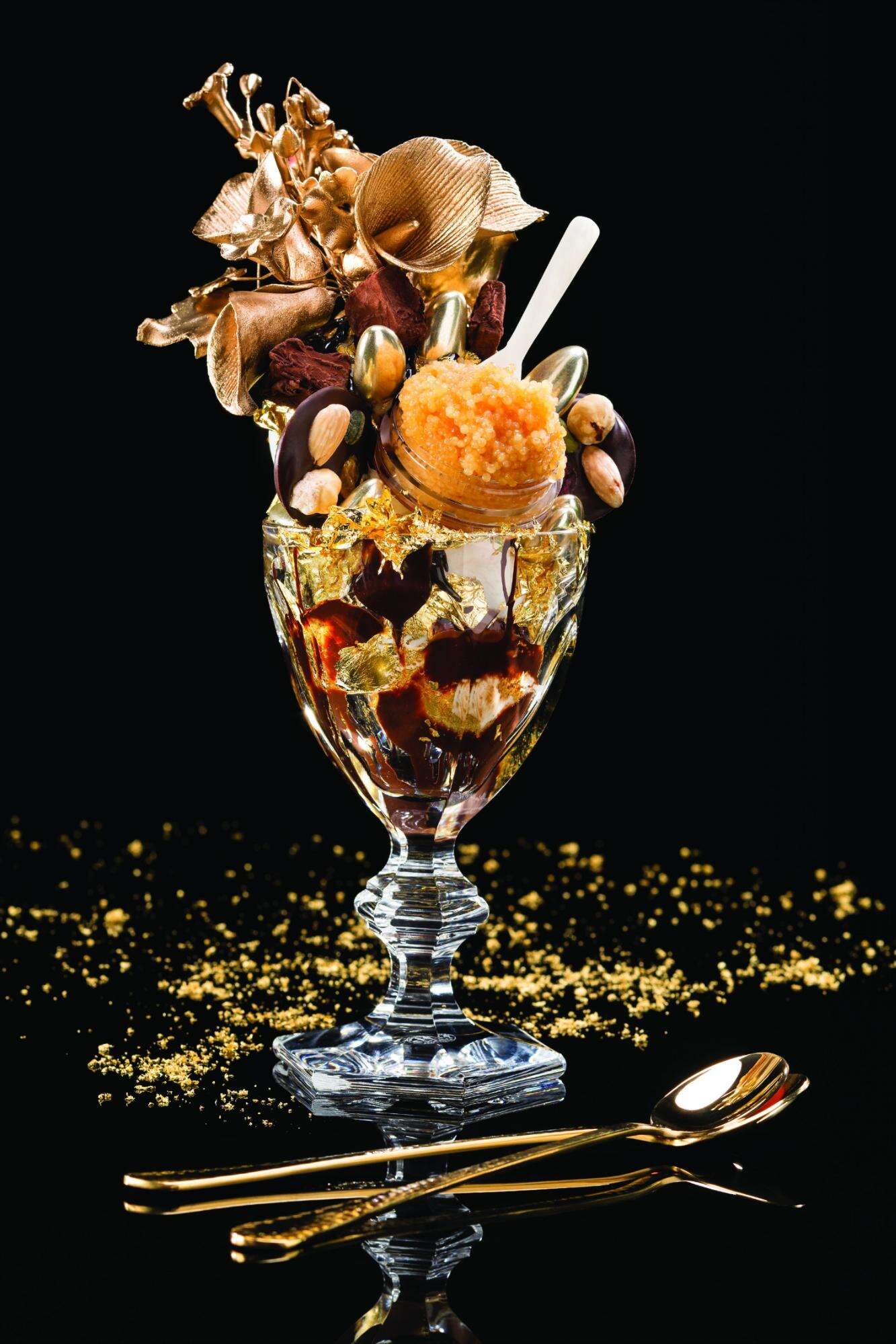 Golden Opulence Sundae
Serendipity 3
You've got to order it at least 48hrs in advance so that the necessary ingredients can be gathered, including housemade Tahitian vanilla bean ice cream (the most expensive vanilla in the world); chocolate truffles and candies from Paris; edible sugar flowers painted with edible gold; passion fruit-infused caviar; and 24K gold dust flakes and edible gold leaf from Switzerland, which all together mean this glorious ice cream creation costs $1,000. But that's okay, 'cause you get to keep the baccarat crystal glass it's served in, and the gold-plated spoon it comes with.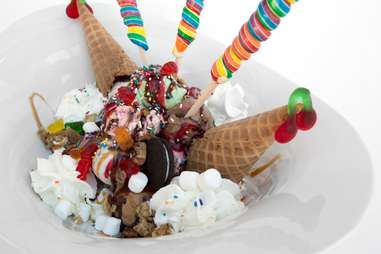 King Kong Sundae
Sugar Factory
Just opening the menu is enough to give you a toothache, so there's no telling what 16 scoops of ice cream covered with just about every topping imaginable (caramel, hot fudge, strawberry sauce, sprinkles, marshmallows, chocolate chip cookies, crushed waffle cones, not-crushed waffle cones, gummy bears, some fresh banana, walnuts, giant lollipops... you get the picture) will do to your dental work.
Bam-Boozled Shakes
Holsteins Las Vegas
Is it a dessert, a cocktail... both?! That's the question at Holsteins, where they're slinging boozy milkshakes like The Drunken Monkey, which boasts Reese's, bananas, malt & Frangelico, plus 13 other concoctions that blur the line between childhood memories and the legal drinking age.
24-Layer Chocolate Cake
Strip House
Take all the wonderful chocolate-covered moments in your life and combine them into one moist, sinful slice of cake, and this is what you'll get: 12 layers of chocolate cake alternating with 12 layers of rich chocolate filling, topped with a French semisweet chocolate ganache.
Cupcake ATM
Sprinkles Cupcakes and Ice Cream
Dragging mid-afternoon? Need a sugar boost before hitting the clubs? Need a way to apologize for forgetting the name of the girl you met after hitting said clubs? Sprinkles's cupcake ATM saves the day (or night) with a walk-up, on-the-go vending machine stocked with the shop's flavor of the day for just 4 bucks.
The Bacchanal Buffet
Caesars Palace
Mom always said to eat dessert first... or, err something like that, but the question here is which dessert to eat first, since they've got more than 80 options ranging from red velvet yuzu whoopie pies, to dessert shots, and made-to-order ice cream sandwiches.
Junk Food Platter
Simon Restaurant and Lounge
Chef Kerry Simon's slinging all his childhood favorites at once: this platter's got everything from fresh and crunchy caramel popcorn, to Hostess-style chocolate cupcakes, warm chocolate chip cookies, pink cotton candy, and gooey Rice Krispies treats, just like Mom used to make, if your mom had won Iron Chef, and been profiled by Rolling Stone.
Some More S'mores
N9NE Steakhouse
N9NE Steakhouse is known for its fine dining, but they do a fine job of turning your table into a campfire with an open flame you can use to make your own adult-appropriate s'mores -- with housemade strawberry, orange Grand Marnier- or amaretto hazelnut-flavored marshmallows, and white and dark chocolate ganache-covered graham crackers -- that destroy the ones you made as a kid.