Caesars Entertainment/Bacchanal Buffet
You can have pretty much anything (steak, sushi, breakfast, etc.) at some pretty awesome restaurants in Las Vegas, but a visit to Sin City isn't complete without a trip to the buffet line. Especially the one at Caesars Palace, where a team of eight chefs at Bacchanal Buffet puts together a collection of about 500 dishes a day, and instead of dumping as much food as possible onto your plate cafeteria-style, the idea is to serve you an endless amount of smaller, but sweeter than usual, eats. They totally pull it off, but it takes a shton of food. Here's a look at what Bacchanal Buffet goes through in just one… single… day.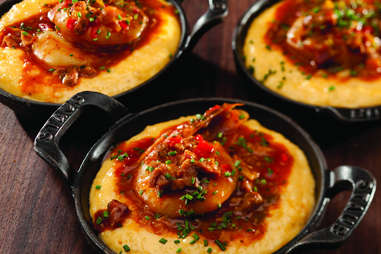 492lbs of shrimp
… or 120 times the amount of shrimp that the average American eats in a year

8,000 pieces of assorted dim sum
… and if each piece is served with a small cup of tea, that adds up to about
500 gallons

1,200 pieces of sweet shuck corn
… or the same amount of kernels on the largest ear of corn

996 marinated lamb chops
… and you probably need just 125 lambs to make that happen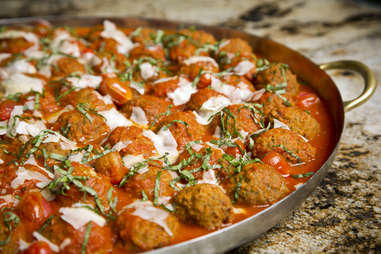 1,000 three-ounce meatballs
… or enough to fill 167 cans of SpaghettiOs

353lbs of prime rib
… which would need to come from at least 50 cows

1,811 fresh shucked Blue Point oysters
… and if each one is 1in tall, you could stack 'em 150ft tall (or as high as the Statue of Liberty replica at the New York-New York resort)

1,738lbs of crab legs
… and lucky you, since they are king crabs, you get a whopping 1,077 pounds of actual meat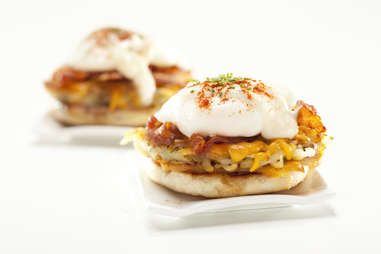 1,440 whole eggs
… which would take the average chicken about 4.8 years to lay

97lbs of farm-raised sustainable salmon
… which, sadly, is almost 30 pounds less than the largest-ever wild Alaskan king salmon weighed

48lbs of sustainable ahi tuna
… or 154 cans of plain ol' regular tuna

54lbs of sea bass
… or the same weight as an average 8-year-old child, or 164 pounds less than Cam Neely who played Sea Bass in Dumb and Dumber

80lbs of hash browns
… or enough to supply hash browns for 640 Big Breakfast meals at McDonald's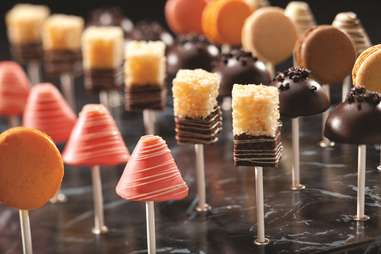 369 macaroons
… made with 6,273 grams of sugar

261lbs of the signature beef brisket
… or roughly 10 cows worth (hopefully the same ones as the above mentioned ribs).

240lbs of chicken wings
… the hens laying all those aforementioned eggs have it way better than these 120 birds

888lbs of farm-grown peach wood for the wood-fired grill and J&R smoker ovens
… which you're getting by chopping down 25 peach trees

1,600 sliders
… which is about the same amount of beef in 500 Burger King Whoppers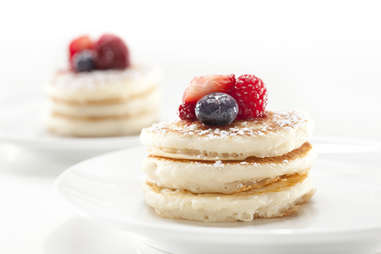 499 pieces of breakfast danish
… we're pretty sure the pastry chef ate the 500th piece

264lbs of watermelon
… or about 13 individual watermelons

240lbs of manila clams
… or the same weight as about 12 bicycles

150lbs of PEI black mussels
… which contains 63,560 times the recommended intake of zinc for the average person each day
60lbs of mozzarella cheese
… made from 30 gallons of milk

140lbs of crawfish
… or enough to feed about 210 people in a Louisiana crawfish boil

240lbs of clarified butter
… which adds up to 953,633 calories

(Only?) 1.15 gallons of freshly squeezed orange juice
… which is likely made from 28 oranges

120lbs of Nishiki sushi rice
… or the same weight of the woman who broke a world record for eating three 72oz steaks in one sitting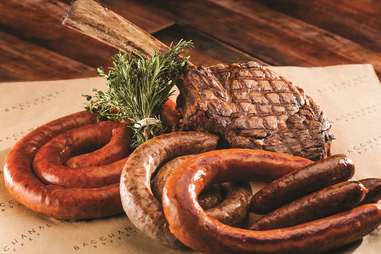 150lbs of roast duck
… which adds up to 56 ducks

40 gallons of pho broth
… or enough to fill the average American bathtub

80lbs of pork ribs
… which breaks down to about 40 racks of baby back ribs

1.15 gallons of cocktail sauce
… or nearly enough to fill ten 16oz bottles
Sign up here for our daily Vegas email and be the first to get all the food/drink/fun in town.