A Locals' Guide to Food, Booze, and Saving a Few Bucks at The Sundry
Work your way through an ambitious Las Vegas food hall with the latest insider tips.
Photo courtesy by Angelo Clinton
Photo courtesy by Angelo Clinton
The explosion of food halls in Las Vegas is impossible to ignore. The trend took hold on the Strip, reducing the longstanding presence of casino buffets, and is now spreading to other parts of the valley. The Sundry is an ambitious take on the format, opening over the summer as the primary anchor tenant at UnCommons, a fast-growing mixed-use space in the Southwest Valley.
The food hall is based around the following concepts: Barzotto (Italian by San Francisco's Marko Sotto), Dhaba Ji (Indian by Santa Barbara's Bibi Ji), Easy Slider (burgers), Kávos Coastal Greek Grill (Mediterranean seafood by the team behind Vegas' Meráki Greek Grill), Kowbird (fried chicken by Oakland's Matt Horn), the Happy Hoagie (sandwiches by local chef Eric Perlin), Petite Peso (Filipino by Los Angeles' Ria Dolly Barbosa), Smitten (ice cream made on the spot in a concept invented by San Francisco's Robyn Sue Fisher), and Saint Honoré (a local favorite for doughnuts and beignets) with a version of Bruce Kalman's SoulBelly BBQ coming this fall.
There are also two full-service, sit-down restaurants, Shotaro Kamio's Mizunara for Japanese and Ray Garcia's B.S. Taqueria for Mexican, and Bar Oysterette, which provides direct counter service for oysters and other seafood and a few unexpected items such as sliced Spanish meats and fresh-made biscuits.
At times, the prices mirror the Strip and paid parking at UnCommons is a first for the area—even though it's free for the first two hours and only $3 an hour afterward—so a certain degree of trepidation is understandable when visiting The Sundry. Just remember, this is truly a place for locals that warrants return visits and even has a few great deals and events to maximize the experience.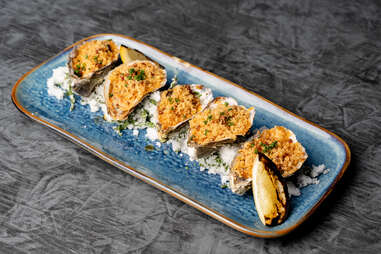 Happy Hour
The Sundry has a happy hour that ranks among the best in Las Vegas, running Monday through Thursday from 4 to 6 pm (with a recently added late-night hour from 9 to 10 pm) at Bar Oysterette or the main Center Bar.
Cheeseburger Sliders are just $3; a classic smashburger that perfects the ratios between a 10-ounce beef patty, American cheese, onions, and a griddled potato bun. "It's really about the way it's cooked," David Varley, executive vice president of culinary for TableOne Hospitality, which operates The Sundry, said. "When you press a burger onto a griddle, it sticks for a moment. If you try to flip it at that point, it would be a total catastrophe. You've got to let it brown and almost form a crust on the grill. Once it starts to caramelize, it'll begin to release, and you can get under it with a spatula … giving it a flip while we smash the onions right onto it."
Happy hour diners can also nibble on a $4 grilled pork belly skewer, soaked in a calamansi lime marinade with lemongrass, from Petite Peso and a $5 spicy Nashville Hot chicken tender, courtesy of Kowbird, made with a brine that includes pickle juice and dried chilis. Old Bay french fries are included on the side.
The $2 oysters, however, are the best happy hour deal, served as a half-dozen for $12. The oysters are expertly shucked on the spot and sourced from the best farms and suppliers on both coasts. On any given day, the catch may include Chesapeake Bay options from the Rappahannock Oyster Company in Virginia or large "Fat Bastards" from Taylor Shellfish Farms in the Pacific Northwest.
The Sundry recently expanded the happy hour drink selection, which now includes a beer or shot of the day for $3 and a Moscow Mule, punch, sangria, or frozen cocktail for $8. The latter was initially a frozé, but recently, the bartending team has been having fun switching things up with frozen negronis, sangrias, and even Fernet and Cokes.
Here's another hack for saving money at UnCommons. The newly opened Amari Italian restaurant next door has a daily happy hour in the bar, lounge, or patio from 3 to 5:30 pm. Begin there and continue your happy hour crawl by walking to The Sundry at 4 pm.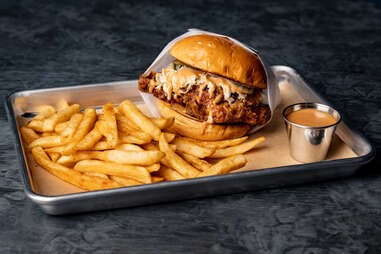 Taco Tuesdays
Ray Garcia's B.S. Taqueria already has one of the best bars for Mexican spirits in Las Vegas, built around small-batch, additive-free tequilas that shine with natural flavors. Even the well tequila is chosen carefully, which you can try in a Margarita or Paloma—and on its own as a shot—for $10 during Taco Tuesdays.
Any of the options pair well with a choice of three tacos prepared with house-pressed heirloom corn tortillas for five bucks each. Choose between chorizo and potato, chicken, or a vegetarian-friendly cauliflower al pastor.
Not into tequila? A can of Tecate golden lager is also $5 on Taco Tuesdays.
Wine Down Wednesdays
It's not widely advertised, but the wines at Bar Oysterette tend to be of the natural, low-intervention variety—and Vegas is starting to appreciate that stuff these days. The mentality carries over to Center Bar, which offers half-priced bottles from 6 to 10 pm for Wine Down Wednesdays. It's an excellent opportunity to sample low-intervention, organic wineries like the Jupiter Wine Company in Sonoma or Troupis in Southern Greece.
"We do offer some unique selections of wine at the main bar as well," Phil Collins, director of beverage, said. "So it's a way to get people to try something new. If you're not familiar with where low-intervention natural wines are going, it's a great introduction to explore different flavors."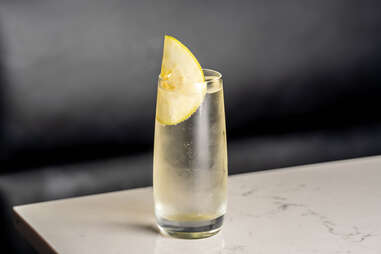 Temaki Thursdays
Three of the most popular handrolls at Mizunara are discounted to $7 each during Temaki Thursdays. Choose between a spicy salmon poke with kimchi and togarashi seasoning, zuke maguro (ahi or big eye tuna tossed in soy and avocado with cucumber and tobiko), or a bright, fresh yuzu hamachi ceviche topped with scallions and crispy shallots. The seaweed wrap is open like a taco. "We're putting prime ingredients in there, really nice ingredients, so we don't want to hide them," Varley said.
Suntory Toki Whisky is the main ingredient in a classic $8 highball with soda water and a green apple garnish (to accentuate the spirit's natural tasting notes) and a $10 Old Fashioned with a hint of sweetness from Kokuto sugar and the oil of a traditional orange peel. "Kokuto is a black sugar indigenous and native to Okinawa," Collins said. "It's a little bit heavier … and another flavor that you're not necessarily going to connect with Japanese cocktails."
Dig deeper into Asian spirits at a secluded bar in the back corner of Mizunara, constructed from a shipping container with extra seating on the roof. Inspired by the hole-in-the-wall bars of Shunkjuku's Golden Gai district and decorated with vintage action movie posters, the bar has dozens of Japanese whiskeys on standby with a few aged rarities and a focus on Suntory and Nikka labels. The Castle in the Sky is similar to a Black Manhattan, using bourbon infused with espresso, blackberry, and vanilla in a calculated slow-drip process.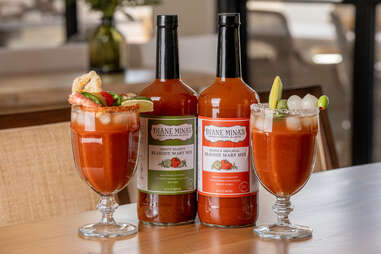 Blues & Brunch
Blues & Brunch runs Saturdays and Sundays from 10 am to 3 pm, built around a lineup of Bloody Mary cocktails featuring Diane Mina's Garden Grown Blends—possibly the best mix on the retail market—with a savory combination of imported San Marzano tomatoes, olive brine, hot sauce, horseradish, lemon, rainbow peppercorns, celery seed, and honey. Choose your spirit (like Vegas Baby Vodka, Frey Ranch bourbon, or Dos Hombres mezcal) and take your time nibbling at a hefty garnish skewer that includes meat, cheese, olives, and more with a delicious blackened slice of bacon.
You don't have to sit at Diane Mina's Hitch Trailer, which dominates the west end of the food hall, to enjoy the brunch. The dishes (listed under Easy Slider on the digital menu) are available throughout the venue, with live music heard over an all-encompassing sound system.
The L.I.E. (named after the Long Island Expressway) is a nod to the classic Kaiser roll sandwiches you'd get on the East Coast, featuring an over-easy egg, black forest ham, and American cheese. You can also order a bowl of cheddar biscuits and egg, topped with cheese, scallions, and a hearty chicken sausage gravy or mashed avocado toast with an over-easy egg, pepperjack, and tajin. The breakfast potatoes, topped with Old Bay, are a generous portion for a side dish. Don't forget to add an oyster shooter with a touch of Bloody Mary mix.

Evolving Menus
You never know when new surprises will pop up on The Sundry menu, so keep your eyes peeled and scroll all the way to the bottom when checking out different concepts.
The Happy Hoagie has a new semi-secret item: a "Funcrustable" inspired by a frozen Uncrustable. This one is more adult and a candidate for the best PB&J ever. Chef Eric Perlin's recipe replaces peanut butter with creamy foie gras mousse and stuffs the sealed white bread sandwich with strawberry compote, crafted with fruit from California's Harry's Berries. Dip it in a syrup-like berry sauce on the side.
Easy Slider has gone beyond burgers with a crab cake slider—a minimalist recipe with jumbo lump crab meat, saltine crackers, mustard, lemon juice, chopped tarragon, and a touch of Old Bay seasoning. It's all held together with Duke's Mayonnaise, which is high in egg yolks for a rich, robust texture. "It's something like 90% crab by volume," Varley said. "I'm not dusting it in breadcrumbs, dropping it in a deep fryer, or any of the other crimes commonly committed against crab cakes."
Varley notes his biggest "easter egg" is hiding in plain sight at the top of the menu. The Sundry Chef's Party is a platter of lumpia and pork belly skewers from Petite Peso, a Peanut-Bacon slider from Easy Slider, grilled seafood (currently scallops) and a trio of spreads from Kavo, an Italian Chop Salad from Happy Hoagie, roasted beet moilee from Dhaba Ji, a Nashville Hot tender from Kowbird, meatball pomodoro from Barto, and an oyster and ham duo with biscuits from Bar Oysterette for $48 per person with a two-person minimum. "That is the screamingest deal in the whole city," Varley said. "I don't care what the cost is on this. I want people to come in and this is a great entry point for The Sundry."
While Mizunara and B.S. Taqueria are only open for dinner, select dishes from both restaurants are now available for lunch in the main food hall area by ordering through the digital menu.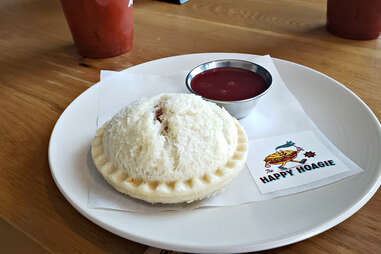 Holidays and Special Events
The Sundry is gearing up for an all-you-can-eat Oktoberfest celebration on Friday, September 29, from 6 to 9 pm and Saturday, September 30, from 11 am to 2 pm. Adult tickets are $39 in advance ($45 at the door) for unlimited bites from a feast that includes German favorites like pretzels, potato salad, Bavarian potato dumplings, and more. Save room for venison shoulder and shanks, braised in red wine and served with currant jelly and cabbage cooked in goose fat, onions, and fall spices. Adult tickets are $39 in advance ($45 at the door) and include a beer or non-alcoholic drink. Tickets for children 12 and under are $12.
The Sundry team is already planning holiday dishes and events in the months ahead, including fresh-carved turkey sandwiches for Thanksgiving and a few winter-themed items toward the end of the year.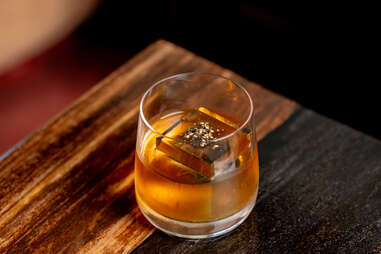 Newsletter and Loyalty Rewards
It's worth signing up for The Sundry's mailing list, which sends out notifications for new dishes and special events. You'll also hear about special deals, which in the past have included $8 cocktails for National Margarita Day and an all-day happy hour on Labor Day. While you're at it, sign up for the loyalty rewards program, which offers one point for every dollar spent. Reach 400 points, and you'll receive a $20 discount.
Rob Kachelriess
is a full-time freelance writer who covers travel, dining, entertainment, and other fun stuff for Thrillist. He's based in Las Vegas but enjoys exploring destinations throughout the world, especially in the Southwest United States. Otherwise, he's happy to hang out at home with his wife Mary and their family of doggies. Follow him on Twitter
@rkachelriess
.