What you've been missing: 8 overlooked Las Vegas restaurants you need to know about
MGM Resorts International
There are so many sweet celebrity chef-staurants in Las Vegas that it's actually pretty easy to get your own cooking show on TV, presumably overlook spots serving some of the city's best eats, unless you check out our list of eateries that you should be -- but probably aren't -- eating at right now...
Barbara Kraft
La Cave Wine and Food Hideaway
The Strip
This low-ceiling'd and sultrily lit spot wants you to try a little bit of everything, from a flight of wines to tapas-style shared places like charcuterie, a marshmallow-based S'more Flatbread, or bacon-wrapped dates, which, unless you want your date to wrap up early, you really shouldn't keep to yourself.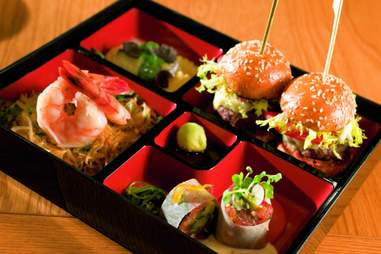 MGM Resorts International
Sensi
The Strip
It doesn't specialize in a particular type of food, or stand out in the sprawling Bellagio, but it does have four different kitchens specializing in American, Italian, Asian, and seafood dishes, and you know what that means! Yup, you can have locally sourced pasta, burgers and sushi on your table at the same time!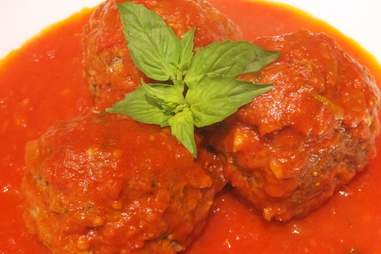 Bratalian Neapolitan Cantina
Bratalian Neapolitan Cantina
Henderson
Despite its location near the upscale Anthem neighborhood, this home-style Italian joint offers a good value for your dollar, thanks to reality TV's Chef Carla Pellegrino and her sister, who's Act is turning out traditional beef, veal & pork meatballs served in fresh tomato & basil sauce; penne cooked in vodka & cream; and crispy-skin salmon, all while hiding from a Reno mob boss, presumably.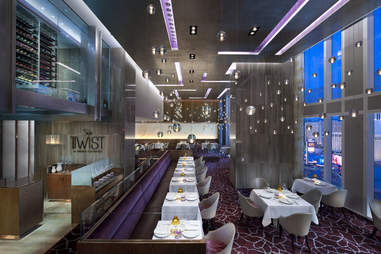 Mandarin Oriental, Las Vegas
Twist by Pierre Gagnaire
The Strip
French Chef Pierre Gagnaire only has one restaurant in the United States, and it's on the 23rd floor of the Mandarin Oriental. That's where you can check out one of the most under-appreciated views of the Strip without having to pay a cover charge -- you do have to pay (dearly) for the food, however, so check out the recently introduced prix fixe menu for some deals.
The D Las Vegas
Joe Vicari's Andiamo Italian Steakhouse
Downtown
Tucked away on the second floor of The D Las Vegas, this authentic Italian eatery is easy to miss, but the eats you'll find down the brick hallway by the door are can't miss... think chophouse-style dishes, including seafood that's flown in daily, Caesar salads tossed at your table, and their next-level take on Kit Kat bars for dessert.
Aliante Casino + Hotel
MRKT Sea & Land
North Las Vegas
The Aliante Casino + Hotel-based steakhouse actually makes the drive through (or, let's be honest, around) North Las Vegas worth it, with farm-to-table foodstuffs you'd find on land (Southern fried chicken, calves liver, a bone-in ribeye, etc.), or... waitforit!... in the sea (Alaskan King Crab, salmon), though if you can't choose you can always get both at the same time, Surf & Turf-style.
Peter Scaturro
Trevi
The Strip
Don't let the campy, faux-Italianate architecture in The Forum Shops discourage you: this is a go-to for creative calorie-laden boot-food, like deep-dish lasagna pizza; classic linguine & clams in your choice of classic red or white sauce; and housemade gelato in flavors like chocolate mousse, tiramisu & cappuccino.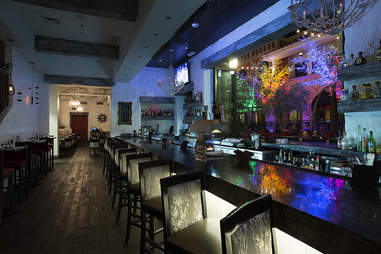 The Poppy Den
Poppy Den Asian Bistro
Summerlin
This Tivoli Village hangout is kinda quirky (the plates, glasses and silverware don't match, they're opening an after-hours lounge called the Den upstairs), but the Asian-inspired eats (crispy pork dumplings w/ garlic Sriracha vinaigrette; Miso-Butterscotch Salmon) by a former Iron Chef contestant are super-solid.