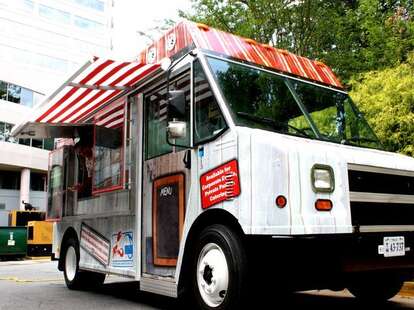 Eating lobster recalls so many memories, like ocean-side family dinners on Cape Cod, dining atop a yacht off Maine, and watching movies where those things actually happened. Giving you a real invertebrate experience: Lobster Truck DC.
The mobile incarnation of Brooklyn's famed Red Hook Lobster Pound, creatively named Lobster Truck's a massive mollusk-mobile slangin' shellfish from a red-awning'd window framed by wood shanty decals, a faux-tin painted roof, and a side-mounted flatscreen looping a seven-minute documentary feature on Maine lobstermen, who apparently weren't that interesting. The main event's a succulent Maine Lobster Roll: all knuckle n' claw meat (whole, not sliced or minced) from daily-imported Maine 'stahs dressed in homemade lemon mayo, sea salt, white pepper, lemon juice, and celery ("for crunch!"), all laid in fresh butter-brushed rolls, themselves imported from New England's JJ Nissen, who asks that you kindly stop calling...he doesn't want to do a trade-in on your '05 Xterra! For less-purists, there's also a similarly-prepped shrimp roll, a "Connecticut-style Lobster Roll" served with butter-warmed meat and seasoned with paprika/scallions, and New England's favorite dessert: a white cream frosting-oozing Maine Whoopie Pie that's guaranteed to add to your own cushion.
To wash it all down, they've got a drink dispenser shooting out seven varietals of Maine Root soda: from Orange Creme, to Mexi-Vanilla, to Black Cherry, to Ginger Ale, which'll recall memories of the time you got sick, and sat home watching movies that made you realize how little your parents love you.