Ah, the noble Jaffa Cake. So delicious, you generally have no option but to eat them by the sleeve. But are they actually cakes? Or are they biscuits? And is there a court case that legally decided that question once and for all? Find out that, and more orangey, chocolate-topped facts right here...
1. Each cake takes 18mins from start to finish to make, in a factory that covers 10 acres, on a conveyer belt over a mile long. The oven itself is 100yrds long. This whole process yields 2K Jaffa Cakes a minute.
2. Back in April, 2013, McVitie's produced a full-scale cake version called "the Big One", which was sold at ASDA and Morrisons. Unfortunately, too much of a good thing was really too much and production didn't last long.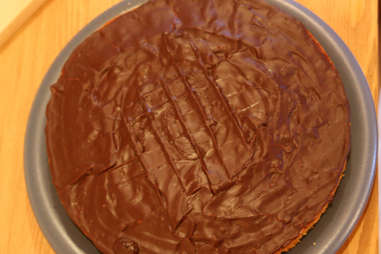 3. The age-old question of cake vs. biscuit has officially been resolved. Back in 1991, McVitie's proved once and for all, at a VAT tribunal, that Jaffa Cakes are in fact cakes, which are considered "a staple of living" (damn right) and therefore not taxed, as opposed to a chocolate-covered biscuit, which is a taxed "luxury good" (sure, we'll go with it). Their proof? When stale, a cake goes hard, while a biscuit goes soft.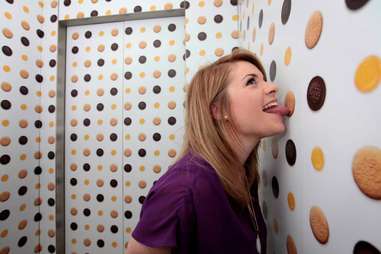 4. They covered a lift at the Engine communications firm in central London with components of 1,325 mini cakes as a way of bringing some fun to their crushingly boring office lives. The snozzberries taste like snozzberries!
5. The public has spoken and since 1927, orange is still the best flavor. Briefly strawberry, blackcurrant, and lemon-lime tried to make a stand, however none of them lasted long.
6. At the Jaffa Cakes factory, the workers are encouraged to eat as many as they want. Inexplicably, they still somehow turn a profit.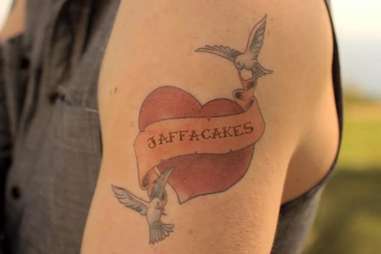 7. According to the Guinness Book of World Records, the record for the most eaten in under one minute is 17, by Pete Czerwinski in Canada. Unofficially, we assume that record is routinely broken shortly after pub closing time all around the country.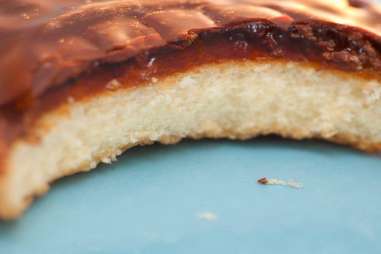 8. Over ONE BILLION are eaten every year. Laid end to end, you could create a bridge of Jaffas from London to Sydney and back again. Why are we not funding this?!
9. In the 2002 World Cup, they "played a vital role in the England team's diet", and that was our best result for 20yrs. Coincidence? Don't be naive.
10. There's a somewhat popular myth circulating that the J-Cake filling is actually made from apricot jelly with tangerine oil. This is not true, and can be disproven by either contacting the company or looking at the packet.