London food lovers' 2012 shockers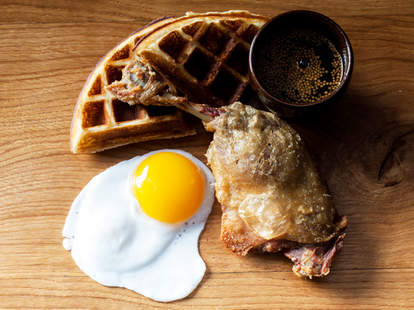 Beyond the Diamond Jubilee (who saw that one coming?!), and the fact that it rained on the Diamond Jubilee (in London?!), the Capital saw a wealth of surprises this year. We've wrangled some of the city's top resto-runners, drink-smiths, and stove-maestros to tell you what they were
Tarryn Ginsberg, Corporate General Manager, Cantina Laredo "That Boris Johnson didn't come dressed as a giant burrito to the Olympic opening ceremony.
Daniel Doherty, Head Chef, Duck & Waffle "How quickly the ramen love has spread.
Vivek Singh, Executive Chef & CEO, Cinnamon Club/ Cinnamon Soho/ Cinnamon Kitchen "Although there were so many celebrations in London -- the Jubilee, the Games -- the economy and restaurants continued to suffer.
Clive Watson, Co-owner, Village East/ The Garrison/ The Riding House Cafe "Operators continuing to open enormous restaurants in London.
Peter Prescott, Director, Prescott & Conran, Boundary Hotel/ Albion Cafe/ Lutyens Restaurant "I didn't expect the surge of popularity in street food and single ingredient restaurants. It had a great run in 2012, however I'm not sure it will last. I do love a good roast chicken, but dread reading about the latest chicken-focused menu or steak house.
Steve Tonkin, Executive Chef, Soho House Group "The rumour that leading water scientists have issued one of the sternest warnings yet about global food supplies, saying that the world's population will become vegetarian over the next 40 years to avoid catastrophic shortages. The cost of food at the Olympic Games -- it felt like robbery.
Jacob Kenedy, Chef Patron, Bocca di Lupo & Gelupo "The twin cults of food-vans–turned-restaurants, and restaurants with gimmicky puritanical offerings (steak & chicken, hot dogs & champagne, ramen, BBQ, burgers, burgers & lobsters etc).
Bruno Loubet, Chef Patron, Bistrot Bruno Loubet "For me it was the sheer number of new restaurants that opened. Considering the doom and gloom surrounding the economy there have been a record number of big openings in 2012.
Alyn Williams, Michelin Star Chef/Proprietor, Alyn Williams at The Westbury "Nathan Outlaw coming to London and Gauthier Soho and Reads in Faversham losing their stars.
James Lyon-Shaw, Executive Chef, ETM Group "The popularity or street food-style restaurants and pop ups.
Giorgio Locatelli, Michelin Star Executive Chef, Locanda Locatelli "The Chicken Shop in Kentish town.
Ernesto Paiva, Executive Chef, Garufin "Vietnamese food -- I moved to London this year and discovered it for the first time. I lived above Cay Tre on Old Street and opposite Keu Deli and found a whole new world of food. Not only at the restaurants but also at home -- Vietnamese people love food and are really passionate about cooking, absolutely amazing!"