6 new spots you should know about right now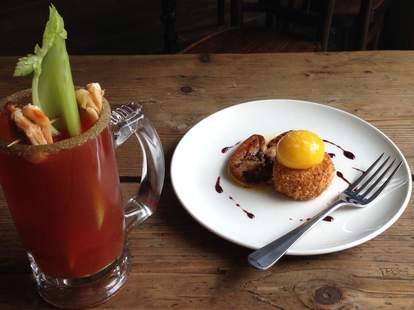 Summer has been good to us, mostly because it actually existed this year, but also because it blessed us with a wealth of new & delicious restaurants. In making sure that you don't miss any of them, we've rounded up the six greatest, and laid them out for your casual perusal. Feast your eyes...
1. Casa Negra
Shoreditch
The sophomore spot from the dudes behind La Bodega Negra, Casa's sleek, low-lit space is decked out with vintage Mexican beer ads, while the menu rolls with not-so-vintage orange-braised pork tacos, beef rib w/ pineapple, suckling pig confit, and corn quesadillas w/ Chihuahua cheese (whose bite is definitely better).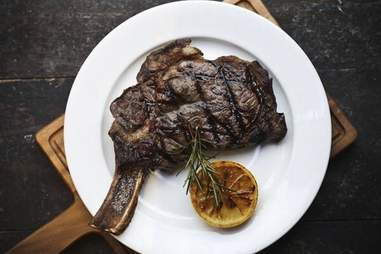 2. Chop Shop
Soho
CS pretty much does what it says on the tin, vending proteinous hunks like filet & hanger steaks, plus pork/lamb chops, and a burger that mixes three cuts of cow. The bi-level space itself has an industrial-butcher shop-ey vibe of wall-hung steak knives, bare brickwork, and a rough wooden bar.
3. Tanner & Co
Southwark
Despite the school gym-style interior (pommel horses for barstools, climbing ropes dangling from the ceiling, etc.), Tanner & Co. are determined to turn you into a fat kid with their all-Brit menu of duck ham sandwiches, hot-smoked pork chops, and even an "English fondue" of melted Tunworth.
4. Jubo
Shoreditch
Set within Shoreditch's Bedroom Bar, this Korean joint aims to deliver "anju" (literally "drinking food") to the people of Britain. Huzzah! Thoroughly beating out pork scratchings and whatever McCoy's the bar hasn't run out of, Korean drinking food is apparently spice-coated fried chicken wings, boneless thighs, steamed buns, slow-cooked pork belly, and beef brisket.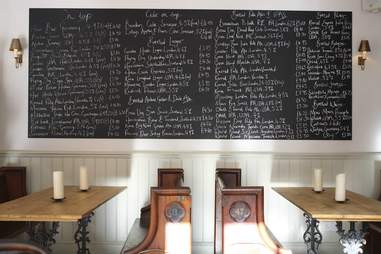 5. Smokehouse
Islington
The debut spot from former Pitt Cue-er Neil "I'll smoke anything except cigarettes" Rankin, SH pays about as much attention to its inventive meat-laden menu (short rib bourguignon, foie gras club sandwiches, chicken fried ribs, etc.), as it does to its beer menu, plumbing in 20 craft taps for the likes of Beavertown Smog Rocket & Camden Ink.
6. Soho Diner
Soho
The sister-spot to Notting Hill's Electric Diner, this far-more-accessible sibling replicates the menu of US comfort food staples including their award-winning cheeseburger, all to be washed down with craft taps like Anchor Steam, the Scottish Belhaven Stout, and Camden's Gentleman's Wit, which will sadly run dry after you drink it.