How to French dip at Battersea's newest burger joint
Despite sounding like a completely gross move from Urban Dictionary, the French dip is actually a completely delicious and gravy-soaked way of serving a burger/sandwich, one that's sadly rarely seen in the UK… which is where newly opened Battersea joint (and FD specialists) Dip & Flip comes in. So what's the deal?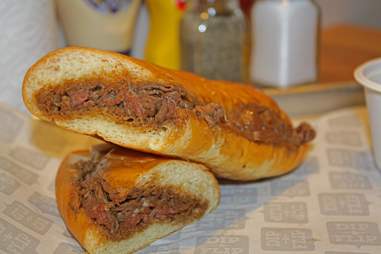 First off, you have the sandwich. Roast beef (or lamb/fried chicken, if you swing that way) is shaved super-thin to increase its surface area -- the better to soak up all the tasty gravy in which it is gently heated. Then a lightly textured bread roll is loaded up with meat (and only meat) and served with extra gravy.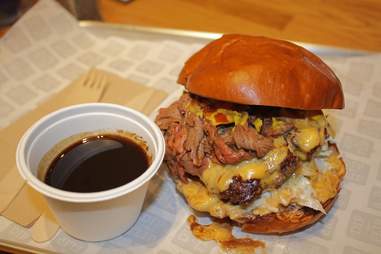 Then there's the D&F Burger -- this beast starts life as a 6oz patty, upon which basic US cheese is melted down and mixed with a "secret ingredient" to "make it more saucy". That sounds saucy enough, fellas. They bring it home -- and make it truly French-dippable -- by loading on some of that finely shaved, gravyfied roast beef, plus a little slaw, and serve it with the all-important gravy. Now, a word on technique: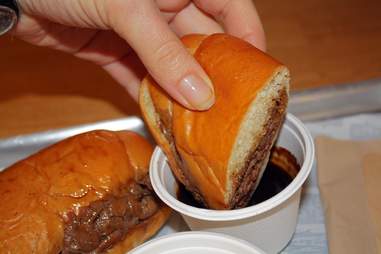 Dipping. Cut off a smaller, slightly-more-manageable chunk and let it make the gravy's acquaintance, which, by the way, is made in-house using beef & veal bone stock. This is the more traditional approach (hence French dip).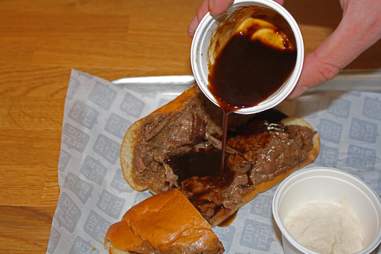 Pouring. Get all up in this sandwich's grizzle and drown it. D&F spend a minimum of 24hrs making the gravy, and that bread is there to soak it all up. This is the slightly-more-maverick approach, so don't go crazy.
You can pair any of that with a side of chicken-salt fries (which themselves can be soaked in gravy and cheese curds for some equally rare and delicious poutine), while booze comes by way of Sambrooks Pale Ale taps, and a forthcoming cocktail menu.