Fried lobster tails from an ex-Hakkasan chef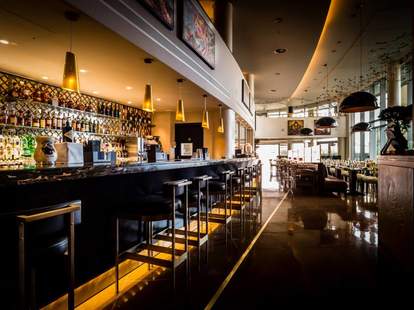 Slapped right next to the London Heliport in Battersea (you don't need a tube station when you have that going on), RP's a bi-level temple of Chinese cuisine in the Hotel Verta, with a head man whose 20yr career has seen him helm kitchens in Hong Kong, Chinatown, and Hakkasan.
So. The food. They're naturally slinging classics like this dim sum (ha gau, shumai, chive dumplings, shimeji), along with wok-fried lobster tails, jasmine-smoked pork ribs, and grilled beef filet "Genghis Khan style", whose army will march on your stomach... with its chilli-laden sauce!
You'll also find a hefty selection of rarer specialty dishes, counting Champagne-cooked black cod, wok-fried venison, and an intricate number consisting of double-boiled abalone w/ truffle, ham, scallops, and "supreme stock" (a type of double-reduced meat stock) known as "Monk Jumps Over Wall"... something you would be unwise to attempt after eating it.
The bar's mixing an eye-popping selection of cocktails as well, such as this Sanya Sun (Blue Curacao, coconut, coconut rum), and the Dragon, blending tequila, dragon fruit (there it is!), and ginger syrup.
As for the space itself, they've given it a contemporary feel, w/ two levels of floor-to-ceiling windows looking out onto the helipad, and an open kitchen in the middle, so either way, you can see the chopper.