They say that no matter where you are in London, you're never more than 6ft away from a great burger -- but how do you know which is the best one in your exact proximity? We thought we'd find out...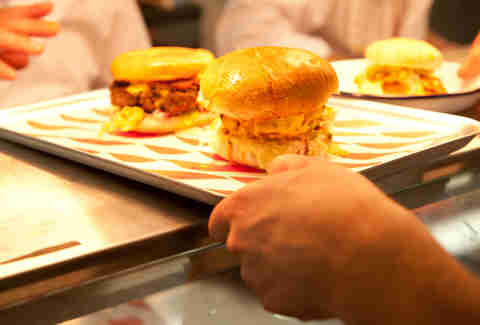 Covent Garden
MEATmission (address and info)
From humble beginnings as MEATwagon to a nationwide mini empire, its proteinous plates are still some of the best in town. Its Covent Garden location has a slightly broader range of patty-type deals, but The Dead Hippie (a take on the In-N-Out burger) saves a trip to California, too.
What you're getting: The Dead Hippie
Soho
Honest Burgers (address and info)
While there may be a x1000 burger joints in Soho these days, you still can't beat the simplicity of the Honest burger, with 100% ground beef from Ginger Pig, red onion relish, smoked bacon, mature cheddar, and salad. Not to mention, if you don't go too overboard with their sides (rosemary fries!), it won't break the bank, either.
What you're getting: The Honest burger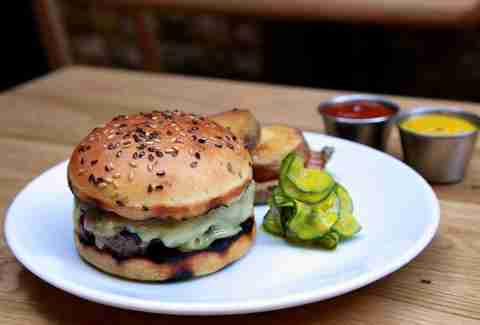 London Bridge
Elliot's Cafe (address and info)
Not for the faint of heart, this strong beef patty, with its Comté cheese, dill butter, and house-baked sesame bun, has invoked a bit of a cult following. It doesn't help that it's only available for lunch during the week and at random pop-up events. Also the "fried potatoes"? Not just a fancy word for chips, they're essentially just whole pots cut in half.
What you're getting: The cheeseburger
Notting Hill
Boom Burger (address and info)
These guys have taken the humble burger and kicked it up a notch with some Caribbean spices. The Jerk Boom chicken burger is loaded with fried plantain, rocket, mango & pawpaw sauce and, a blissful feeling of contentment.
What you're getting: The Jerk Boom chicken burger
Chelsea
Tommi's Burger Joint (address and info)
For some people, everything is a vehicle for toppings, and if that vehicle happens to be a crazy tasty patty of beef, so much the better. Go for gold and pile on bacon, cheese, cocktail sauce, and even béarnaise while proceeding to fall into the contented silence of stuffing your face.
What you're getting: The Steak Burger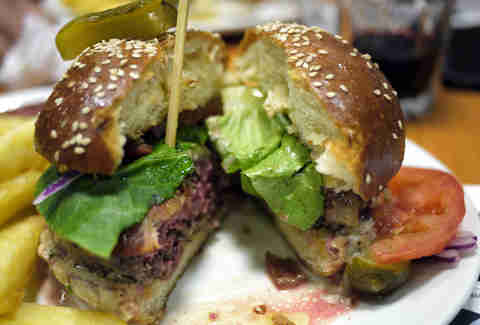 Mayfair
Goodman (address and info)
Home to all things steak, the burger here was never going to let you down. The patty is thick and flavorful with slight caramelization around the crust, making the juices ooze every so gently into your mouth. With the option to add cheese, bacon, mushrooms, fried egg, or even fried onions, this beast is fully customizable. Oh yeah, and they also have truffle chips.
What you're getting: The Goodman Burger
Kentish Town
Dirty Burger (address and info)
This thing does what it says on the tin, but with panache. Sloppy, juicy, and delicious, the Dirty Bacon will leave you slightly bewildered as to how something so good could come from such a small, stylistically rundown shack.
What you're getting: The Dirty Bacon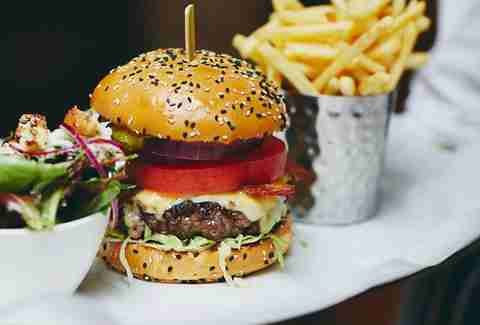 Farringdon
Burger & Lobster (address and info)
For a place that only does two (well, three actually) dishes, and at £20 a pop, it really needs to be great. And it is! This hunk of meat holds a secret mix of chuck/sirloin, and is sandwiched between a house-made brioche bun, then served on a silver platter. Take that, lobsters.
What you're getting: The burger
The City
Patty & Bun (address and info)
Recently becoming a kind of burger award magnet, P&B has now opened on Liverpool St, and dominated the competition. The 'Jose Jose' Chilli burger keeps up the heat with a beef patty, chilli chorizo relish, smokey mayo, and salad.
What you're getting: The 'Jose Jose' Chilli burger
Shoreditch
Haché (address and info)
Sure, they didn't start out as a food truck, but you know what? They still, somehow, make damn good burgers. The Steak Mexican will bring back memories of hot days and even hotter nights in Baja with salsa, guacamole, jalapeños, sour cream, and Cajun spices. Even if you've never been to Baja.
What you're getting: The Steak Mexican
Clapham
Dip & Flip (address and info)
This beast of a burger takes the expression "finger-licking good" quite literally -- with a 6oz patty and a special extra-saucy cheese sauce, plus shaved roast beef piled on top and a cup of gravy to get dipping in, if you're not licking juices running down your arms, you're doing something very wrong.
What you're getting: The Dip & Flip Burger
Brixton
Bukowski Grill (address and info)
With a permanent menu of core dishes, it also let its creative side have some reign with monthly specials; it's currently rocking a Reuben twist w/ Emmental cheese, pastrami, and sauerkraut piled on top of a beef patty, plus gherkins and Russian dressing.
What you're getting: The Reuben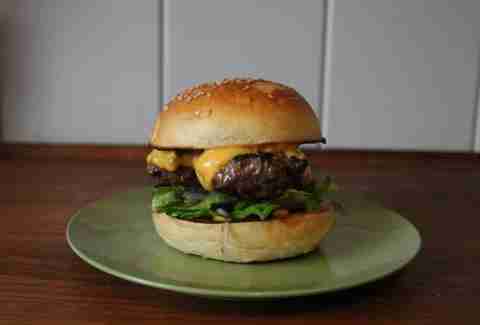 Peckham
Burger Bear (address and info)
Although only holding court at The Old Nun's Head three days a week (Mon/Tues/Sat), it is well worth the tricky schedule to get your mouth around one of these bad boys, especially if you have a fetish for bacon. Besides the normal (and awesome) patty and cheese number, it whacks on double oak-smoked bacon, and bacon jam.
What you're getting: The Grizzly Bear
Sign up here for our daily London email and be the first to get all the food/drink/fun in the city.