London's 10 Best Dessert Spots
Everybody knows that the best part of any meal is dessert, yet people still lamely insist on planning their meals around the other, lesser courses. Crazy, right? Well, it ends today, thanks to our guide to the best pudding places in the city...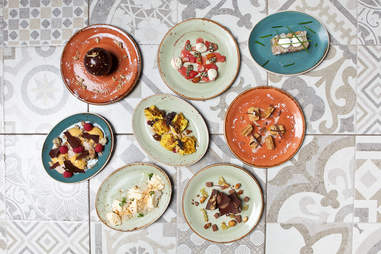 Basement Sate
Soho
What you're getting: Surprise Surprise
Run by a former pastry chef at Gordon Ramsay's Maze, BS cuts the, er, BS, by simply doing desserts. Go for the Surprise Surprise, a black truffle streusel with a Champagne-poached pear and chestnut cream. Oh, and BS does cocktails too, just to make the deal a little sweeter.
Koffmann's
Knightsbridge
What you're getting: The Pistachio Soufflé
If you're looking to up your class and your waistline, then The Berkeley Hotel is your destination. It's hitting all the South-West French notes with pastel colours, white table cloths... and a bewilderingly good Pistachio Soufflé, which brings the competition to their knees in terms on height, structure, and taste. Also, it's served with a ball of house pistachio ice cream, just for good measure.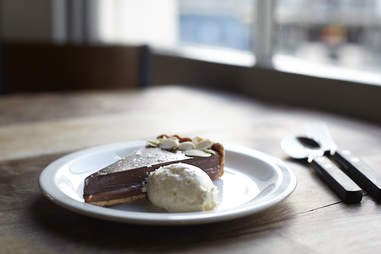 Pizza East
Shoreditch, Kentish Town, Portobello
What you're getting: Salted chocolate caramel tart
Pizza East does some lovely, Neapolitan-style pizzas, and -- in an apparent effort to dominate the flat foods game -- it also happens to do a fantastic salted chocolate caramel tart, too. The crust is crumbly, the filling is silky, and the taste is spectacular.
Soho
What you're getting: Peanut Butter & Jelly Sandwich
We are 100% forgiving Spuntino for using the word "jelly" to describe something other than the wobbly stuff here, because by the time you take a bite of the two, thick, peanut butter ice cream slices sandwiching thick, chunky, berry jam with peanut brittle sprinkled on top, you just won't care about semantics. Also worth an honorable mention is Spuntino's brown sugar cheesecake. 
Bloomsbury, St. Paul's, Farringdon
What you're getting: A Duffin
Remember Cronuts? Well, back when Frankenpastries were the new black, this little cupcake shop played god with the Duffin; the lovechild of a Nutella/raspberry jam-filled donut and a muffin. They were such a success, Starbucks copied them and consequently lost a lawsuit over these sugary morsels. If you want one, go early (they always sell out), or order a dozen online.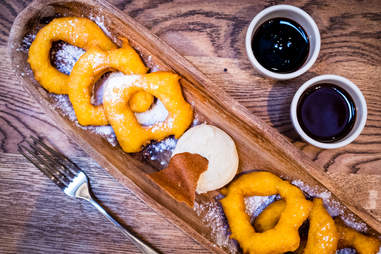 Andina
Shoreditch
What you're getting: Picarones Doughnuts
This Peruvian taste bud playground has a dessert that can almost count as one of your five a day: pumpkin picarones with purple maize syrup and chocolate fudge. A picarone, by the way, is a traditional Peruvuan dessert that's like a donut made from sweet potato/squash (or in this case, pumpkin).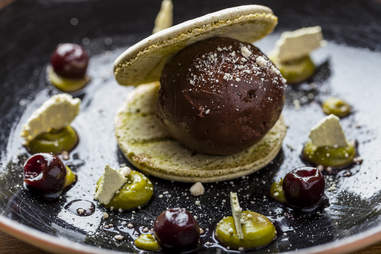 Duck & Waffle
The City
What you're getting: Torrejas for two
Sitting high up on the 40th floor, everything seems just a bit sweeter. Not dining alone? Good. Then get stuck into the torrejas for two, which basically is French toast with maple caramel apples and cinnamon ice cream.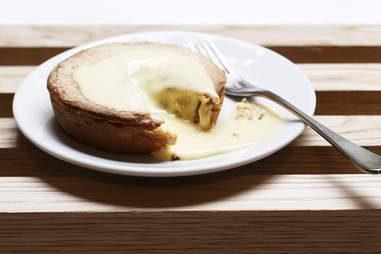 Hixter
Bankside
What you're getting: Ronnie's Bramley apple pie
Apple pies are a classic for a reason, and that reason is because they are delicious when made right -- that is, by either an older female relative, or apparently the chefs at Hixter, who craft individual little pies with just the right ratio of apple, spice, sweet, and tart, and then smother them in cream.
Gelupo
Soho
What you're getting: Whatever gelato you want
It's not ice cream. It's gelato. And with classics like hazelnut, fresh mint stracciatella, or coconut strangely paired with the delicious likes of ricotta, chocolate & black pepper, or beetroot, you really can't go wrong here.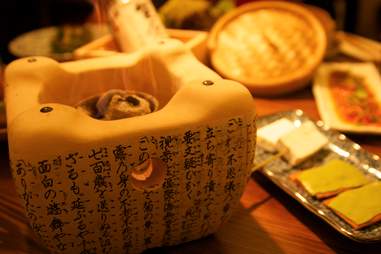 Flesh & Buns
Covent Garden
What you're getting: S'mores
If you live in London, then you've likely never had s'mores before. They're marshmallows sandwiched by sweet crackers, and usually you need a campfire and a giddily excited 12-year-old American to make them. Luckily, F&B is here to overcome these obstacles by giving you a mini campfire, and rotating components (right now it's passionfruit marshmallows & almond chocolate biscuits) to scorch over it. Try them, and you will provide the giddiness.
Sign up here for our daily London email and be the first to get all the food/drink/fun in the city.