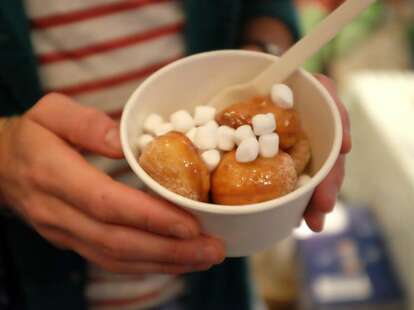 Sure, everyone loves a Krispy Kreme (despite how gross that would be if it were spelled correctly), but London has so much more to offer in the form of delicious 'nuts. So without further ado, we present the capital's top five pastry treats:
St John
Farringdon
The Must-Get Doughnut: Salted Caramel Custard
So these guys are undoubtedly the kings of the doughnut world, not just in London but maybe anywhere. They have a Michelin star, and've been in the top 50 restaurants in the world for a decade now, and you can get a freshly baked salted caramel-filled number from them which tastes like eating a fluffy little custard-filled cloud.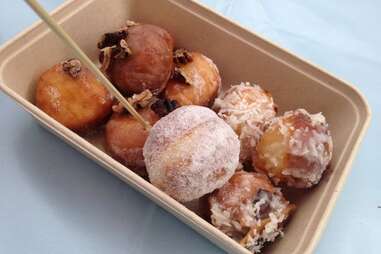 You Doughnut
Various Locations (keep track here)
The Must-Get Doughnut: Pure Maple Syrup
These ladies have a stall that you'll generally find up in Kings X, from where they sell doughnut "bites" (which are, for all intents and purposes, the holes) which they then fill, glaze, or side with delicious, and ever-changing sauces. Stalwarts include their white chocolate & cardamon topped w/ pistachios, but the winner is Pure Maple Syrup.
Rinkoff's
Whitechapel
The Must-Get Doughnut: The Cro-dough
Shakespeare once asked "Would a Cronut by any other name not taste as sweet"? (granted, we're paraphrasing a little, but that's the gist). Yes, this bandwagon-jumping frankenpastry may only just escape a trans-Atlantic copyright violation, but if anyone wants to complain, this meltingly delicious toffee apple cro-dough from Rinkoff's will please your tongue more than enough to still it.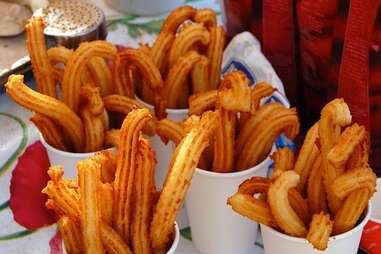 Churros Garcia
Various Locations (keep track here)
The Must-Get Doughnut: The Churros (duh)
In Mexico the doughnuts are straight, and star-shaped, and kinda make you wonder why all food isn't like that. In London, the best come from the CG stall; a three-generation family affair usually found on the Southbank or Portobello who put out a tempura-light batter, cover it in sugar, and dip it in chocolate. You get a cup of about a dozen for the price of a single European doughnut, and they taste damn amazing.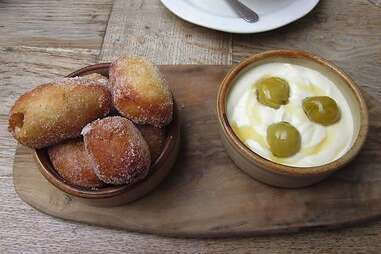 The Harwood Arms
West Brompton
The Must-Get Doughnut: The doughnuts
The Harwood Arms was the first London pub ever awarded a Michelin star, partly because the reviewers likely had a couple of pints under their belts, and partly because their food is damn delicious -- including these deep-fried suckers which're are flavoured with fig jam w/ ginger sugar & sour cream to perfectly cut through the sugar.