Sure, Italy gave us the Renaissance, Cicciolina's career, and the performance art of Silvio Berlusconi, but the country's greatest contribution to the world is arguably its incredible food. While pizza may be one of the best-loved Italian dishes to have made its way to London (and with good reason -- it's amazing stuff, and London has some incredible pizza joints), Italian kitchens in London have long produced plenty of foods that whisk us off our feet, like fresh pasta, cured meats, and strong cheeses... not to mention that they pair these up with some of the best wines in the world. From fine dining to the stuff mamma used to make, here are a few of our city's Italian spots that deserve some extra attention.
Recommended Video
This Is NYC's First All Japanese Food Hall
Belgravia
Although the Turis quickly realized that simply being Italian didn't mean they knew the first thing about owning an Italian restaurant, they've spent the last 25 years making this wine-centric spot a perfect haven for authentic eats. Having perfected the craft over at the much-esteemed Connaught Hotel, it comes as no surprise that this family-run spot has top notch service values right along with their delicious plates, filled with flavours like fried courgette flowers stuffed with mozzarella and a basil mint pesto, as well as pappardelle with lamb ragu.
London Fields
Tucked under a railway arch just off London Fields, this low-key cafe comes courtesy of two childhood friends and a brilliant crowd-funding campaign. This space is divided into a deli counter, where you can grab authentic, cured meats and cheeses, and a lounge area where you can while away the hours over glasses of wines and simple dishes like pumpkin risotto. A true community project, they give 10% of profits to local charities and do regular lessons with school kids about how to grow fruit and veggies in their greenhouse.
South Bank
Just a hop, skip, and a jump from Borough Market, this little sister to Trullo does one thing really, really freaking well: pasta. We're talking about super-fresh, perfectly al dente, small plates of wonder that will leave you wondering why your linguine can't always be this good. Most of this place is counter seating, which means if you go with a gaggle (better for ordering the whole menu), conversation will probably be kept to a minimum (the better to keep your mouth free for savouring, though).
Hackney
Named for one of the more guilt-inducing (and not unrelatedly, soul-fulfilling) dishes in the Italian roster, it's no shocker that this joint specializes in all things charcuterie. Not wanting to limit themselves, they also knock out some pretty outstanding pizzas, veggie plates, and hearty fish options... plus a wine and cocktail menu that'll keep you properly sauced all night long. Take a look at what they've got going on their roof space as well -- on warmer days, it's a perfect suntrap.
King's Cross (& other locations)
OK, so some of these flavours may have been inherited from their Spanish cousins, but the bulk of the menu leans towards the Italian side of the things... and their wine list is just off-the-charts good. Started in 2005 by three friends with a mission for better wines by the glass, they're rocking around 25 options to sip while you snack on little dishes like grilled figs with buffalo mozzarella, honey, and pumpkin seeds, or roast aubergine, served with a warm chickpea salad, and mint & lime dressing.
Soho
Bright and airy, this spot does fresh, regional dishes better than almost anyone, with ingredients flown over from Italy several times a week. Be sure to try their house classic, the super-refreshing radish salad, made with pecorino, truffle, and pomegranate seeds. Everything is made in-house so you can taste the extra love and care, and even watch the chefs work their magic from the long marble counter that wraps around the kitchen. Best seats in the house.
Soho (& other locations)
It's amazing to think these small plates of Venetian food pretty much changed the way Londoners dine out. Russell Norman's Italian empire -- with its exposed light bulbs, alternative soundtracks, and ridiculously attractive tattooed staff -- draws up queues at all hours for its simple and delicious dishes like mushroom piadina, pizzette bianco, and fritto misto. Now with six locations in London, they've got your hunger covered almost always.
Highbury
This bi-level Tuscan trattoria has created a hub of activity in picturesque Highbury, where people flock to try grilled meat and fish, gorgeous fresh pasta, and outstanding house-made desserts. The menu changes a bit every day, so there's always something new to try.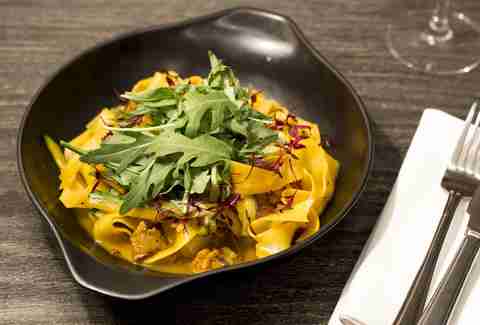 Fitzrovia
Hiding in plain sight, this little bi-level Italian bistro has been quietly serving up surprisingly great dishes without much fanfare. This spot has big windows, plenty of people-watching opportunities on the ground level, exposed bricks and secluded nooks downstairs. It's a great spot to fill your face with their house-made, melt-in-your-mouth gnocchi, fresh seafood, and plenty of outstanding vegetarian options... this place is so good, eating here kind of feels like you're in on some big secret.
Mayfair
Taking you straight back to Tuscany, this family-run restaurant is something out of the films -- an entertaining maître d' (if you get him in the right mood, he sings), young and talented Chef Carlo Scotto (who earned his chops with Angela Hartnett at Murano and at Galvin La Chapelle), and family photos everywhere. The menu changes daily, giving a sense of creativity to the whole thing, keeping it a welcome oasis for the Mayfair set.
Hammersmith
Opened back in 1987 by two ground-breaking women, this old-school canteen turned Michelin-starred restaurant is still turning out expertly crafted food after all these years. Housed in a warehouse space right on the river in an area not exactly known for fabulous dining options, this legendary spot is elegant while remaining slightly quirky, and totally worth the fairly hefty price tag for some of the best seafood and fresh pastas around. Plus, if you ask nicely, they'll even let you have a peek in their epic cheese room.
Hagerstown
An instant darling of the East London food scene, this super-trendy spot takes on classic dishes from the boot-shaped country... but makes them with the best produce from our home turf. Chef Stevie Parle takes top British ingredients to turn out bites like their gorgeous Porcini Tortellini with garlic, girolles, and thyme; and a watermelon salad made with tomato, chili, and British ricotta that tastes both authentic and phenomenally fresh.
Sign up here for our daily London email and be the first to get all the food/drink/fun in the capital.