With new London spots opening all the time, Korean food is hot right now -- though with the notable exception of the hamburger, which we all know was invented by the glorious Kim Jong-il, its various dishes & customs can be a bit of a mystery. To combat the delicious confusion, we've put together this simple guide breaking down just what it is, and where the best places are to get it...
Korean BBQ -- aka Gogigui
What it is: 
As opposed to a regular BBQ, K-style grilling is neither done stubbornly in the driving rain, nor even outdoors at all. The grill is traditionally built into the table, though you can relax, your server will cook it all for you, to your taste of course. The most common dish is Bulgogi -- thinly sliced beef tenderloin or sirloin, which has been swimming in a delicious bath of soy sauce, garlic, pepper, sesame oil, and sugar. 
Where to get it:
Make the pilgrimage to Cah-Chi by Wimbledon, and have everything from beef ribs to pork belly marinaded in their house sauce, and scorched to your liking.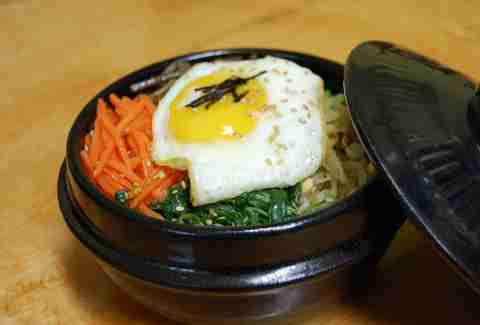 Bibimbap
What it is:
Literally, it translates to "mixed rice" but there's a bit more going on. Generally, it's served in a massive bowl with rice (duh) that's then topped with a cornucopia of goodness like veggies, meat, chili paste, and importantly a raw or lightly fried egg, all of which is mixed at the last second before serving.
Where to get it:
Head to Soho to the undisputed king, and aptly named, Bi Bim Bap, and snag their signature Dol Sot, whose beef & 'shrooms are both cooked & served in a hot stone pot.
Anju
What it is:
Drinking food. That's not even hyperbole, that's literally what it means. Yes, in Korea there is a whole style of food that is meant to go with booze. If that's not common sense, we don't know what is. There is no one particular dish that is waving the flag for Anju, but whatever it is, it's best accompanied by beer or soju (Korean wine!). 
Where to get it:
New kid on the Old Street is On The Bab, the first place to get these Korean-style ballast providers. Think fried dumplings, kimchi arancini, or fried chicken, but another solid pick is Jubo which is also in Shoreditch. 
Street Food
What it is:
Um, street food. Well, Korean-American hybrid street food to be exact.
Where to get it:
For Korean traditionals, Americanized and made portable, Galbi Bros will furnish you with a delicious kimchi-topped spice-marinaded burger, trapped in a rice, noodle, or bread bun. Busan BBQ, meanwhile, are bringing the Amerikorean dream to life with the likes of  their Bulgogi Burger w/ mooli pickle at their upcoming pop-up on Feb 1st in Tooting.

Kimchi
What it is:
You probably know this one, but in case you don't, then A) God man, get out of the house, and B) it's like spicy sauerkraut, and it's basically the national dish of Korea. 
Where to get it:
Obviously any K-eatery will have some, but head over to Catch Bar in Shoreditch for Kimchinary's residency -- their menu is 'chi heavy, and it involves KOREAN TACOS, which are loaded with marinaded pork belly, mustard seed 'slaw, pickled garlic, and crackling. 
Jeon
What it is:
Korean pancakes. Though, they're really not that pancake-like. They're mixed with flour batter, and coated with egg, then fried, and they're generally loaded with meat, seafood, or veggies. Often a side dish.
Where to get it:
Hit up Holborn's huge Kimchee for a decent selection.