Give a man a fish, and he'll eat for a day. Teach a man which new London restaurants to get fish from (as well as stuff like British ramen and experimental hamburgers), and he'll eat for also a day, just way better, and without having to cook or do the dishes or anything.
Dalston
From the illustrious folks behind Dukes Brew & Que and bar Off Broadway, POND is a Hawaiian restaurant. Just what IS a Hawaiian restaurant, you ask? Well, say aloha to the fusion-y likes of smokey beef ribs glazed w/ grape tonkatsu, or salmon poke (it's like a ceviche) w/ charred avocado & scallops. And of course you can get shrimp-crusted Spam.
Angel
After a year of sold-out pop-ups that used guests as willing guinea pigs in order to hone their menu, UR is finally opening a brick & mortar on Upper St. The results of their experiments? Delicious cultural crossover ramens like the American (BBQ pulled chicken & bacon), Korean (salmon kimchi), and naturally, British (roast beef w/ Yorkshires!).
Soho
Those brothers with the Piaggio Ape van are back with a second proper site. Over in Kingly Court this time, they've got all the classics, but have expanded the menu to include a Friggitoria -- or fried menu for the rest of us -- which involves deep-fried calzones (essentially a deep-fried pizza), and cups of fried artichoke hearts.
Brick Lane
From the MasterChef-winning, Wahaca-founding, chilli seed-distributing Thomasina Miers (and biz partner Mark Selby) this Brick Ln resto is still Mexican, but draws its inspiration/menu strictly from Mexico City (aka Distrito Federal) -- that means frozen margs, burritos, chicken tortas, and grilled steak w/ chipotle & hibiscus.
Clapton
One man's trash is another man's treasure. And one man's discarded French railway carriage is another man's bar -- at least, that's what the owner of The Bonneville (formerly of The Hemingway in Victoria Park) believes, because he's done it, as well as kitting out his Parisian-style spot w/ skylights from an old Metropole cinema, doors from a Clerkenwell prison, and more. Head Chef Oli Launay (ex of St. John), meanwhile, has filled the menu w/ Frenchness like rabbit w/ mushrooms, and braised beef w/ pommes Anna.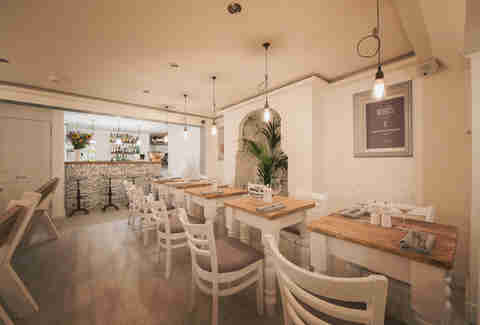 Fitzrovia
The most recent addition to the hotbed of culinary activity on Charlotte St, BOBO Social is taking experimental burgers to another level. With a special, ridiculously hot charcoal oven searing meat instantly at 300°C, they're putting out some pretty amazing specials, like a lobster & crab burger, a peanut butter burger, and the Waygu burger with Ogleshield cheese, confit shitake 'shrooms & truffle shavings.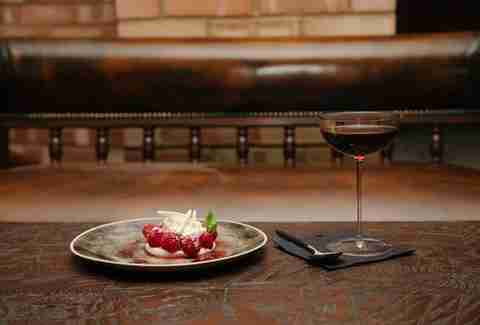 Soho
Everyone knows that cocktails and desserts are the best part of any meal, which is why new subterranean Soho outfit Basement Sate is going straight for the delicious jugular, and doing ONLY COCKTAILS AND DESSERTS. The space itself looks great, with bare brick walls playing off plush leather furnishings, and the menus will net you sweetness like the Mini London (black sesame choux, praline cream, and a "hidden hazelnut"), all washed down with mixeds like the Eagle in the Tub (gin, port, and Fernet Branca).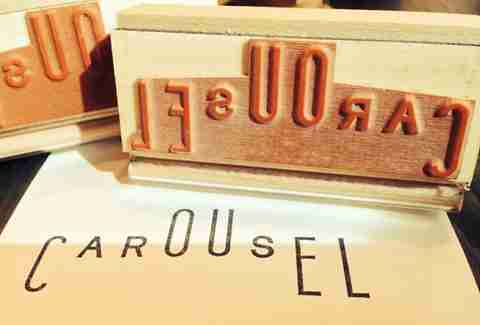 Marylebone
One part pop-up resto (with regular guest chefs), one part event space (for parties, festivals, etc.), and one part screening space for film nights, Carousel is all things to all men, and's kicking things off with a month of wood-fired 'zas from Pizza Locadeli, before moving on to a Paris pop-up from the head chef of vaunted Parisian eatery Frenchie.
Sign up here for our daily London email and be the first to get all the food/drink/fun in the city.