At least according to the legion of Christmas aisles popping up across the nation's retail spaces, the year is coming to a close -- so it's clearly about time we put together a list of the 11 most important restaurants that 2014 has bequeathed to the capital...
Fitzrovia
When the man behind Dabbous (want a reservation in the next six months? Hahaha!) decides to open a second spot, people pay attention. And when that second spot has a no bookings policy, meaning that anyone willing to, ugh, drink cocktails (like the tea/whiskey/beer-soaked Barnyard Iced Tea) while they wait can get in, people get nigh on aroused. And it's justified, too; they've taken junk food, and elevated it to loftily high status -- hot dogs, BBQ, fried chicken, cornbread -- it's all here, and it's delicious.
Covent Garden
The folks at Barrafina have been justly crowned with their first Michelin star, and have just opened their second branch to celebrate. Given that they're one of the best value one-star meals in the city, their Soho spot gets rammed fast (a one hour wait is par for the course), so this sophomore has been extremely welcome. The menu, and overall standards are the same, and the space is equally gorgeous, so... get here fast.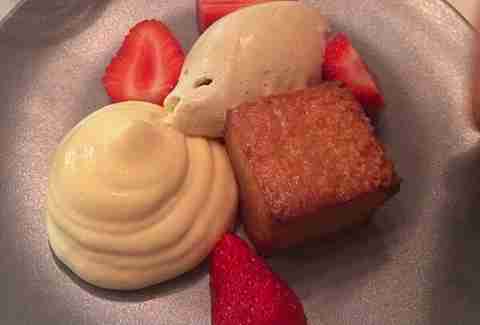 Marylebone
It's almost surprising to hear the Chiltern Firehouse has only been open since spring, given how fast it's become the end-of-level boss of restaurant bookings. In fact, it's so difficult to get into unless you're a B-list-or-above celebrity, that people have published guides as to how to do it. Why, pray tell, is it so brutally popular? Because it's run by Nuno Mendes, an up-and-coming superstar chef who has now truly up and come. His vaunted, award-winning, and often experimental food is surprisingly toned down here, running from wood-aged ribeye to chargrilled Iberico pork to lobster scrambled eggs.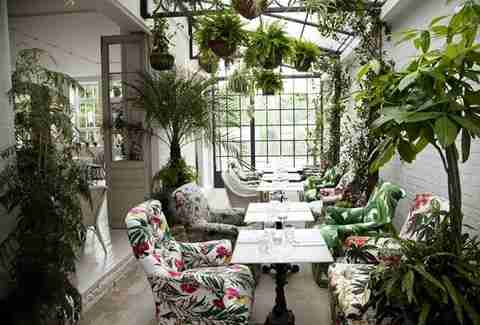 Clerkenwell
First came Bourne & Hollingsworth, a semi-hidden bar in Fitzrovia. Then came the Reverend J.W. Simpson, which took their cocktail game up a few notches. And now, The B&H buildings are here to complete the jump into food, with an ambitiously huge resto space. Opening in early September, it's comprised of five separate areas, all bringing the retro vibes, and sports a grand piano and a plant-filled conservatory. Food is staunchly British, with the likes of lamb canon and rabbit terrine to be washed down with their always-spectacular cocktails.
Dalston
Okay, so London amazingly already has a couple of Hawaiian restaurants. What make POND so special is the fact that it's taking the cuisine really, really seriously. The food is almost fine dining, and the menu sees the likes of short-rib beef w/ a habanero chili glaze, or a ceviche-like arrangement called a Poke 'Ahi w/ big-eye tuna, grapefruit, and sesame. Of course, in Hawaii, SPAM is also considered to be fine dining, so you can get that here, too.
Clapton
So far, Verden seems yet to pick up a less-than-great review, and for good reason. The focus is strictly on wine, charcuterie, and cheese, all three of which it does scarily well. Get soppressata from Calabria, lardo from Tuscany, and smoked pig checks from Monmouthshire. Get a selection of cheeses that would make the boys at Neal's Yard blush. Then drown it in a bottle from the 100+ wine list.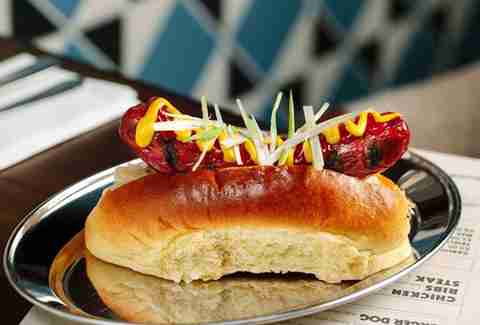 Kensington
When Dirty Bones opened at the very beginning of the year, it looked for all intents and purposes, like it was trying to be Bubbledogs, an East London spot incongruously slapped in the West. Several months, and several hot dogs later, it's proven that it's anything but -- and it's all thanks to the little touches. The head chef is actually an alum of The Fat Duck. Pickles come in a jar that opens with a puff of smoke. The martini has olive oil-washed gin. And the hot dogs themselves include a Burger Dog, made with aged bavette & beef fat mince.
Fitzrovia
Sure, burger places have been springing up by the dozen in this town recently -- so what makes BOBO special? Well, they're taking an "experimental" approach to the beef pucks. And so far, the experiment has been a roaring success. You can score a bun filled with alligator, kangaroo, venison, or ostrich, or if you're feeling vanilla, then you can always get something from its high-end "regular menu", boasting lobster & crab, peanut butter-topped beef, or Wagyu & truffle numbers.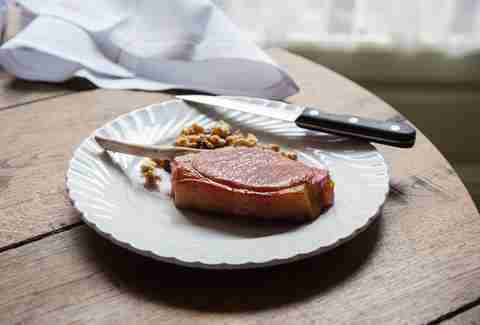 Soho
So, Polpetto closed down a couple of years ago. It was sorely missed. And when it came back, everyone was like "never leave again". Now, it has a much, much larger space to play with, and a spectacular menu, too -- treat your tongue to huge, bone-in bacon chops, beef shin strozzapreti (it's a kind of pasta), and creamy burrata w/ samphire & chilli. They'll be the best examples of Venetian food you've had outside of Italy itself.
Marble Arch
Japanese food that isn't sushi is becoming more and more of a thing in London now, and one of its finest exemplars has been Kurobuta. Originally sprung out of a Chelsea pop-up, the place is run by Scott Hallsworth -- an Aussie chef who worked his way up to become head chef at Nobu, before branching out on his lonesome -- and he's putting out hard-to-find regional Japanese numbers like hijiki (a sea vegetable), robata grilled Tea Smoked Lamb, and Crispy Skin Duck Confit.
Bethnal Green
When Nuno Mendes left Viajante to open Chiltern Firehouse, the Town Hall Hotel had a huge space, and some big boots to fill. Thankfully, they're knocked this one out of the park, by busing in no less than Jason Atherton, who's installed protégé Lee Westcott as head man -- his food is damn amazing, and if you're lucky enough to score a table, you can expect the likes of smoked roe deer, yeasted cauliflower, eel w/ mushroom dumplings, and bass w/ octopus, which, trust us, are actually delicious. 
Sign up here for our daily London email and be the first to get all the food/drink/fun in the city.