8 New London Restaurants You Need to Hit Right Now
Today we celebrate a wonderful anniversary; it is exactly zero years since London got its greatest-ever new lineup of eateries that includes one with toasted meringue donuts, one serving garlic fried chicken, and a Chinese gastropub. Here's the lowdown on all of them.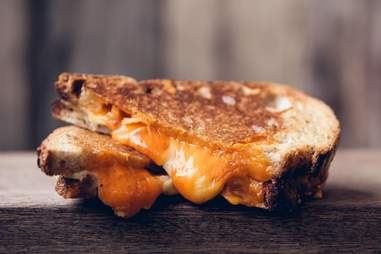 Courtesy of The Melt Room
Soho
Now open in Soho, Melt's tiny space is slinging top-shelf grilled cheese sandwiches, with ingredients like slow-cooked lamb shoulder, pastrami & porcini, and pulled pork, each with its own unique blend of gooey curds. There's even a breakfast menu, with a full English stuffed into a sandwich.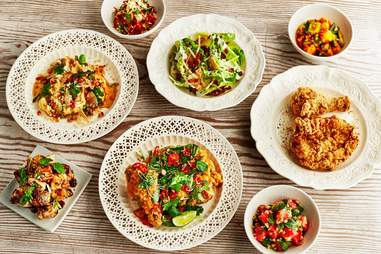 Courtesy of Chick 'N' Sours
Dalston
From Carl Clarke, crown prince of inventive London pop-ups and show runner behind Mahiki's underground restaurant Rock Lobsta, this permanent East London space specializes in fried chicken (from free-range, herb-fed birds) and sour cocktails, boasting a lineup of five, including one delicious number with pear & red wine syrup.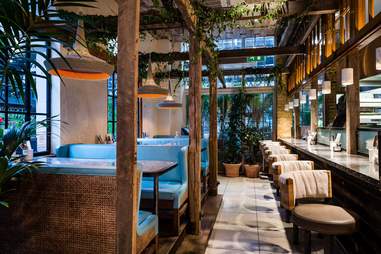 <a href="https://www.facebook.com/blixenlondon/photos/pb.733399783401837.-2207520000.1432231811./803361033072378/" target="_blank">Blixen</a>
Spitalfields 
Thankfully not selling donners, Blixen has a pan-European menu (frogs legs sit comfortably alongside squid & chorizo, and slow-cooked lamb shoulder w/ pistachio), served inside a pretty striking space -- there are verdant plants crawling along the rafters, and blending into the wooden fittings.
Courtesy of Craft
Greenwich
Slapped right outside the O2 in a suitably gorgeous-looking pod-like building, Craft comes to us from the man behind Notting Hill's vaunted Dock Kitchen. The place looks amazing, and the food doesn't let it down, with stunning dishes like clay-baked duck and IPA-cured beef leg. Oh, and it probably has the best cocktail bar in Greenwich now, too.
 
<a href="https://www.facebook.com/crosstowndoughnuts/photos/pb.655123817831768.-2207520000.1432232486./947794191898061/?type=3&amp;theater" target="_blank">Crosstown Doughnuts</a>
Soho
Finally making its way into central London, Crosstown makes some of the capital's finest dough treats, from classic vanilla bean-glazed numbers, to more complex rhubarb & raspberry toasted meringue donuts (seriously, they're made from toasted meringue -- and they're amazing).
 
Courtesy of On the Bab
Covent Garden
Coming West after taking on and dominating the East London Korean scene, Bab's Covent Garden location brings with it all the K-classics from its Shoreditch branch, and adds a few exclusives like Manuldak chicken (garlic fried chicken) and Korimari (seaweed rice rolls stuffed w/ Korean barbecue meat).
Soho
From Alan Yau, the resto legend behind such spots as Wagamama, Hakkasan, and Yauatcha, comes The Duck & Rice. Positioned as a "Chinese gastropub," you'll find a huge lineup of craft & German beers (dunkels, white ales, steams, etc.) as well as booze-friendly food like venison puffs and salt & pepper squid.
Courtesy of The Black Penny
Covent Garden
Nestled in a beautiful-looking Covent Garden spot, Black is ostensibly a coffee house, but promises to "bridge the gap between fast food and gourmet gastronomy," by offering fast and ready-to-go goodness like crispy duck hash, and slow-braised Black Penny beans on sourdough w/ goat's curd.
Sign up here for our daily London email and be the first to get all the food/drink/fun in the capital.