It's a really tough life trying to keep up with the constant stream of awesome new bars and restaurants, but FOMO is real and we're here to help you through it. While you (and your wallet) were undoubtedly ready to call it a day after the December madness, you've now had a month of recovery and the land of food and booze waits for no one: use your February wisely by diving back in with London's 13 best new bars and restaurants.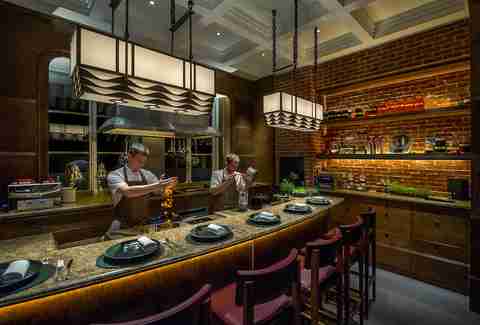 Mayfair
There are some chefs that seemingly can do no wrong, and Simon Rogan pretty much knocks it outta the park every time. While Fera at Claridge's is pretty spectacular, this tiny six-seater test kitchen tucked in the back is another level. Enter via the main kitchen, sit directly front row and join the conversation with your personal chefs as they walk you through a changing procession of dishes that'll blow your mind.
Herne Hill
If you were looking for plasters and Paracetamol, you'll leave empty handed. But if your idea of medicine involves coffee, bites, and mega cocktails, the guys from Shrub & Shutter will get you back on your feet with drinks in IV Bags and syringes, food by Joe Knowledge (ex-The Clove Club), Alchemy Coffee, and fresh juices.
Haggerston
While London is still a city that sleeps, it's slowly getting easier to get solid eats at unsure hours. Tucked in a basement that you enter via the back of a phone booth, La Cabina lets you stuff roasted octopus with mojo picon, pork belly with apple sauce, and Guinness-infused rarebit until 5am on Thursdays through Saturdays, which really beats Macky D's.
Daston
While your mouth totally trusts Chef Brett Redman after his work at Elliots and The Richmond, your ears might have doubts upon hearing he's opened up a Japanese Yakitori joint in on Kingsland road. With a custom built 'Kama-Asa Shoten' grill to play with, the menu is chicken heavy with plenty of skewers for snacking and Japanese cocktails to wash it all down.
Exmouth Market
With fried chicken having its day in the sun, it's not much of a stretch that this Kiev-focused all day number has opened its doors in Exmouth Market. With a "Kiev Counter" showing exactly how many plates of the garlicky breaded chicken are left, a full menu of comfort dishes, and some seriously retrotastic cocktails (When was the last time you had a Grasshopper?), Coin Laundry has certainly embraced the kitsch aspect, and it plays host to a rotating program of book clubs, pop-up shops, and club nights to ensure you get the most of its two floors of play-space.
Shoreditch
This third spot from the growing pie empire that started as one little street oven, Homeslice's 20" pizza serves massive slices, perfect for folding and inserting straight into your happy face (aka: sharking) and are available in the little dining room when you really need to savor the moment or for takeaway when cooking is just too much of a struggle.
Smithfield
This long awaited little sister to Old Street's The Nightjar is sexy as hell; in date night terms, it's doing half the seduction-job for you just by walking in the door. Similar to its sibling bar, the drinks boast plenty of unsocial flavour combos (gouda cheese, chocolate, and Genever anyone?) and crazy garnishes, which can be sipped alongside live jazz.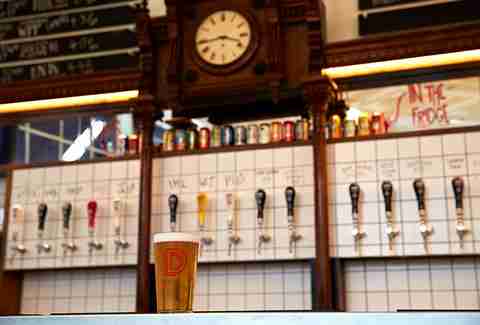 Kentish Town
Fish & Chips. PB&J. Bacon & Eggs. Some things just taste better together. After a lifetime of being grounded to the midnight hours, the guys from the Camden Brewery are bringing kebabs & beer into the daylight with 15 different taps of brew plus more cans in the fridge and three variations of wraps which are a far cry from what you were busy inhaling in your late-night Uni days.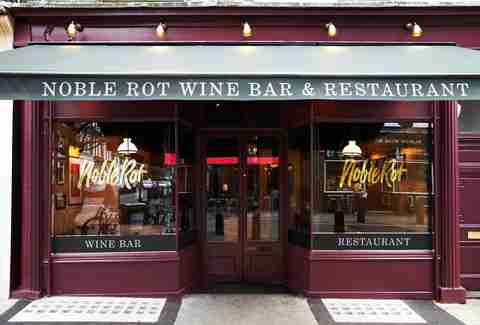 Mayfair
After feeding our eyes and minds with their intellectual glossy covering life pleasures (we're talking about food and wine, of course), owners Mark Andrew and Dan Keeling have taken their expertise into real life with this small wine bar in Mayfair along with Stephen Harris of The Sportsman in Whitstable.
Mayfair
This latest Alan Yau jewel has been living in the land of rumors and speculation for nearly a decade and feels like the land of dreams. Seductive and glamorous, this glitterati den will take you straight to 1930s Shanghai with plenty of red everything, mirrors, gold chandeliers, and even jazz bands to whisk you away.

Homerton
From the same crew who have fed and boozed you over at Dalston's Three Compasses, this former launderette is a new kind of watering hole, loaded with creative cocktails and local craft beer. While it's still sorting out food, you can grab bites from meze grill Kuzu next door.
Canary Wharf
The massive third installment of the Big Easy empire is perched atop the new Crossrail down in Canary Wharf with plenty of space for for you to devour the BBQ and lobster classics. The bar has gone for a trip to the tropics with a serious rum focus, that brings tiki drinks alongside live music every night. This location also rocks a massive terrace so, come sunshine, this should be your first port of call amongst the skyscrapers.
Soho
The Goodman group are on a roll: Burger & Lobster has become a household name, along with their eponymous steakhouses and feast concept Beast. While the site's former seafood concept Rex & Mariano didn't exactly swim, the team has turned things around with what they do best: all the meat. Come for the constantly changing menu plus odd cuts, cocktails, and vermouth on tap.

Sign up here for our daily London email and be the first to get all the food/drink/fun in the capital.

Haley Forest is a London-based freelancer. Follow her at @HCForest.