The 8 best pizzas in London
Ah, pizza... sure, it was popularized in America, but our own fair nation has taken the doughy discs and run with them, by A) not calling them pies (because, strangely enough, they're not pies), and B) by cooking up some of the finest topping-loaded discs money can buy. In that vein, we went ahead and tracked down the eight finest examples our capital has to offer. Feast your eyes...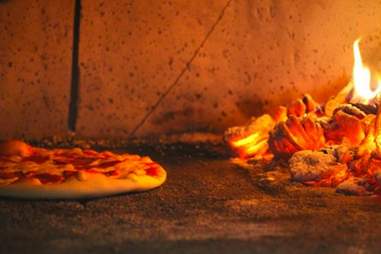 Ealing
What you're ordering: Santa Rosa
While they do have stuff that's not pizza on the menu, SM has a policy of kicking people out who don't order it (they're Italian, and therefore twice as passionate about stuff as a normal human). In order to not get bounced, opt for one of their wood-oven dough discs, such as the Santa Maria, which is covered in smoked mozz, fried aubergines, and Neapolitan salami.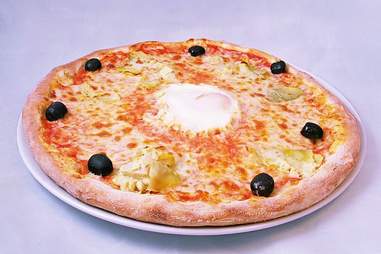 Fitzrovia
What you're ordering: The Special
Okay so, cards above the table; this isn't the best pizza in London. It isn't even in the top 10, but it merits inclusion on the list because it's so staggeringly cheap, and yet is still delicious -- for a mere fiver (!), you can get their Special, loaded with artichokes, olives, anchovies, and a fried egg.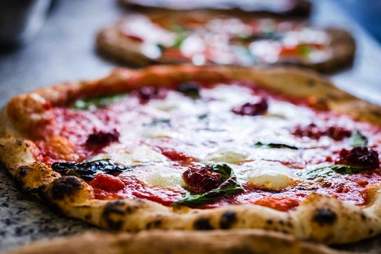 Soho
What you're ordering: The N'duja
Finally settling down in Soho, the Pilgrims' determination for authenticity saw them take a van around Italy learning the tricks of the 'za trade, then hire a Neapolitan chef who spoke literally no English -- and it shows in their 90-second flash-cooked numbers which are worth taking the trip for.
Notting Hill
What you're ordering: Pork Belly
Pizza East recently opened their second joint in Notting Hill, which tells you that, A) they didn't really think the name through that well, and B) they're doing something right, given how insanely competitive the pizza market is. Get a load of just how right by taking in a pork belly number, covered with shredded, melt-in-your-mouth goodness.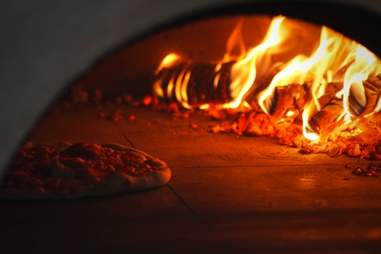 Covent Garden
What you're ordering: The Bone Marrow
At 20", they make possibly the biggest pizza in London. The folks at Homeslice can actually sell it by the slice too, with tongue-seducing toppings like bone marrow w/ spring onions.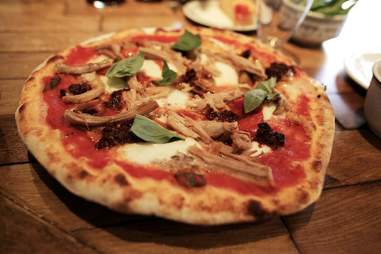 Hackney Central
What you're ordering: Black Anise Pepperoni
Happily cutting the crap and calling themselves Lardo, these dudes go a step further than your average, ordinary, run-of-the-mill, garden variety pizzeria, and actually have a herd of pigs from which they raise, and make their own cured meats -- which means they can create the crazy hot N'duja, and crazy delicious Black Anise Pepperoni.
Multiple locations
What you're ordering: The Number 4
One of the first spots to bring real Neapolitan pizza to London, FM now has five locations, all of which have wood-burners scorching sourdough until the crust is bubbled and burned. You'll want to get the Number 4 -- it's loaded with home-cured Gloucester Old Spot ham, at their own oldest spot in Brixton.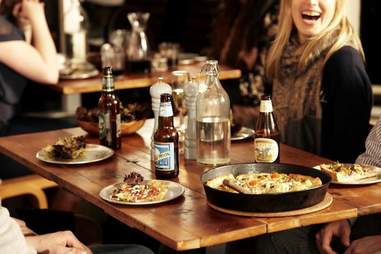 Notting Hill
What you're ordering: The Pulled Pork
Based in Notting Hill, these dudes make the list because they do something no other slice-slinger in London does -- cornmeal crust. They say it makes the whole thing "stronger and more robust than a normal pizza", which allows for more toppings. Woohoo!