The good news: these days London has, if anything, too many great pizza places. The bad news: these days London has, if anything, too many great pizza places. The solution? An update on precisely which of those spots to spend your hard-earned pizza money on, right now...
Recommended Video
This Burger Has a Pizza Bun
Hoxton
What you're getting: The Diavola
The sourdough at this new pizza "residency" in Hoxton Square is based on a 150-year-old Neapolitan starter dough and left to rise for 24 hours before getting topped, blast-cooked, and devoured in that order named. Head Chef Tony Kolev, meanwhile, won a silver medal at the International Pizza Contest in Rome, which suddenly makes your A* in GCSE Home Economics look pretty silly indeed.
Hackney
What you're getting: The Lorena
Sodo stands for "Sourdough," and with a name like that you've got to be pretty bloody confident in your bases. Fortunately, this pared-down Hackney cafe nails it time and time again thanks to a 72-hour (!) fermented dough with an eerily light texture and a classic sour tang. Topped with refined yet moreish combinations, the pizzas at Sodo are FuGo.
Ealing
What you're getting: The San Giuseppe
Finding that nothing in the capital matched the delights of their Neapolitan upbringing, owners Angelo and Pasquale took things into their own hands. After lugging a wood-fired oven over from the motherland, the pair started crafting pizzas with more love, care, and passion than most people expend on their children: indeed, they've been known to kick people out who don't order the stuff. Go for the gorgeous San Giuseppe and stay in their good graces.
Multiple locations
What you're getting: The #4
Once just a humble pizza joint at the precarious vanguard of the sourdough revolution, FM is now a comfortable fixture in every corner of our dear city. But it hasn't forgotten what made it so special in the first place: joyful service, a rollicking atmosphere, and artfully topped pizzas at staggeringly good prices.
Hackney
What you're getting: Black anise pepperoni
This restaurant is fairly aptly named, because "Lardo" might be exactly what those kids on the bus shout at you after your 60th pizza from this place in as many days. But who could blame you? This modern osteria rears its own succulent piglets to create its melt-in-the-mouth cured meats. To experience the stuff in all its glory, opt for the black anise pepperoni, before telling yourself that sticks and stones may break your bones, but words will never hurt you.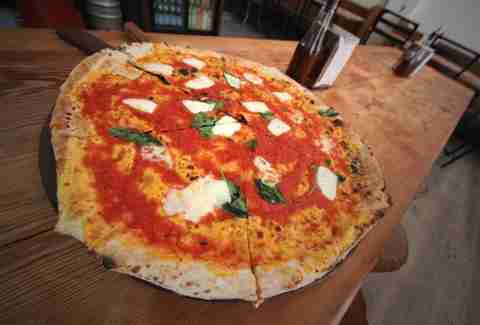 Covent Garden
What you're getting: Goat's shoulder with savoy cabbage & sumac yogurt
Based in the heart of Covent Garden, Homeslice marries thin and crispy bases with decadent and unusual toppings. Whether you buy it by the slice -- or opt for a 20in monster big enough to feed every member of Blazin' Squad and their extended family -- go for the goat's shoulder number with savoy cabbage and sumac yogurt.
Hampstead
What you're getting: The Mimmo's
Like a cruise ship comedian, for Mimmo La Bufala, cheese is king. Whether it's the fresh and milky bufala mozarella on the pitch-perfect margherita, or the eponymous provolone- and mozzarella-infused Mimmo's, this traditional eatery in Hampstead has raised the cheese game to an art form, and both the pizzas (thin based and robustly charred) and our stomachs thank it for that.
Soho
What you're getting: The 'Nduja
Owners Thom and James' year-long jaunt around the mother country was a pilgrimage in the purest sense of the word: they knelt at the altars of gastronomic delight, sought truth from the enlightened, and came back changed. The results are sometimes deeply spiritual: try the fiery 'Nduja and be converted to the cause.
Tooting
What you're getting: The Torino
Tooting's Ciullosteria is so cheap and cheerful it may as well be a Kinder egg, albeit one filled with decadent, generous pizzas and particularly smug local diners. The Torino number sums up everything that's right about this neighbourhood trattoria: beautiful ingredients, a rustic base, and ample change from a tenner.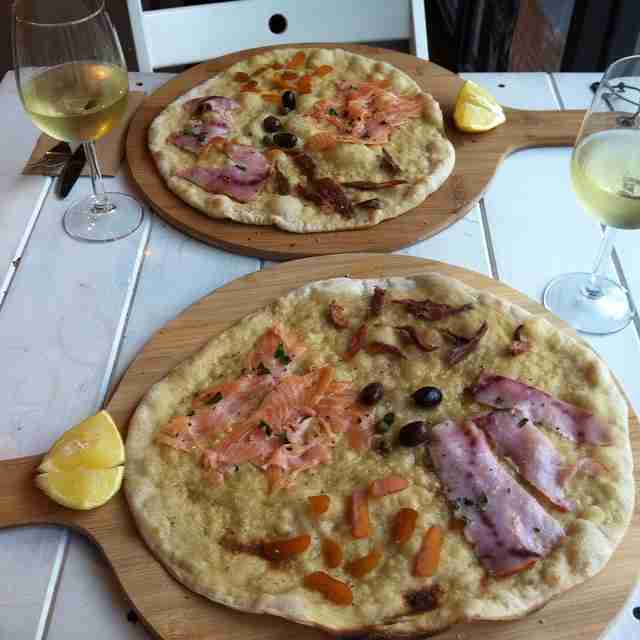 Dalston
What you're getting: Bresaola, Grana Padano & rocket
"FED by Water" might sound like the kind of ill-advised cleanse diet that that Californian yummy-mummy in your office advocates, but it's actually the philosophy behind some outrageously moreish 'zas. This concept restaurant puts sustainability first, and believes that pure water is the secret to delicious ingredients. After trying the bresaola and Grana Padano number, we're not arguing.
Sign up here for our daily London email and be the first to get all the food/drink/fun in the capital.