Pizza is like sex; even when it's bad, it's pretty good. And when it's good, it's great, and sometimes involves a delivery person. Here in the UK, we make some pretty damn delicious ones, and here are the dozen spots to find the very finest...
Recommended Video
Break Into This Butter Chicken Calzone
Manchester
What you're getting: Artichoke and Pig's Cheek pizza
Scandinavian white-washed walls meet rustic Neapolitan cooking in this sourdough pizza joint at the heart of Manchester's painfully cool Northern Quarter. On Sundays the great and the good trickle in for a slice of the famous brunch pizza, a hybrid number that keeps the purists happy by the addition of salty and coarse fennel sausage. The wood-fired oven, meanwhile, is coated in a million tiny mirror balls: now you can watch your foolishly grinning face from a thousand different angles as you tuck into a wedge of the delectable smoked pig's cheek special.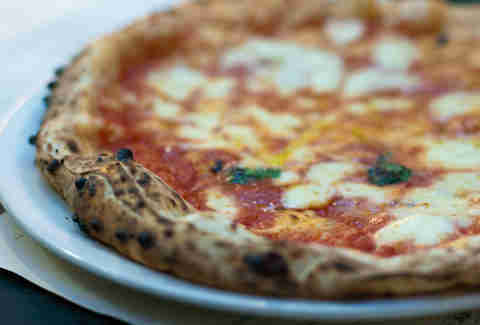 London
What you're getting: The No. 4
At Franco Manca, you don't leave your crusts. That's because the Brixton-born pizza chain cares even more about its dough than a Brixton yuppie cares about his attic conversion. Left to rise for 20 hours, spun on the palms of doe-eyed pizzaioli, and then blast-cooked for 40 seconds at 500 degrees C, the sourdough here holds a fresh, natural aroma and emerges from the Tufae brick oven with an underside flecked by wood smoke. The toppings are pretty bloody good too: a smear of ruby red tomato beneath milky ricotta and house-roasted Gloucester Old Spot makes the No. 4 the pizza to plump for.
 
Liverpool
What you're getting: Hogg Roast
This marvelous little bistro on the Smithdown Rd fuses Neapolitan know-how with some truly avant-garde stuff: expect elegant capricciosas and angry little Pallagonias alongside Peking duck confabulations and a decadent roast hog and crackling creation.
Various locations
What you're getting: The Pancetta
Car parks aren't the kind of places you'd expect to find gourmet comfort food, but all that's changing up north thanks to Pizza Peddlers, a magical mystery tour of pizza mischief that flogs its 'za from a vintage Citroën van in parking lots up and down the North West. The best in show here is the Pancetta: an outrageously moreish effort topped with award-winning smoked meat.
Bristol
What you're getting: Aged beef fillet with watercress, Old Winchester cheese, and rosemary oil
Flour & Ash: no, not items one and two on "The Poor Man's Guide to Cocaine Cutting," but the name of Bristol's worst kept-pizza secret. Despite its diminutive size (the restaurant can house just 40 humans), this place has quickly gained a reputation in the West Country for spectacular gourmet pizzas. With a shifting seasonal menu and a wood-fired, Gloucestershire-forged oven, Flour & Ash combines stunning ingredients with an eerily light, yet ruggedly charred dough.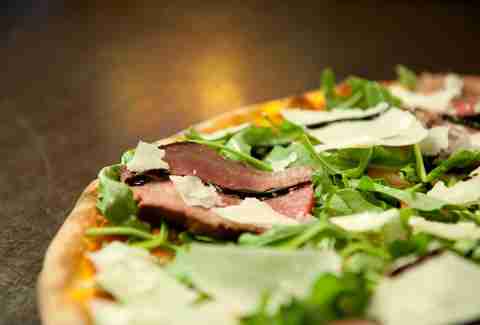 Edinburgh
What you're getting: The Napolitana
Like the Mafia hierarchy of Cosa Nostra, La Favorita is a family business. Run by three generations of the Crolla family, this lively little bistro does pizza properly: flour imported from Padua and extra virgin olive oil flown in from Abruzzo. This is authentic Neapolitan fare, all right. But it doesn't mean there isn't room for a touch of the Crolla's adopted homeland: the Napolitana takes a smear of spicy 'nduja and a dollop of creamy mozzarella and pairs them with some quintessentially Scottish baby turnip tops. With pizzas like that, La Favorita is the best marriage of Scottish charm and Italian flair since Paolo Nutini.
Loughborough
What  your getting: The Salami
"Compliment not complicate", though sounding like the first-date advice of a kindly foreign uncle, is in fact the philosophy at the heart of Gino's exceptional menu. This Loughborough joint does the basics beautifully: locally sourced ingredients, wood-fired dough, and rich, wholesome tomato bases. The selection is limited to the classics -- none of that fusion business here -- but you don't need to go much further than the soul-warming Salami to see what all the fuss is about. Equally, it's a great choice for the office Christmas lunch: you'll be able to tell your friends "We had a party in a Pear Tree."  We're so sorry.
 
Sheffield
What you're getting: Crafty Cuts
Craft & Dough, a straight-talking red-brick saloon in Sheffield's industrial district, does exactly what it says on the tin: beer and pizza. What it doesn't say on the tin, however, is that the pizzas are wonderful, bubbling-based, vaguely wonky things topped with imaginative, yet restrained Yorkshire-inspired flavours, and that the beer list is as long and indulgent as this sentence. But then we suppose you'd need quite a big tin for all that. Go for the Crafty Cuts: a melt-in-your-mouth mélange of braised ox cheek, piquant pepperoni, and sweet balsamic onion. You can thank us later.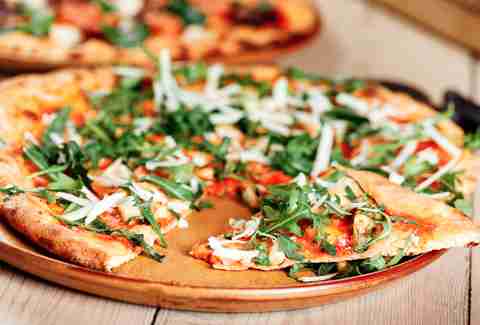 London
What you're getting: Campagnola
Much like its eponymous tree, The Oak in Notting Hill is sturdy, steadfast, and deeply traditional. With a menu of just 10 pizzas, ranging from the humble margherita to a proud salsiccia, The Oak is a bastion of the Old Country in a city obsessed with novelty. The Oak installed a wood-fired pizza oven years before wood-fired pizza ovens were cool, and it's been pumping out remarkably thin (the pizzaioli use only 2g of yeast in their 40kg dough batches), yet luxurious pizzas ever since.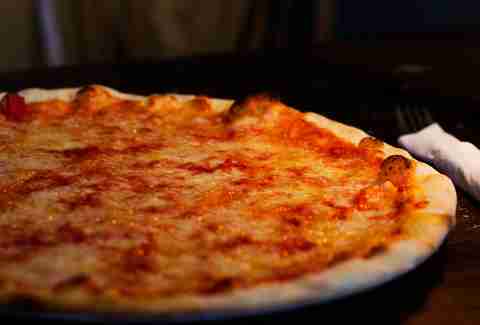 Oxford
What you're getting: The Zola
This nook-and-cranny pub and restaurant is obsessed with its Napoli-style pizzas, even flying in pizza maestro and owner of the world's most Italian name Matteo Ferrari to pull the cheesy strings. The students, dons, and tourists pour in for the pizza -- perfectly weighted bases covered in gooey, joyous toppings -- but stay for the atmosphere: the pub is still run by a single group of friends, lending it the lively, familial spirit of a Sicilian wedding at 2am. Salute!
London
What you're having: The Nduja
The broad green and white stripes of Pizza Pilgrims might remind you of your primary school dinner lady, but this is no school food -- far from it. Founded by brothers James and Thom Elliot, the eponymous pilgrimage was a mind- and waistline-expanding tour of Italy's gastronomic delights. The resulting pizzas are as spectacular as they are authentic: to taste the Calabrian sausage-infused Nduja is to drink the Pilgrim's Kool-Aid.
 
Birmingham
What you're having: The Napolitana
Hidden amongst the arches of Birmingham's Jewellery Quarter, Peel & Stone is the jewel in the crown of the city's thriving restaurant scene. With exceptionally well-priced pizzas, perfectly pitched toppings, and wonderfully bubbling bases, Peel & Stone gets a baker's dozen thumbs up from us.
Sign up here for our daily London email and be the first to get all the food/drink/fun in the capital.