Thanks to an egregious typo in the Bible, most of the rest of the world doesn't consider Sunday the day of roast, as was intended. But we know better, and thanks to London's ever-competitive dining scene, there are some religiously good places to get one, too. Here are the very best...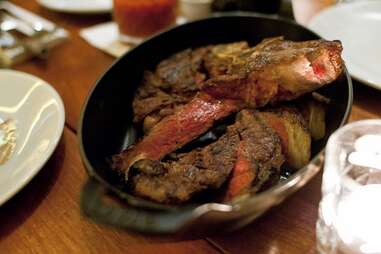 The Hawksmoor's Seven Dials
Covent Garden
There's no choice of roasts at this spot, and that's a good thing -- you come to Hawksmoor for the beef, and you shall find it here, in the form of a Longhorn joint cooked pink w/ a massive Yorkshire that'll go by gums quite nicely.
House of Wolf
Islington
This hyper-experimental outfit will roll out their parsnips as part of a mustard & cider soup, while the meat is slow roast pork belly & beef.
The Thomas Cubitt
Belgravia
The folks at The Thomas Cubitt will give you an entire joint (with all the trimmings) for you to carve yourself at the table, because they're lazy there are few things more satisfying.
The Horseshoe
Hampstead Village
Sure, The Horseshoe may sound like the perfect place to get lucky (it's the home of Camden Town Brewery, so it actually probably is), but it's the twice-cooked pork belly and entire legs of lamb roasts, that really make this spot.
The Rookery
Clapham
This Clapham joint may have a NY-inspired Lower East Side vibe on the inside, but the kitchen's staying firmly on this side of the Atlantic, putting out end-of-week lunchables like topside Longhorn, and slow roast pork belly.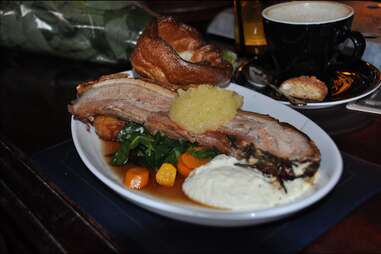 The Marksman Pub
Shoreditch
With a head chef who studied under Rick Stein, the Marksman will ruthlessly assassinate your appetite with massive Yorkshires, rare breed pork, and half-chicken roasts.
The Pig and Butcher
Islington
Not merely a name, The P&B actually has a permanent butcher on-site to turn farmyard favourites into slow roast pork shoulder, 35-day-aged Angus rumps cooked rare, and Blackface lamb w/ all the trimmings.
Marquis Cornwallis
Bloomsbury
With a keen understanding of the nature of a Sunday roast, the Marquis rolls out its all-British chicken & beef numbers not only with jugs of Marys, but also boardgames, newspapers, and a jukebox.
The Modern Pantry
Clerkenwell
Being about as out-there as you can get while still considered to be a roast, is Pantry's Sunday offering, which includes your choice of thyme-, chili-, and soy-marinated sirloin of beef, or Goosnargh duck breast mole rojo, all w/ duck fat potatoes.
The Albion
Islington
Set in a Georgian mansion w/ a walled garden, Albion's famed Sunday playmakers are their whole-roast poussin, the Romney Salt Marsh lamb, and even a roast suckling pig for 10 (people, not pounds).