6 sandwiches you need to eat right now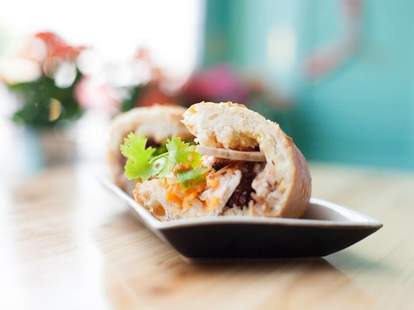 Sandwiches were famously invented, in typical British fashion, because a rich dude didn't want his gorging to interrupt his gambling. Here to make sure gambling on a dodgy sarnie doesn't interrupt your gorging, we've rounded up six of London's finest bread-traps.
Katsu-Sando, Tsuru
Southwark
Famed for their sushi, the folks at Tsuru have out-done themselves by actually cooking something with this Kastu number. Made with either breast or a more flavoursome thigh, the chicken is coated in ultra-crispy panko crumbs, dipped in the fryer, and thrown between two white slices with some fruity & delicately spiced tonkatsu sauce.
The Bacon Sandwich, St John
Farringdon
This sandwich is a masterclass in how to take a simple, three-ingredient concept, and turn it into the greatest thing to happen to your tongue since Frenching. The bacon comes from Gloucester Old Spot pigs (they have the perfect backfat/meat ratio), the bread is baked fresh onsite by the Michelin star team, and the ketchup is their own tomato/apple recipe. It's also huge, which doesn't hurt.
Grilled Cheese, Kappacasein
Southwark
This is a sandwich so good, it has its own Facebook page. Made in a cheese-slinging stall in Borough market, the shredded Montgomery cheddar itself is paired with a delicious mix of "the entire onion family" (white, red, spring, shallots, leeks, and garlic), then grilled inside a pair of Poilâne sourdough slices.
Jason Allen
Imperial BBQ Pork, Banhmi11
Hoxton
What is Imperial pork? Well, it's thinly sliced belly marinated in caramel & lemongrass, then twice-grilled until it's literally caramelized. The meat, plus all the delicious burnt ends, are then thrown into a sweet Vietnamese baguette (baked on-site, naturally), loaded with coriander, and doused in Sriracha.
Salt Beef Bagel, Brick Lane Beigel Bake
Shoreditch
Pretty much a stone-cold classic, the Brick Lane Beigel shop maintains its own crazy high standard on account of the fact that they're open 24hrs, constantly putting out new batches of baked/boiled bread, and steaming gigantic hunks of salt beef to go with them -- and it's extraordinarily cheap.
Open-Face Ham & Egg, Electric Diner
Notting Hill
Deliciously stretching the definition of the word "sandwich", this open-face number puts ham & a fried egg beside a huge amount of cheese fondue (you can get it on the side if you'd prefer) made from melted Chihuahua w/ Béchamel. The idea is to flatten it, attempt to eat it, and leave a pool of cheese on your plate that you can then dip the sandwich into -- just, whatever you do, don't use a knife and fork.