Tasting menus: they're where you can have a 10-course meal without looking like some kind of gluttonous freak of nature. And in London, many of them are a thing of sublime beauty, and worth saving up every penny of that newspaper round money for. In case you're wondering which one you want to blow your hard-earned cash on, here are the best in town...
Mayfair
Number of courses: 6, plus snacks
Price: £105 (£200 inclusive of wine)
Riding hot on the heels of his Lake District two Michelin-starred L'Enclume, Simon Rogan continues with a gorgeous menu of organic, seasonal, and unexpected combinations with many ingredients coming straight from his garden up north. Menus change often, but expect dishes to make your mouth water like the raw rose veal and kohlrabi, oysters, marigold, and apple with kohlrabi juice, or the simply named golden yolk & puffed rice.
Shoreditch
Number of courses: 9
Price: £95
This is a classic story of a pop-up done good. Really, really good. In fact, it went on to bag a Michelin star for its chilled-out-yet-refined menu filled with overlooked British ingredients (including the likes of raw Orkney scallops with clementine, or Yorkshire suckling pig & South Indian spices). It recently went to a prepay booking system, where you have to shell out for at least its five-course (£65) dinner in order to reserve, but we highly recommending going big and upgrading to the extended menu.
Chancery Lane
Number of courses: 7
Price: £68 (£95 including wine)
Hiding in the maze of tiny streets between Chancery Ln and Fleet St, this little dining room has been flying under the radar for some time. But with the recent arrival of Chef Graham Long, that is all about to change. Starting as an apprentice to Gordon Ramsay, Long has since worked as sous chef at two Michelin-starred Pied a Terre in Fitzrovia before spending two years in Hong Kong working with restaurateur Alan Yau. The Chancery menu is British, yet delicate and surprising. And they won't judge you for licking the plate.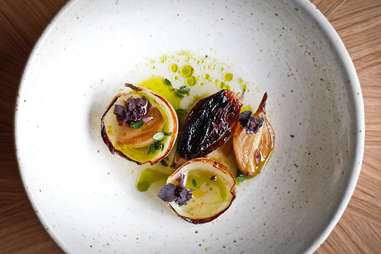 Bermondsey
Number of courses: 10
Price: £95 (£165 inclusive of wine)
After Tom Sellers trained at the hands of Tom Aikens, Thomas Keller, and René Redzepi, it comes as no surprise his first restaurant gained a Michelin star only five months after opening, with him being only 26 years old. Story is one of the hottest tables in town, so there's a lot of pressure here, but you can drop all skeptical faces because when the food starts arriving, you'll be drawn into the *ahem* story of Tom's culinary journey, filled with beef dripping candles and wild stems, squid, and mushroom broth.
Farringdon
Number of courses: 8
Price: £39
Sure, you've probably brunched at the original Grain Store over at Kings Cross... but this is its classy older sister. Similar to the previous site, Unleashed lets veggies be the star of the show, but presented in such creative and delicious ways, you'll surpass your five a day without even noticing.
Fitzrovia
Number of courses: 7
Price: £68
When Ollie Dabbous opened his eponymous restaurant in 2012, it booked out instantly for months. Fast forward a few years and tables are still pretty hard to come by, but the food keeps pulling guests in to sit in the warehouse-chic dining room, with eye candy for staff and drinks that will wow you as much as the food. With a solid foundation of training with Raymond Blanc and then being a sous chef at Texture, Dabbous presents his dishes in a simple manner and they are always more than what they appear.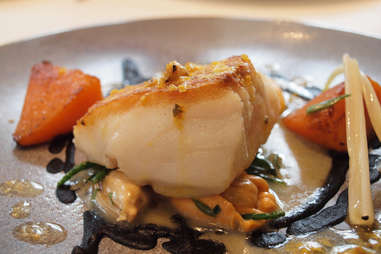 Notting Hill
Number of courses: 8
Price: £115 (£195 inclusive of wine)
No punches are held at this swank eatery. Ranked at No. 20 on the San Pellegrino World's 50 Best Restaurants list, and Observer Food Monthly's Best Restaurant in the UK for 2014, plus two Michelin stars, The Ledbury doesn't have much to prove. Though if anything, its success has allowed it a certain care-free attitude that maintains an attention to detail, while keeping things comfortable and easy.

Fitzrovia
Number of courses: 12-14
Price: £88 (£156 inclusive of wine)
Who knew that this hot dog restaurant would eventually house a tiny Michelin-starred restaurant in the back? The 19-seat horseshoe-shaped bar really puts you in the midst of the action, up close and personal with the chef while they walk you through the menu (which mysteriously reads with single ingredients like "Scallop" or "Asparagus").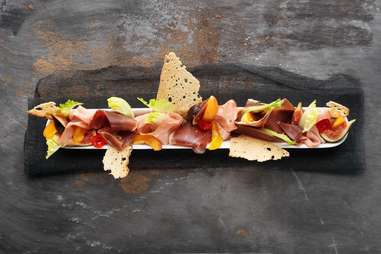 Mayfair
Number of courses: 8
Price: £110
With probably the most inventive decorations in any London restaurant, Sketch sets itself a family-high bar with the food, and thanks to restaurateur Mourad Mazouz and Head Chef Pierre Gagnaire (who have a multitude of stars between them), it more than reaches it. The food is inventive, eye-catching, and delicious.
Mayfair
Number of courses: 7
Price: £135
Not only is Alain Ducasse's restaurant the best value triple-Michelin restaurant in the city, it also has one of the finest tasting menus. Ducasse has reached a near-mythological status amongst chefs working today, and for good reason -- expect dictionary-definition perfect French food with a few modern twists thrown in just to keep your tongue on its toes...