They're not cafes, they're caffs, and they're the last bastion of the old-school greasy spoon diner. The tea is strong, the bread is white (and always toasted), and the decor probably hasn't changed in several generations. These are London's quintessential examples...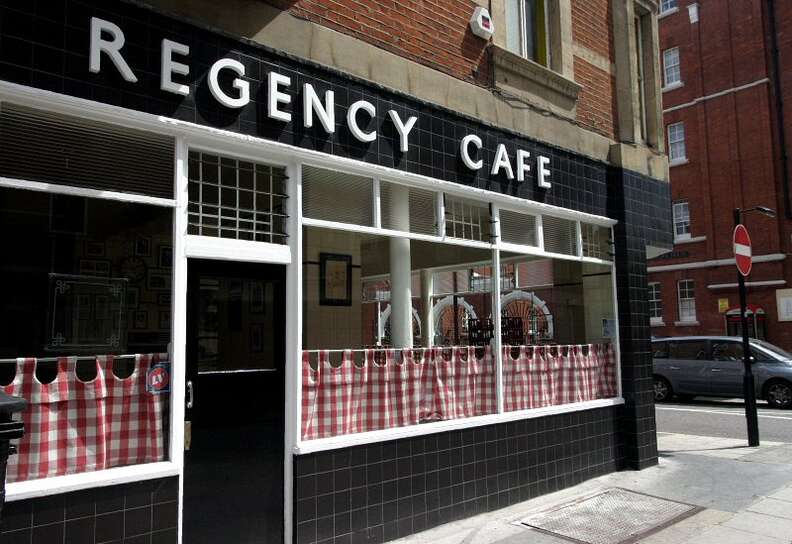 Westminster
Hiding behind a black exterior with the name proudly listed out front, the only clue to the vibrant (and very unchanged) landscape inside is the red & while gingham curtains keeping this old-school caff securely stuck in yesteryear. Blink in surprise at a turquoise and yellow interior and try not to look so shell shocked at the sheer amounts of clientele they've managed to pack in there. With queues out the door by 8am, and then closing for a civilized break between 2:30pm and 4pm, these guys do massive portions for little money and no faff.
Bethnal Green
Didn't think that greasy spoons could be Grade-II listed as a historical building? Well this one is. It's been in the family since 1900, and it's safe to say that the people here know what they're doing. With formica tables, a heavy regular population, and a good dose of banter, it's clear to see why business is still booming. With the current owner holding court in the kitchen like she's been doing since 1961, it's like a bite in time served with a wink and a smile.

Islington
While you will find tiled floor and yellow walls with pictures of landscapes and old coffee adverts, don't expect to find music, good coffee, or easy smiles from the staff, but whatever -- you're there for the food. Cheap, easy, and stomach-lining, it's some of the cheapest stuff you'll find in the area. Its bacon and mushrooms get a particular shout out.
Angel
Tucked on Chapel Market, this Italian-run greaser has been in the family for over 50 years, helping north London cope with its hangovers one fry up at a time. Besides just the basic toast/beans/bacon number, it's branched out with a big American pancake offering. With massive smiles, and equally large portions, this is the kind of place that almost feels like home, with all the little details in place, like plastic foliage and pictures of old-school sports icons adorning the walls.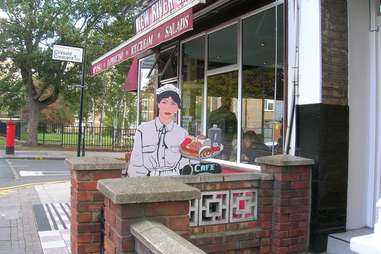 Stoke Newington
Be greeted by a life-size sign of a '50s waitress loaded with pastries and coffee when you drop by this tiny caff just at the corner of Clissold Park in Stokey. There's very little glam here, with the playlist being the only thing that's had a update in the last several decades, but its fry-ups will cure just about anything that ails you. Expect lots of grease, not many smiles, and tea that is strong enough to arm wrestle the best of them.

Bloomsbury
Pulling in an odd mixture of cabbies, students, and the odd actor from up the road, this no-nonsense cafe is cheap, easy, and instantly nostalgic. With almost everything under a fiver, it gets quite rammed at lunch time, yet somehow the staff always just put their heads down and get on with it, meaning you never wait too long and always end up with more food than you thought possible for that price.
Marylebone
With prices easily 20 years out of date, and portions big enough to keep you full for the rest of the day, this place is generally heaving... yet somehow the food comes quickly and is always delicious.
Putney
Not to be confused with the River Cafe in Hammersmith, this traditional caff feels more like a museum, with formica tabletops, plywood paneling, blue & white tiling, and plates of food big enough to have never heard of a diet. Eggs & chips, grilled tomatoes, and basic Italian fare are served with the simple attitude: if it ain't broke, don't fix it.

Holloway
A frequent spot hit by Arsenal fans pre/post game, the walls are covered in history, the staff are surprisingly friendly -- with faces bright and cheerful and pulling just the right amount of banter and efficiency -- and the food is genuinely great.
Sign up here for our daily London email and be the first to get all the food/drink/fun in the capital.