These days, most folks have come to expect meat at every meal, leaving our vegetarian friends to cry quietly into their risotto over the lack of options. Slowly, however, the vegetarians have started taking over the dining scene -- in an amazing way. Now London can boast a number of options that even the carnivores among us will happily enjoy… so go forth and enjoy dining out with your vegan and vegetarian crew.
Recommended Video
Smorgasburg WTC: Send Foodz w/ Timothy DeLaGhetto & David So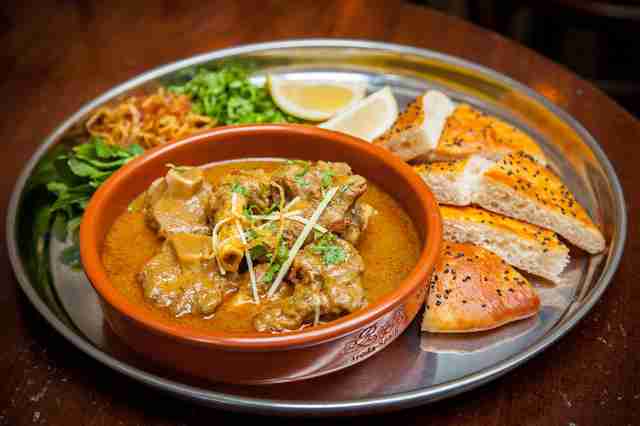 Shoreditch & other locations
Even the most devout meat eater will turn their cloak for Dishoom's Bombay classics like the pau bhaji, which is basically a bowl of mashed vegetables with a hot buttered pau bun. Yeah, it may sound boring, but trust us, this tastes amazing. Or check out the the house black daal, which is simmered for 24 hours, allowing the flavors to truly develop. Honestly, even the bowl of greens -- made with snap peas, broccoli, lime juice, and spices -- will leave you licking the plate clean.
Soho
From food wunderkind Yotam Ottolenghi, Nopi's Israeli heritage is apparent and accessible, with super-fresh ingredients and flavors that seem classic and imaginative all at once. The rotolo -- basically a savory cinnamon roll, but with pasta and spinach and mushrooms -- is a thing of beauty. Tasty, tasty beauty.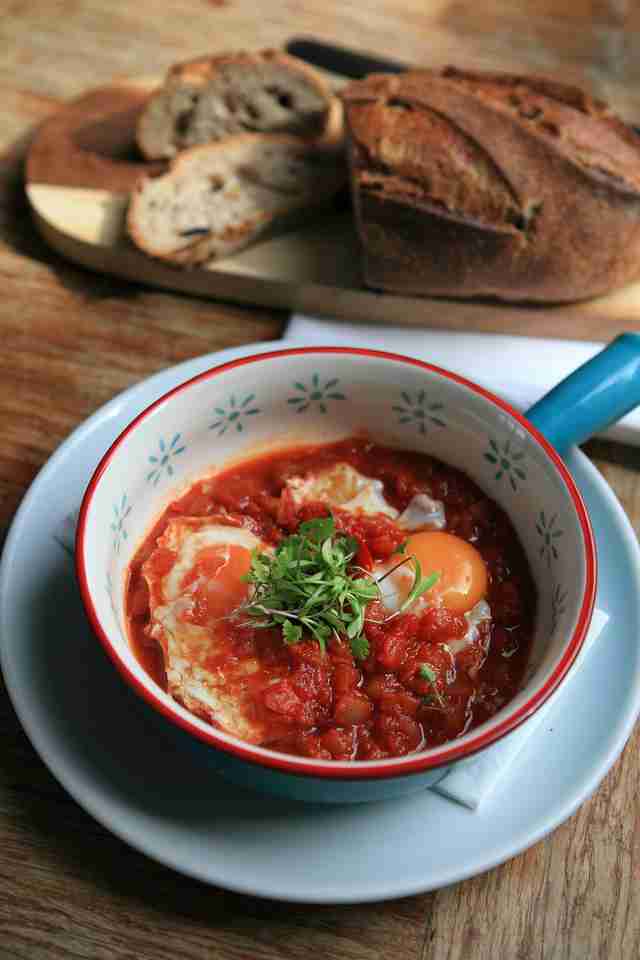 Hammersmith & Islington
Although recently refurbished, The Gate has been doing its thing in Hammersmith since 1989. With a menu as diverse as its guests, The Gate takes inspiration from India, Mexico, France, Italy, Iraq, Indonesia, and more, giving you food that just tastes damn good, regardless of what's actually in it. Sometimes more is really more, with dishes like a tortilla filled with sweet potato, sweet corn, goat cheese, chili, lime, coriander, baked beetroot, feta, and parsley. It's all served with guacamole, sour cream, and black bean pepper salsa… and it's totally worth trying.
Soho
This Soho institution has done the impossible: it's created a veggie dish that is so close to meat, it's basically indistinguishable. If you didn't know you were in a veggie restaurant, you might mistake the pie as an animal product -- it's that good. With no reservations and a history of pleasing both vegetarians and surprised carnivores alike, this place gets rammed with crowds lingering out the door like you see at most new "it" places.
Kings Cross
Chef Bruno Loubet likes his vegetables. This isn't to say that he's not a fan of meat -- he is -- but he also really likes to let the humble leaf, stalk, and tuber have a moment in the spotlight. Fill your face with the likes of beetroot, ricotta, and Parmesan ravioli, served with rocket salad, fried breadcrumbs, and sage. Stalk up on your five-a-day, many of which actually have cocktail pairings created by Tony Conigliaro (we knew there was a super upside to eating this healthily).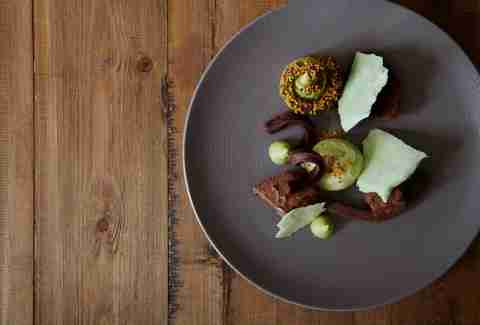 Chancery Lane
This place is truly the award magnet of vegetarian restaurants. For over 10 years, Vanilla Black has been putting out gorgeous vegetarian food that would make Picasso look talentless: we're talking about structured, elegant dishes like artfully plated goat cheese, fennel pollen, and pistachio, served with apple puree, fennel, and rainbow chard. Everything here is carefully made in-house… you won't find any pasta bake, but rather, plates of skillfully crafted works of art, inviting to both the eye and the tongue, which may just leave you converted.
Primrose Hill
If ever there was a standby vegetarian favourite, it's this one. Open for over half a century, it declares itself to be the oldest veg-only spot in Europe -- a crown it's held by being consistently inventive. Daily changing specials can include raw lasagna w/ courgette noodles and cashew cheese, or a "living" pad Thai, w/ mung bean sprouts, and an almond sauce.

Covent Garden
Hiding above the little courtyard of Neal's Yard, this cafe combines community, health, and taste in one. Sit around the open kitchen watching the chefs turn humble vegetables into delicious treats, or snag a seat at the massive communal pine tables while enjoying dishes like tomato confetti courgette spaghetti or the Ayurvedic superfood salad.
Kings Cross
This place ticks a lot of boxes -- Japanese, organic, vegan -- and best of all, it's all absolutely delicious. Following the ideals of Eastern food medicine, the meals here will make you feel like a better person... well, maybe. If nothing else, you can eat knowing that you're only fueling up with good-for-you dishes, even though the food also tastes great.
Notting Hill
These guys take things to another level: raw. Not wanting to kill any of the happy enzymes or "good germs," everything is only cooked at a very low temperature to preserve all the nourishment in each ingredient. While this may sound good for you but not tasty-tasting, we're happy to report it tastes excellent, too. The menu is pretty multicultural, so find everything from pizza with "nut cheese" to sushi with "kolrabi rice" and more.
Piccadilly Circus
While the sight of a vegetarian buffet where you pay by weight might call for some extreme skepticism, this is one that has to be tasted to be believed. With over 40 soups, salads, and hot & cold dishes to nibble at, this Swiss-owned place really takes the vegan and vegetarian way of eating to another level, with food that is actually delicious and means you can leave feeling full... and not have your wallet give you looks of shock and concern.

Sign up here for our daily London email and be the first to get all the food/drink/fun in the capital.