Londoners Rejoice: Here Comes Brooklyn Beefsteak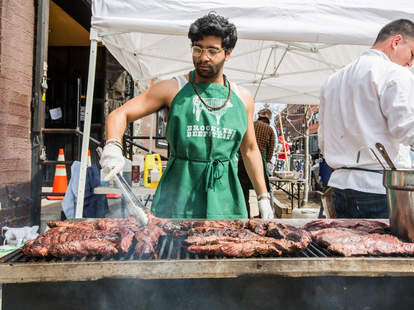 Courtesy of Brooklyn Beefsteak Tour
Picture a utopian world in which you can drink bottomless pints of beer and eat endless cuts of succulent beef, all for a mere £38. Are you picturing it? Good. Because this coming bank holiday, it's happening. 
Coming to Shoreditch Studios & Yard on May 3rd is Brooklyn Beefsteak, a traveling celebration (presented by Brooklyn Brewery Mash) of all things beef and Brooklyn Brewery beer. Here's why you'll literally be kicking yourself if you don't buy tickets...
Courtesy of Brooklyn Brewery
There will be so much meat
A general admission ticket (starting at £38) will snag you three hours of endless choice steak cuts cooked to perfection by Brooklyn Brewery's own Chef Andrew Gerson. This means three hours of fall-apart-tender brisket & burnt ends from Grillstock UK, and sauces by Sir Kensington's, all aided by slices of soft bread. Vegetarians/the faint of heart need not apply.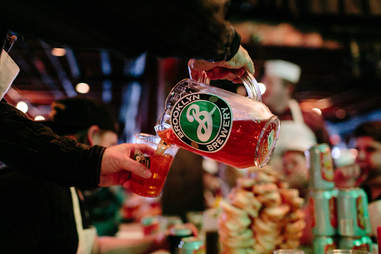 Courtesy of Brooklyn Brewery
Beer will flow like the Thames
Since man cannot survive on beef alone, they'll also be providing an open bar serving up all the Brooklyn Brewery Lager and Brown Ale you should need to wash down that tasty 'cue.
And if that isn't enough to sway you (seriously?!), there'll be musical performances by Susquehanna Industrial Tool & Die Company and you'll get a souvenir apron, in case you need to prove to your friends (or yourself) that this glorious event actually happened.
There will be two seatings (from 1-4pm and 7-10pm), but tickets are already flying off the shelf, so grab one while there's still time!
Sign up here for our daily London email and be the first to get all the food/drink/fun in the city.
Pete Dombrosky is an Editorial Assistant at Thrillist and he believes the only thing better than endless beef and beer is... ... ... he'll get back to you if he thinks of something via Twitter.