A beef marathon comes to Camden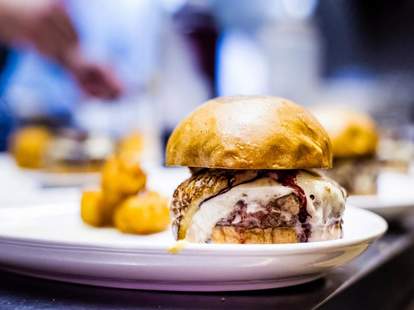 Because normal marathons are really really difficult, and not at all filled with beef, cheese, and delicous pickles, you should sign up for one you won't dread finishing: BM's "Burger Marathon" in the Camden Town Brewery bar at the start of April.
Your exhausting mission: to try half a burger from each of the six esteemed patty-smiths they've corralled, and vote on a winner to get the "Golden Patty" award. But who'll be competing?

There's this number from Mother Flipper, who adds candied bacon to his massive beefwiches. Candied bacon.

Also in the running is Marc Brown, whose off-menu cricket ball of beef from Joe Allen is one of their biggest sellers, despite not even being on the menu.

Patty & Bun will be there too, with the likes of this Ari Gold, or their "Lambshank Redemption", which has nothing to do with Sean Connery's sheep drowning, and everything to do with Indian-style spices

And if that weren't enough, you'll also get to try this Bigger Fish to Fry (literally topped with a hunk of breaded fish & chipotle tartar sauce) from Manchester's Almost Famous, something slightly Japanese from MasterChef winner Tim Anderson's upcoming resto, and the meaty delights of the Hawksmoor's executive chef -- plus two pints from the brewery bar, which just might get you started on a different kind of marathon. Either drinking or sleeping. Probably sleeping.