After 350yrs of unbelievably never getting a panto named after it, Chelsea's Goat in Boots pub has had everything from its name on up refurbed, transforming it into a sleek booze-infused diner. The space has three floors (hey, nobody's perfect), w/ a resto downstairs, a private dining room in the basement, and a cocktail bar upstairs. The whole place has an industrial-meets-vintage feel, w/ original cast iron fittings & "touches of glamour" that they likely blue their budget on. The food mostly comes off their charcoal grill, and includes the likes of this veggie-aided, way-too-sexy-to-be-celibate monkfish, or a hefty hanger steak w/ balsamico. They're also firing up a pizza oven, putting out crusty action like this San Daniele/ burrata/ pesto number, or a disc topped w/ homemade bresaola & truffle. The cocktail bar boasts a long list of classics -- not having this Santa Fe (w/ mezcal, pineapple & peach bitters) would be a total drag, and is the Little Tokyo made with gin, plum wine, and powdered plum? Oh yes it is!
Recommended Video
Four Fantastic Reasons Not to Wait in Line for Brunch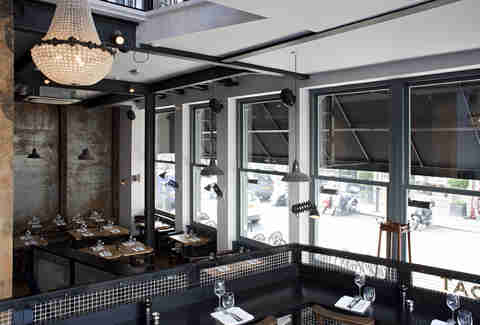 Previous Venue
Next Venue
Venue Description
1. GOAT
333 Fulham Rd, London, SW10 9QL
Boasting New York/Italian-style food -- such as wood-fired pizzas -- this airy venue in Chelsea with outdoor space is popular any time of the year. To supplement the main restaurant, GOAT also supplies a secret speakeasy... just tell the barkeepers you're there to "repent for you sins," and they'll direct you to a locked door with an ever-changing code. Menus in the Chelsea Prayer Room presented in prayer books, the booze is all vintage, and the bartenders certainly know what they're doing.