There are a TON of restaurants opening in London right now, and it's hard enough to get noticed, least of all for something you're not doing — but the boys behind Hawksmoor have managed it by opting to cut the ribbon on a non-steakhouse, and throwing into sharp relief all the non-steak things they'd been doing this whole time so bloody well. So why is this the biggest and best opening of the last few months? Let's take a look…
Recommended Video
This Mojito Hot Toddy Is the Destroyer of Colds
The meat!
Given the duo's history, it comes as no surprise that the menu has a heavy leaning towards the carnivorous. This time though, that same care & precision they treat their cow-candy to is being fed into a far greater variety of cuts, all super-ethically sourced from the likes of Ginger Pig and Brindisa. They'll be showcasing the Deckle steak (yeah, there is a steak on the menu, and it's the deliciously marbled bit of the ribeye) & Pluma (it's a pork steak from an acorn-fed oinker). You'll also find a huge 8hr bacon rib (singular, it really is that big) doused in maple & chili, or the 10hr beef shortrib. Also? They have bacon salt for their chips. Think about that for a second.
The stuff that isn't meat
So, just to cut straight to the chase, they have a salad bar. However, instead of being filled with iceberg, croutons, and sneezes, it's got baked beetroots w/ hazelnuts & horseradish, vinegar slaw, and roast acorn squash. Beyond that, you'll also find swimmers like this crispy five-pepper squid, and monkfish w/ chermoula.
Liquids
Anyone who's been to the bar at their steakeries will know that these folks have a knack for a mixed, mostly drawing from pre-prohibition recipes, but this time the barkeeps have been given a blank slate, and've outdone themselves with newness like their ginseng liqueur/ lemon/ lager Kamm & Suds, or their slushie-aping Snowgroni.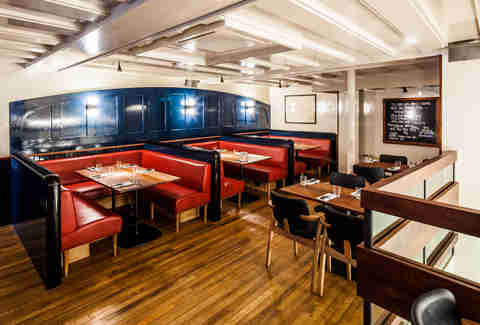 Slick new look
Yes, there are red and black leather banquettes to sit on. Yes, there is some wood paneling. But if you were expecting the deco look of projects past, think again sucka'. With lighter walls, cream-glazed bricks, and much higher ceilings, they've given it a balanced modern-yet-classic-kinda' look. Not to mention they've scaled down from the mammoth beef-slingers to a cozy & atmospheric 100 seats.
Previous Venue
Next Venue
Venue Description
1. Foxlow
69-73 St Johns St, Clerkenwell, EC1M 4AN
Foxlow is brought to you by the same folks behind Hawksmoor, so you know it's gonna be loaded with meat. But they also offer a solid lineup of salads, seafood, and quality cocktails in a warm and pleasant setting.