5 things you need to get in your mouth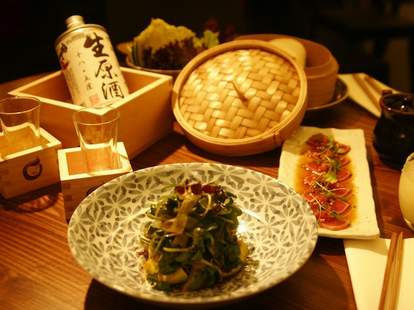 With a name like a seedy strip club, Flesh & Buns will make you groan with pleasure and beg for more, but not in THAT way. Instead, the ecstasy will come via edgy Japanese food courtesy of Ross Shonhan, the mastermind behind the ever-hopping Soho ramen bar Bone Daddies, who's brought his take on izakayas to the capital. Here are some favourites not to be missed...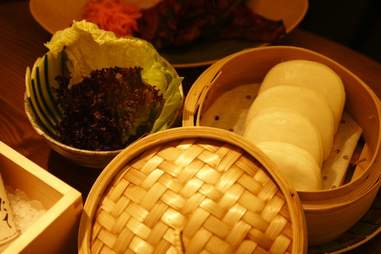 Haley Forest
Get started with these hirata buns, served with a platter of meaty lamb with kimchi spice sauce. The assembly's up to you, so roll up your sleeves and get to it.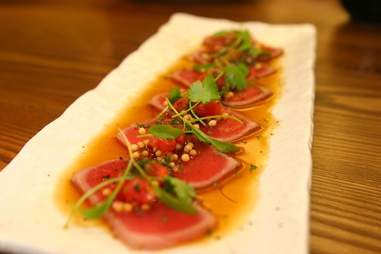 Haley Forest
Like your flesh cold? They've got you covered with Tuna Tataki w/ grapefruit, chili, and coriander.
Haley Cook
See this innocent looking salad? Hardly. This bad boy is jam packed with massive hunks of creamy, avocado-y goodness and topped off with a garlic-sesame dressing.
Haley Forest
Embrace your inner pyromaniac and play with fire. Their s'more kit comes out with your own personal japanese grill -- because how else do you make proper s'mores?! They've stepped up the traditional chocolate and included some bright green matcha for added brilliance.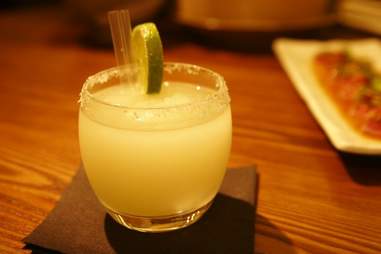 Haley Forest
It's not just their food turning heads. There's a big-time sake selection, and this Frozen Yuzu margarita will send chills down your spine, not to mention your flesh & buns.